Broadhive Discord Invite Contest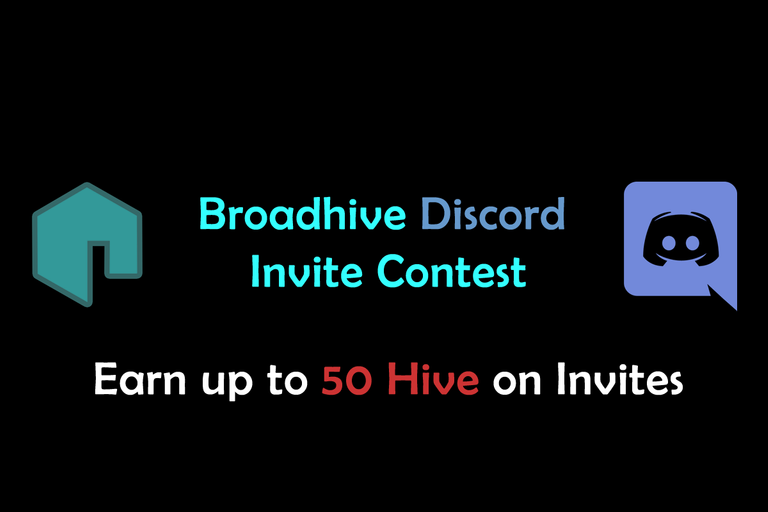 It's a new day, and we are glad to bring you the first contest on broadhive as Meshboc took over the management of the platform. As discussed in this post a few days ago that there are plans in place to make BHT one of its kind, we are obliged to get more people on board to keep the community bubbling and lively. Only with people can any project move forward. So what is the way forward?
Invite people to join the discord server
We are already working on some things that would benefit users and make the broadhive community better. In light of this, existing users need to invite friends to join us so that we can all benefit from the future success of BHT.
Is there any benefit to inviting people?
Yes, there's. You get 0.1Hive for every verified person you invite to our discord. The more people you invite, the more tokens you get.
How will I track the number of people I invite
Tracking the number of people you invite is not an issue. An invite management bot is incorporated into our discord server and its work is to count every single person you invite. All you need to do is to invite, and the bot would count and display the figure.
Can I invite anybody?
No. You can only invite existing hive members (new or old. Minimum of 7days). This means anyone you invite must have a hive account. This is to prevent spamming. This is also an avenue to talk to people outside the hive community, open an account for them, teach them how to post, and invite them to our discord. It's still a way to grow the entire hive community.
Task for the invitee
There is a #introduction channel on our discord server. Every new member must use the channel for their introduction. Example: "Hi, I am @user, from India. I am a dev. My hive account is @user". It can be as simple as that.
Reward
You will get your invites reward in 7 days. Therefore, all your verified invites will accumulate.
The sky is our starting point
According to W. Clement Stone
Definiteness of purpose is the starting point of all achievement.
Our purpose is defined. Our plans are in place. We are building a community of purpose, and it wraps around the members. Let's all stand up and embrace the new system. We can do this together, and at the end, we would see what we build together as a fortress of joy.
Let the invitation begin. Thanks for your support.
---
---