The Bro Show Went Live Yesterday

So we had our very first live streaming event today and we started on The Man Cave Discord server, where we hosted "The Bro Show." For those that haven't seen it yet, myself and @freedomxists hosted a podcast where we talked about all things BRO, a little curation with our listeners, and some fun at the end.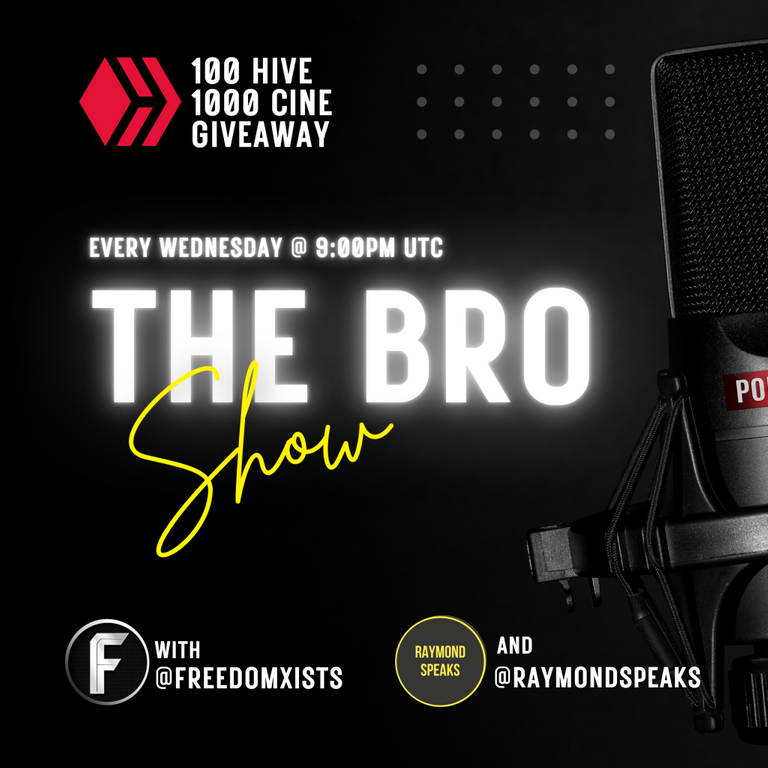 The show was our first of many, and as we begin to work out the kinks over the next few weeks we should be able to post a fully recorded show for you guys in the future.
The issue was with my recording equipment and microphone. As much as I wanted to record what we do, I wasn't able to get it working. However, today I've managed to fix all of that and as of next week we should have everything ready to replicate.
Since you'll not be able to find of copy of our livestream anywhere, I'll cover the main points we talked about, and some interesting funnies that happened along the way.

Raymondspeaks and Freedom meet together over recording for the first time in a long time.
Would you believe that it was
@freedomxists
idea that I should create a place for men of sorts? In our first segment we marvelled at how far the Man Cave had come from idea, to creation, and then to exponential growth in the last two years; from the troubles I had at the beginning, to the state that it is in now. It was mind boggling.
We both met on the whaleshares curation radio show a long time ago and when he was telling me that he wasn't up to much I just had to grab him for our livestream since I was planning on starting one in the future.
So having freedom with me to start was a real bonus, and, he will be there for the foreseeable future.

Updates on Brofi
In this segment I talked about how
@brofi
had sadly came to an end because
@taskmanager
who managed it, and had all his bots linked up to it, had went awol. This wasn't a huge problem at the beginning because everything seemed to work fine, however slowly and surely things began to break until I couldn't ignore them anymore and I had to close it down.
If you are still delegating to brofi then please remove it as soon as possible because there are no more rewards.
That doesn't mean that we will be giving up on the concept entirely. Thankfully I'm in the midst of trying to get another one created which I will have full control over. One thing I didn't like with the old brofi is that I couldn't update, fix, or troubleshoot with it. Thankfully with this new build I will hopefully have some form of ongoing support.

The Future of BRO
"The future is bright, the future is brofund"
I gave everyone a sneak into what's coming over the next few years, and that I'm slowly building infrastructure behind BRO. I've build a really passionate team of people working together behind the scenes and we'll be soon taking that enthusiasm to the development of The Man Cave. I'm also spending a considerable amount of crypto behind the scenes making it work.
I was asked if I had anything to give people a sneak peek for later, but I kept tight lipped about the whole situation. I'm working on a roadmap that we'll publish next week and we will stick to it. It'll go live on the next BRO show; that's next Wednesday at 9pm UTC for anyone curious, in our discord server.

Curation & Prizes
We had a few pieces in the discord which we showcased and curated for the people that showed up. At max point we had around 15 people actively listening to what was going on, and we learned that
@themarkymark
was no longer voting on other accounts because of a battle that he was having with another hivean that abuses the platform. This was sad news to us because Marky usually waves his vote generously around cave users that try hard. Nevertheless, we hive on!
@stickupboys won the 100 hive competition with his Star Wars v Harry Potter Death match suggestion. You can read all about it in the above link. We also gave out 100 Cine to people that shared their posts and talked a little about it.

Freestyle
Afterwards we let people freestyle for quite a while. This part of the show will not be recorded but it gives people a chance to hop on mic and give us a little bit of feedback or ask some burning questions to myself or
@freedomxists
.
We learned quite a bit from the whole experience.
@r0nd0n joined us later, and what was slowly turning into a nice friendly chat between community members, was quickly turned into a bottom dwelling riffraff "bottom of the barrel" to and fro the likes that would EVEN have @themarkymark's mom running for cover.
But all in all a good time.
Stay tuned for next week because we will, finally, be announcing a roadmap, that we will stick to. Oh yes :)
---
---