ANALISI XAUUSD - XAUUSD ANALYSIS
OGGI VOGLIO MOSTRARE IL MIO PENSIERO SU XAUUSD (ANALISTA FOREX)
TEMPO: 4H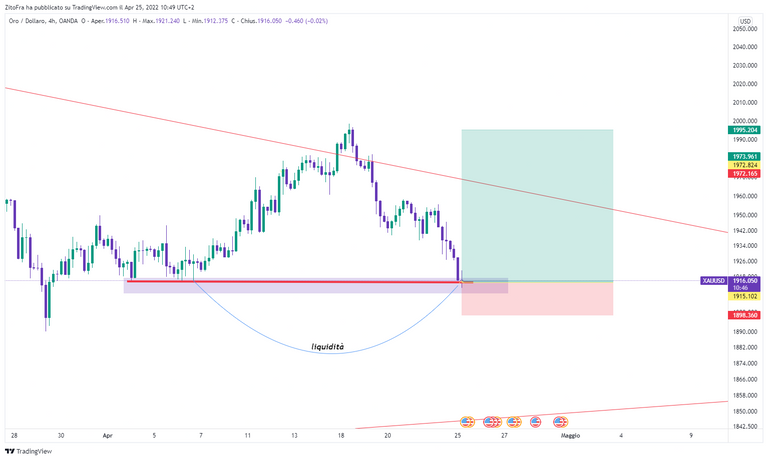 Ho tracciato delle particolari trend line e basandomi su una analisi profittevole ma fortuita, sono ritornato a qualche settimana fa sul grafico per trovare un giusto compromesso tra la vecchia analisi e trovare un punto liquido particolare su cui aprire un'altra posizione long, considerando il buon momento dell' oro. Ho scelto che aprirò il trade soltanto quando e se una candela 4h si chiuderà al di sopra della linea rossa orizzontale confermando la mia tesi. Ho impostato il take profit a 1995 e lo stop loss a 1898, creando così un'operazione con rapporto rischio rendimento di circa 1:4. Mi aspetto che questa analisi andrà in profitto entro la prima settimana di maggio, non andrà diretta al profitto ma sono certo che avrà un pull back durante il corso della sua salita. Prenderò un parziale equivalente alla somma che rischierò oppure metterò lo stop loss a breakeven per avere a tutti gli effetti un' analisi free risk.
In poche parole ho parlato della mia analisi sull'oro spiegando i motivi della mia posizione e nel modo in cui ho deciso di gestirmela.
Ora ti faccio vedere la mia analisi in modo più dettagliato su un time frame più basso.
TIMEFRAME: 1H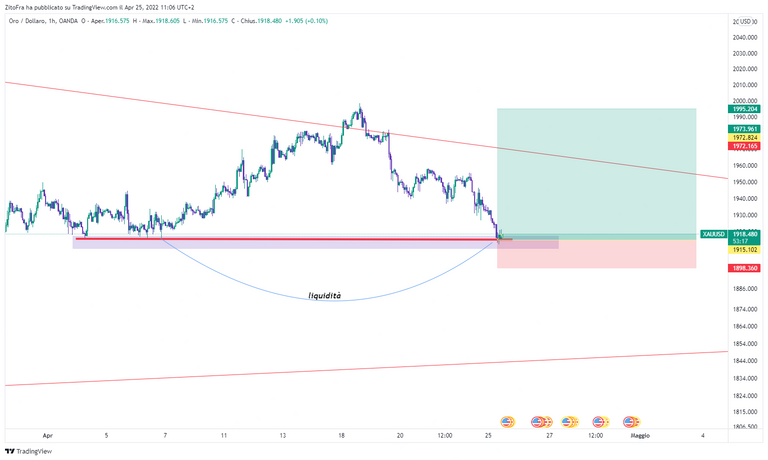 DISCLAIMER: quest'analisi è un mio pensiero, non è un consiglio finanziario o un invito all'investimento. Sono un trader dilettante, non un investitore professionista.
TODAY I WANT TO SHOW MY THOUGHT ABOUT XAUUSD (FOREX ANALYST)
TIMEFRAME: 4H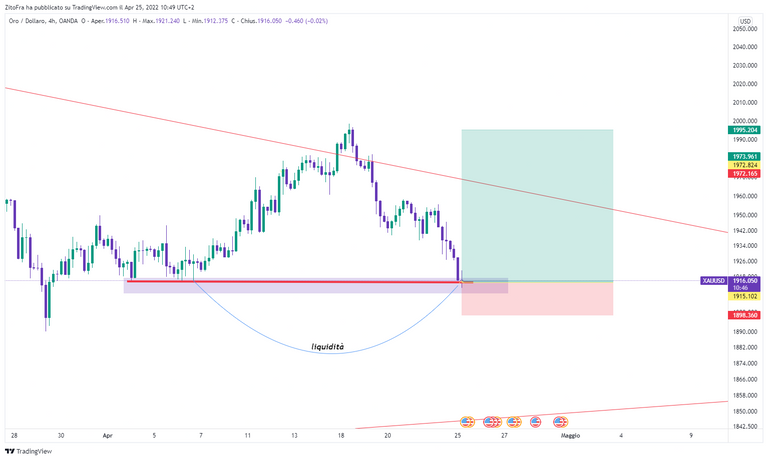 I have drawn particular trend lines and based on a profitable but fortuitous analysis, I returned to the chart a few weeks ago to find a fair compromise between the old analysis and find a particular liquid point on which to open another long position, considering the good moment of gold. I have chosen that I will only open the trade when and if a 4h candle closes above the horizontal red line confirming my thesis. I set the take profit at 1995 and the stop loss at 1898, thus creating a trade with a risk / return ratio of approximately 1: 4. I expect this analysis will go into profit within the first week of May, it will not go straight to profit but I am sure it will have a pull back during the course of its rise. I will take a partial equivalent to the sum that I will risk or I will put the stop loss at breakeven to have a free risk analysis in effect.
In few words I talked about my analysis on gold explaining the reasons for my position and how I decided to manage it.
Now I'll show you my analysis in more detail on a lower time frame.
TIMEFRAME: 1H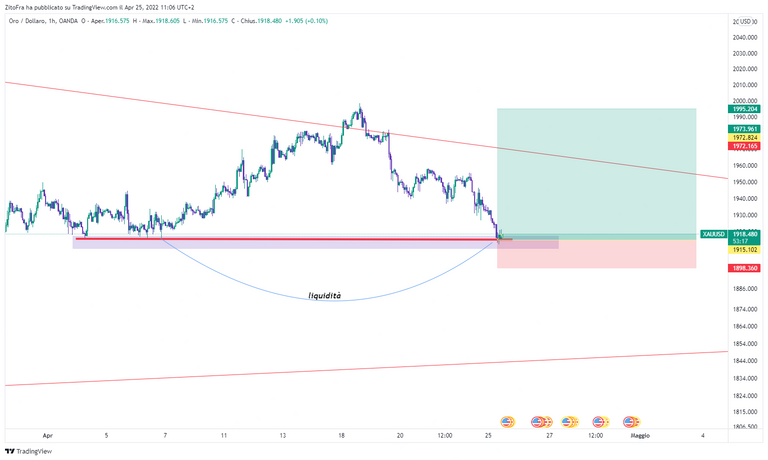 DISCLAIMER: this analysis is my thought, it is not a financial advice or an invitation to invest. I am an amateur trader, not a professional investor.
---
---