Spread The Vibes: Bring the funk!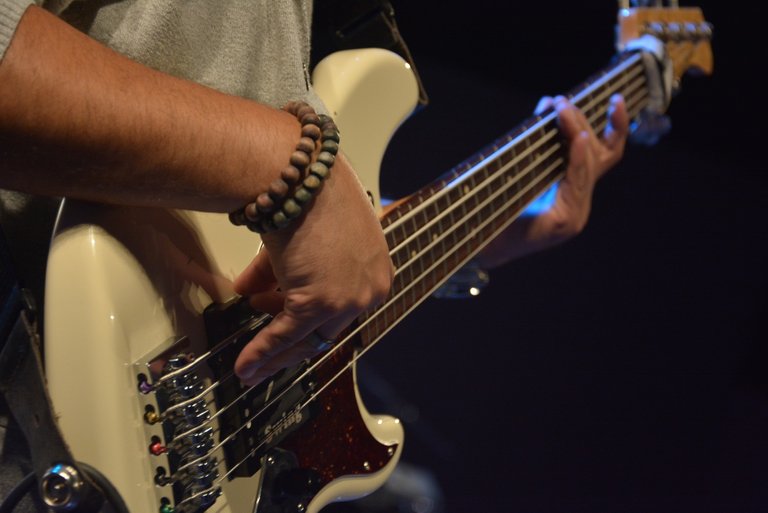 Image by Jose Araica from Pixabay
This is the time to bring a unique sound. Funk is funky and knows how to roll. This is the type of music that will get you out on the dance floor or the living room. Get on down with your soon to be discovered bad self as they say. Who says? I says!!
The sound came out of the 1960's but most will be associated with the 70's and 80's. Funk is continually evolving and with the advent of sampling it will never disappear. You'd be surprised how many records are sampled for rare grooves in any type of music from this genre. Crate diggers looking for new beats have mined this area for decades now. Can you blame them? There is always something new and fresh that is still waiting to be discovered.
I got this notification from @ewkaw, hmmm probably something funny as we have always had fun on here since I wandered over. Twas only recently when I discovered some music postings. Interesting, I ask the open-ended question that's good to get a conversation started.
"What are you listening to lately?"
The rest is history, a couple YouTube links later and here we are. This is the best way to discover music in my opinion.
I'm looking through @ewkaw's posting right now. A nice varied selection on display here
U2
Blur
George Michael
Sting
Great choices. I know these people and they've got all the hits under their belt.
Then I see some artists I haven't seen before
U3
Taco Hemingway
U3 brings out an interesting jam. A little jazzy with an afro vibe. Right up my alley and if you're being released on Blue Note records you are within an elite group of artists. Great pick!
Taco Hemingway, I initially thought this was a parody group based on the name. Completely mistaken on this one. An impactful message in Polish, a conscious hip-hop recording combined with a powerful video. While I missed the bulk of the impact I did do some research afterwards. The eight stars I was unfamiliar with but now I know exactly what it means. The photo of a supporter standing beside President Andrzej Duda while wearing the 8 stars says a lot. Spreading information though music or anything surrounding it is what I love. Do a search like me and learn something you may not have known.
You can visit @ewkaw's posting here to get all these interesting selections and links to the music in question
https://ecency.com/hive-192806/@ewkaw/spread-the-vibes-by-numbers
Time for my additions. Here we go.
James Brown – Sex Machine
Get up on it. Let's start off with the undisputed King of Funk and Soul, James Brown. If you have someone draping a cape over you after your exhausting performance you know you've made it. The amount of excitement and energy brought to his performances is amazing.
This is the whole package. The songs are wonderful and the performances take on a life of themselves. A giant within the genre and terribly missed but never forgotten.
Stevie Wonder – Superstition
Once you hear this opening riff you'll never forget it. A song about actual superstitions. I can't stop moving when this comes on. Not to mention it was featured in The Thing (1982), one of my favorite horror movies. This song is blasting out of a character's radio and another character asks them to "Turn off this crap", of course he ignores him completely haha, I would too. You must stop what you're doing and get your swerve on.
George Clinton - Atomic Dog

No collection of funk can be mentioned without George Clinton. He's influenced the fashion world and hip-hop in general. A classic from him and is one of the biggest names within the genre. He also influenced another dog with a monster smash hit within the hip-hop genre, you'll need to add another g to dog.
Cameo – Word Up
Is that LeVar Burton in the official video? Sure is!
Was this the song that popularized the term "Word Up"? This might be true. This is one dope track. Of course it is, word up.
Drum hits that sound like gun shots with such a unique voice cutting through the funky beat. The outfits, the dance and everything screams 80s. What's not to love it's 1986 after all. In case you don't know how to spell WORD you will never forget it.
Red Hot Chili Peppers – Walkabout
Fast-forward to the 90s, sometimes people forget RHCP has so many funk tracks. The is a fun one that gets my head nodding. This is one of the many perfect songs for doing your own walkabout. Keep it cool and make your own adventures like I do.
---
This list could go on forever and there are so many missed classics. What can you do? Stop writing of course haha
Let's invite some interesting people who may wish to post about the music they enjoy
@mineopoly
@stickupboys
@beeber
The guidelines can be found here.
I hope I followed the general guidelines here. I'm a big music lover and mostly any style so either way it was fun composing this. Keep the funk alive in whatever you do.
---
---