Triple Jeopardy For Chelsea?
The past one week hasn't been a good one for everybody associated with Chelsea Football Club. The mood around the club wouldn't be anything but low, given the recent results of every squad representing the Chelsea brand.



First, the male senior team lost at home to Arsenal for the first time in 10 years, leaving their top 4 chances in serious jeopardy, then days later, they went ahead and lost the FA cup final (2 years in a row) to Leicester City, who, all things considered, were massive underdogs. Then the next day, their women senior team was drubbed by the Barcelona women team 4:0 in the Uefa Women Champions League final.


It has been so bad that even a Ghanaian football club named Berekum Chelsea, who have no affiliations with Chelsea Football Club was caught in the crossfire of the losses, losing 5:0 to Inter Allies on the same day the CFC women were receiving their 4:0 mauling from Barcelona.


It is mindblowing when you think about the role psychology plays in sports and football in particular. A few weeks ago, Chelsea were looking unstoppable under Tuchel but a couple of very bad, season-defining results, are looking like their legs are getting too heavy for the final laps of the season. It has become more of a mental battle for them, when you consider how far the team has come from when Lampard was in charge, in terms of results and team performance and how it could potentially be lost, thereby nullifying all the progress that has been made.
With their loss against Arsenal putting them in a really tight spot in their quest for a top 4 finish, and Liverpool right behind them in 5th place, Chelsea are poised for their most frantic league finish in recent seasons.
They still have a chance to finish the season on a high, by winning the CL and or finishing in the top 4 but they got it all to play for in their last remaining fixtures. A visit to the Bridge by Leicester who denied them their first trophy of the season over the weekend and then an away trip to Aston Villa, both looking to finish within the Champions and Europa League themselves respectively, and then their most important fixture of the seaon, their Champions League final match with Man City. Potentially 3 good results away from one of their most successful seasons.
It is easy to assume that a club faced with such a daunting challenge to end a rollercoaster season on a high would just dust themselves up, push themselves to the limit and achieve greatness when the team trying to stop them from achieving this greatness are 3rd placed Leicester, giant killing Aston Villa and Premier League Champions, Manchester City.

Liverpool are breathing down their neck at 5th place, 1 point behind them, with Burnley and Palace as their last two fixtures. Putting it into perspective, Chelsea have to win Leicester, Aston Villa and Man City to first, finish within the Champions League places and second to win a trophy and consider their season anything close to successful.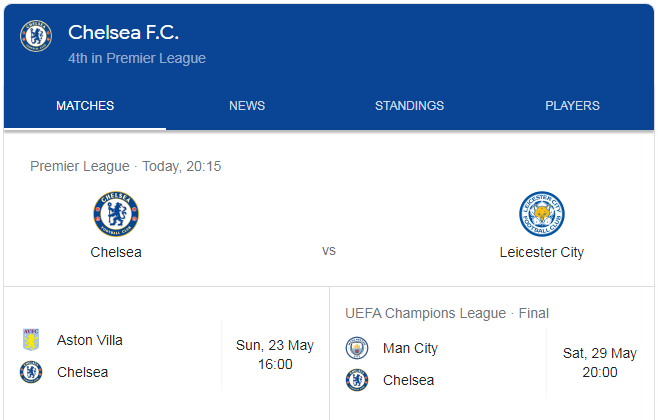 On the flipside, they are 3 bad results away from recording one of their worst seasons since Abrahamovic took charge of them.
What do you think? You think Leicester have Chelsea's number and are gonna dial them again tonight?
What would you make of their season if they finished 4th and lost the Champions League finals to the English Champions City?
As it stands, Chelsea have lost the FA cup, could lose the Champions League finals and finish outside Champions League places. What a nightmarish end to the season that would be, considering that barely a week ago, they were on course to win the FA cup, finish within the Champions League places and possibly win the Champions League.
---
---