Eng/Esp. New implementations in RisingStar/Nuevas implementasiones en RisingStar.
Hi, how are my Hive folks and all their communities? Today we come to talk a little about @risingstargame and its latest implementations.
As many will know, this game on the Hive blockchain allows us to earn STARBITS by performing missions or by buying and selling NFT cards.
Even though you can get started for free, you can give yourself a boost and buy some cards from the market to advance faster through missions and level up.
I recommend that if you are going to buy cards in the market, always try to buy those that have more Skills than Fans, because once you have more than a thousand Fans, the ego could be a problem to balance. This is the reason.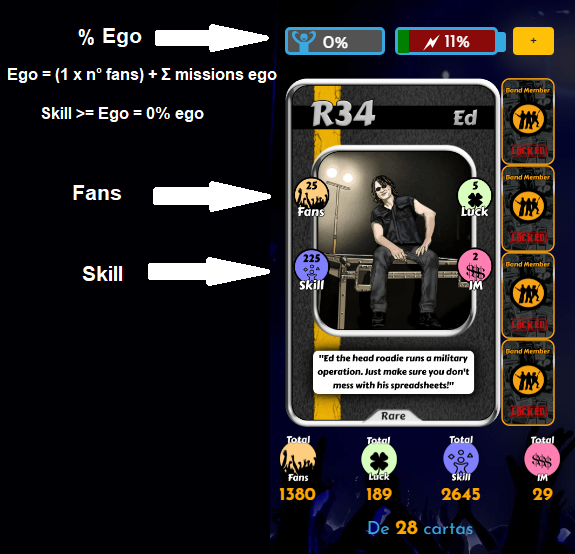 When you have more fans than skill your ego increases. Each mission also increases your ego.
Increased ego reduces the maximum number of Starbits you can earn on missions. Balance your Fans to Skill ratio by taking some music lessons, placing cards in storage or by buying cards with more Skill than Fans.
Ego only takes affect when you have at least 1000 fans (both drunk and permanent) or you reach level 15.
New cards
Taking advantage of the fact that I had some Starbits, I bought two packs of cards and here are my new acquisitions. Fortunately none were repeated and the best by statistics is the R54 Ellie card, well the van is also quite colorful.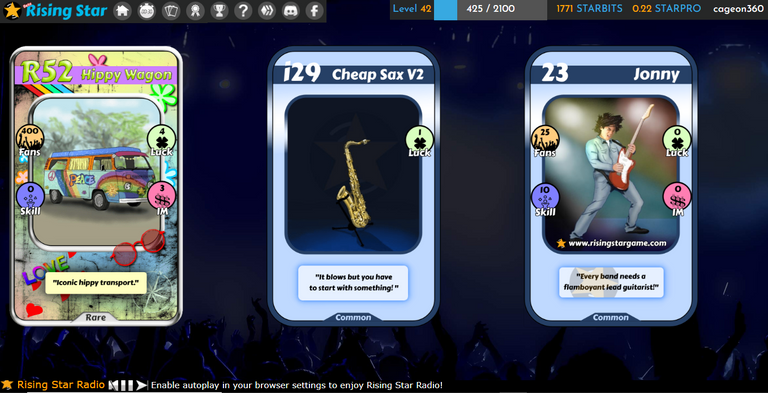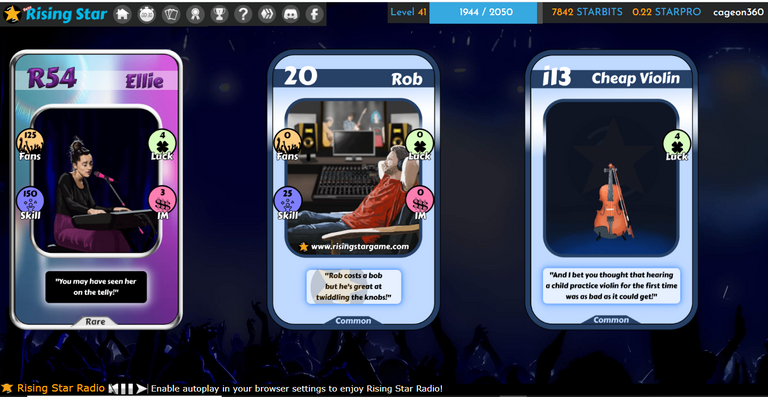 Music NTFs for Musicians
If you have a marching band, compose electronic music, sing solo in the shower, etc. Here you will be able to create NFTs of your own music or compositions, but you must first accept the license and record label agreements and contact the team at Discord to continue the process.
You will need to create a cover image for your music and the track must be an mp3 file.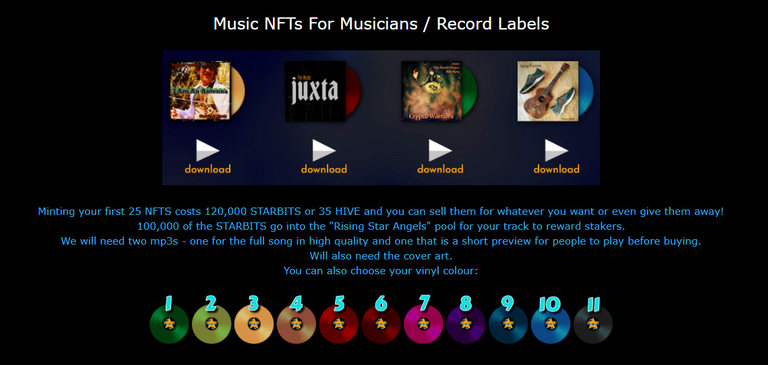 The cost is 120,000 Starbits for 25 NFTs, which you can then sell on the Risingstar market for whatever price you consider or give them away to whoever you want. You will also be able to choose to sell them on Starbits or any other token on Hive-Engine.
Record Staking
They remember the 120,000 Starbits that musicians pay to mint their NFTs. Well 20,000 of these are burned and 100,000 go to the reward pool that is created for each recorded track.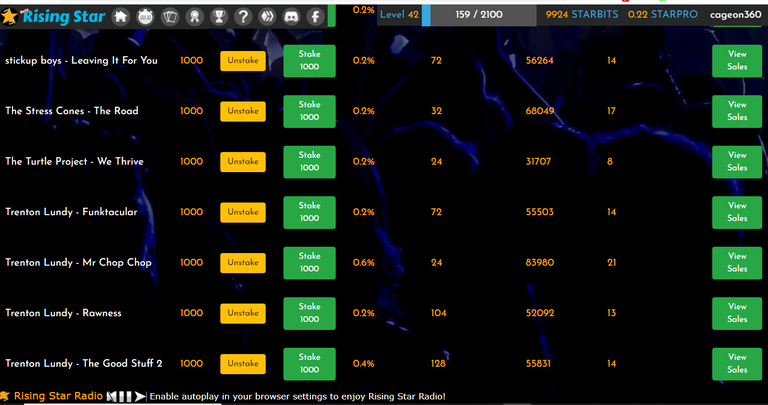 With this option you will be able to earn a part for the sale of the recordings of other musicians. You only have to bet your Starbits on the reward groups of the music that you like the most and you will receive a% that will depend on the amount of coins you bet.
Live chat
Well today when I entered the game to perform missions, I came across the tests of the chat implementation. Just leave a hello because I still think they are putting the finishing touches on it. This is very important because it helps the Risingstar community to be more united. Also, not all of us like to go to discord to share a greeting.

Final words
From my point of view, these types of implementations are the ones that give the greatest added value to the communities and games of the Hive blockchain, since it allows us to create our own NFTs, in this case of music tracks, and be able to sell them.
Let's continue supporting #Hive and @Risingstargame.
All images are screenshots from the Risingstargame page.
---
Nuevas implementasiones en RisingStar
Hola que tal mi gente de Hive y todas sus comunidades. Hoy venimos a hablar un poco de @risingstargame y de sus últimas implementaciones.
Como muchos sabrán este juego en la cadena de bloques de Hive, nos permite ganar STARBITS realizando misiones o con la compra-venta de tarjetas NFT.
A pesar de que puedes comenzar de forma gratis, puedes echarte un empujón y comprar algunas tarjetas en el mercado para avanzar más rápido en las misiones y subir de nivel.
Te recomiendo que si vas a comprar tarjetas en el mercado trata de comprar siempre las que tengan más Skill que Fans, porque una vez que tengas más de mil Fans el ego podría ser un problema para equilibrar. Esta es la razón.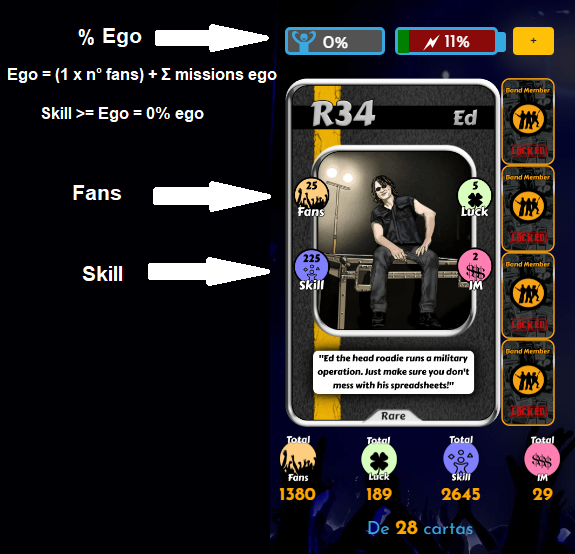 Cuando tienes más fans que habilidad, tu ego aumenta. Cada misión también aumenta tu ego.
El aumento del ego reduce la cantidad máxima de Starbits que puedes ganar en misiones. Equilibra la proporción de fans a habilidades tomando algunas lecciones de música, guardando cartas o comprando cartas con más habilidades que fans.
El ego solo tiene efecto cuando tienes al menos 1000 fanáticos (tanto borrachos como permanentes) o alcanzas el nivel 15.
Nuevas tarjetas
Aprovechando que tenía algunos Starbits compre dos packs de tarjetas y aquí están mis nuevas adquisiciones. Afortunadamente ninguna fue repetida y la mejor por estadísticas es la tarjeta R54 Ellie, bueno la van también está bastante colorida.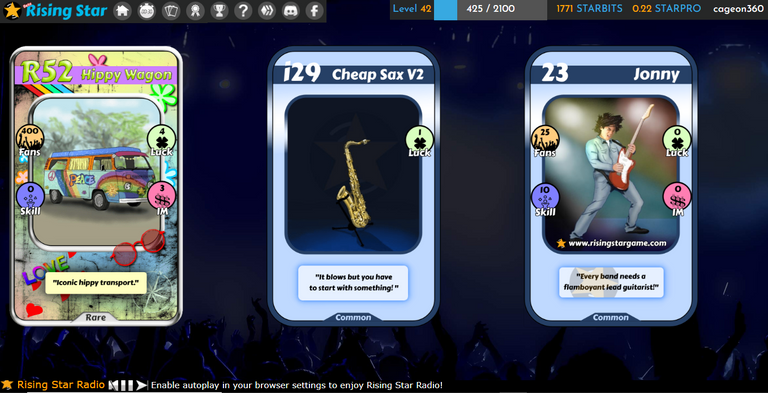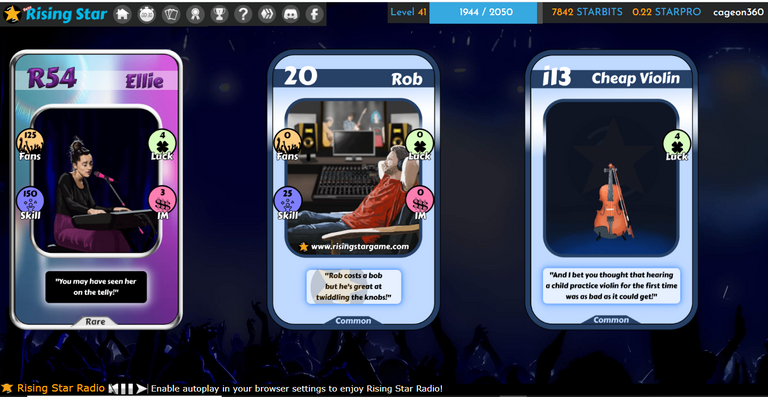 NTFs de música para Músicos
Si usted tiene una banda de música, compone música electrónica, canta como solista en la regadera, etc. Aquí usted podrá crear NFTs de su propia música o composiciones, pero primero debe aceptar los acuerdos de licencia y sello discográfico y contactar al equipo en Discord para continuar con el proceso.
Deberá crear una imagen de portada para su música y la pista debe ser un archivo en formato mp3.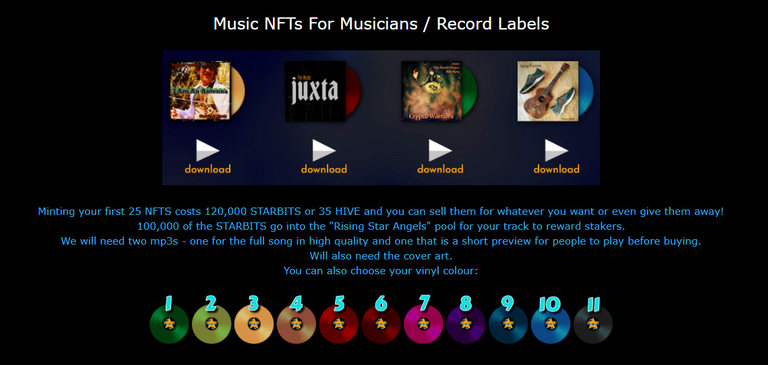 El costo es de 120.000 Starbits por 25 NFTs, que luego podrá venderlos en el mercado de Risingstar por el precio que considere o regalarlos a quien usted quiera. También podrá elegir venderlos en Starbits o cualquier otro token en Hive-Engine.
Record Staking
Recuerdan los 120.000 Starbits que pagan los músicos para acuñar sus NFTs. Bueno 20.000 de estos se queman y 100.000 se destinan al grupo de recompensas que se crea para cada pista grabada.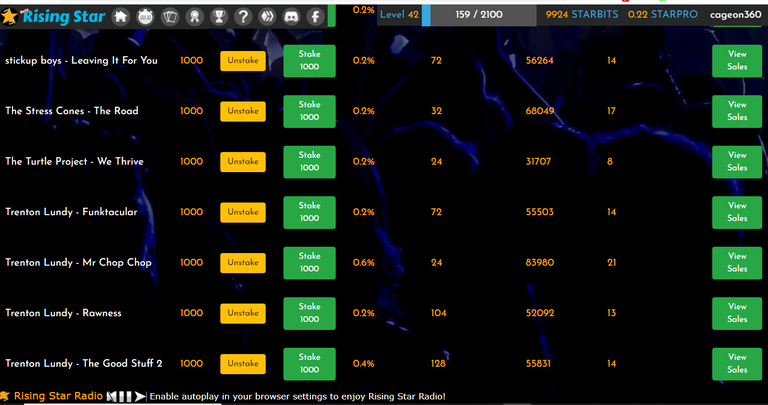 Con esta opción podrás ganar una parte por la venta de las grabaciones de otros músicos. Solo debes apostar tus Starbits a los grupos de recompensas de las músicas que más te guste y recibirás un % que dependerá de la cantidad de monedas que apuestes.
Chat en vivo
Bueno hoy cuando entre al juego para realizar misiones, me encontré con las pruebas de la implementación del chat. Solo deje un saludo porque todavía creo que le están dando los toques finales. Esto tiene mucha importancia porque ayuda a que la comunidad de Risingstar este más unida. Además no a todos nos gusta ir a discord para compartir un saludo.

Palabras finales
Desde mi punto de vista este tipo de implementaciones son las que dan mayor valor agregado a las comunidades y juegos de la cadena de bloques de Hive, puesto que nos permite crear nuestros propios NFTs, en este caso de pistas de música y poder venderlos.
Sigamos apoyando a #Hive y @Risingstargame.
Todas las imagenes son capturas de pantalla de la pagina Risingstargame.
---
---