Rabona - Ascenso a Liga de Campeones / Rabona - Promotion to Champions League Esp/Eng
Cuando empecé a jugar Rabona por allá a finales de 2020, me di cuenta que no podía aspirar a ligas superiores sino mejoraba las estructuras de mi estadio para aumentar mis estadísticas financieras, que me permitirían pagar salarios más altos y fichar mejores jugadores.
When I started playing rabona there at the end of 2020, I realized that I could not aspire to higher leagues if I did not improve the structures of my stadium to increase my financial statistics, which would allow me to pay higher salaries and sign better players.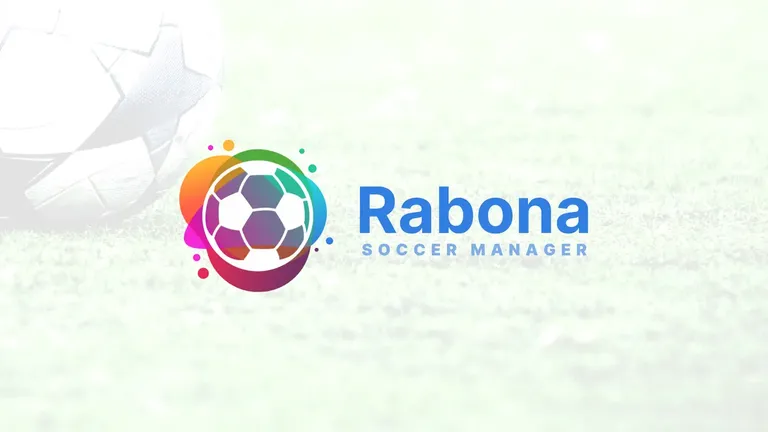 Fuente/Source
Así fue la curva de crecimiento de mis ingresos en las ultimas 30 temporadas.
This was the growth curve of my income in the last 30 seasons.

Durante mi estadía en las ligas 3 y 2, solo mantenía jugadores que me permitieran mantenerme en carrera y con un costo mínimo, para así poder ir mejorando el estadio y demás estructuras.
During my stay in leagues 3 and 2, I only kept players that would allow me to stay in the race and at a minimum cost, in order to be able to improve the stadium and other structures.
Pero con constancia pude ir avanzando. Ya con cierto nivel del estadio y sus estructuras, y con una buena base de fanáticos, casi sin darme cuenta estaba peleando los primeros puestos para ganar la liga 2. Entonces supe que era el momento de ir más alto, y mi objetivo era la categoría mayor.
But with perseverance I was able to move forward. Already with a certain level of the stadium and its structures, and with a good fan base, almost without realizing it I was fighting for the top positions to win league 2. Then I knew it was time to go higher, and my goal was the category elder.
No fue sino hasta la temporada 75 que pude lograrlo. Me tomo un año y cinco meses llegar a la categoría mayor la "Liga de Campeones".
It wasn't until season 75 that I was able to pull it off. It took me a year and five months to reach the highest category, the "Champions League".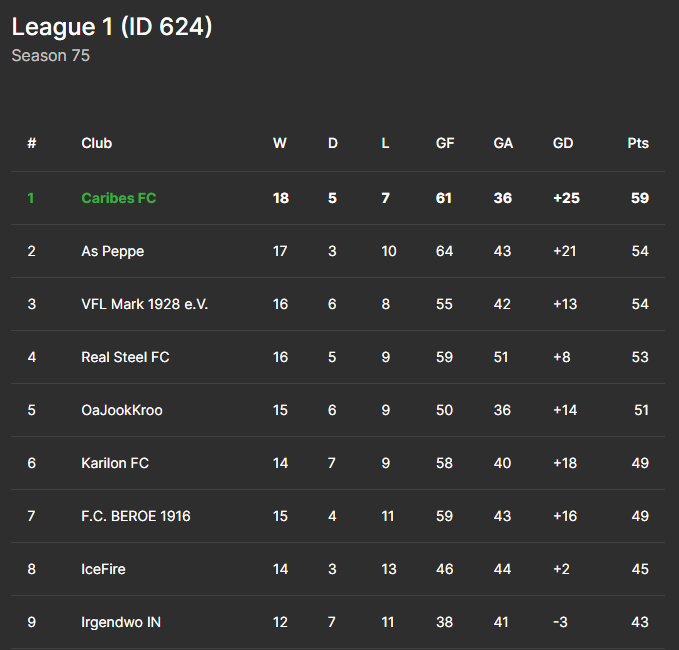 Tuve al menos dos temporadas más en las que casi logro alcanzar mi objetivo, pero aquí el casi-casi no cuenta jajaja.
I had at least two more seasons where I almost reached my goal, but almost-almost doesn't count here hahaha.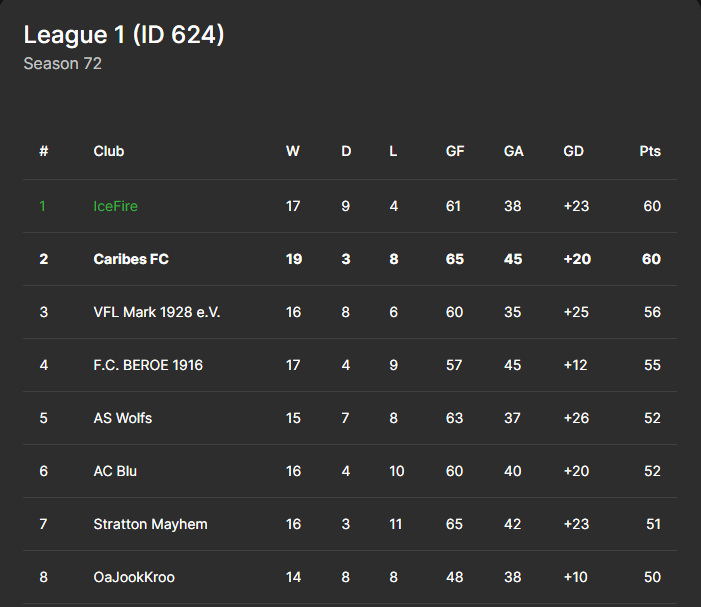 Resumen de temporada 75 Liga-1 ID-624 / Season Summary 75 Liga-1 ID-624
La temporada estuvo bastante difícil desde el principio, la cual estuvo dominada en las primeras de cambio por el equipo "As Peppe" de @mrpeppe, hasta que fue desplazado por el equipo "Real Steel FC" de @eliydrakes el cual hizo su trabajo y domino la mitad de la temporada pero se desinflo para el final.
The season was quite difficult from the beginning, which was dominated in the first exchange by @mrpeppe's "As Peppe" team, until he was displaced by @eliydrakes's "Real Steel FC" team who did their job and dominated half of the season but fizzled out by the end.
Por otra parte mi equipo logro ganar los partidos importantes y mantenerse cerca de los punteros hasta el último tercio de la temporada, cuando pudo conseguir una buena racha de victorias, que combinadas con varios tropiezos que tuvieron los equipos de arriba, le ayudaron a tomar la delantera y la cima de la clasificación la cual no perdería más.
On the other hand, my team managed to win the important games and stay close to the leaders until the last third of the season, when they were able to get a good winning streak, which combined with several setbacks that the top teams had, helped them take the front and the top of the classification which would not lose more.
Cabe destacar que el equipo "VFL Mark 1928 e.V." de @antonym quiso unirse a la fiesta para el final pero no le fue suficiente.
It should be noted that the team "VFL Mark 1928 e.V." from @antonym wanted to join the party for the finale but it wasn't enough.
Asi le fue a los equipos en sus ultimos 8 juegos de la temporada.
This is how it went for the teams in their last 8 games of the season.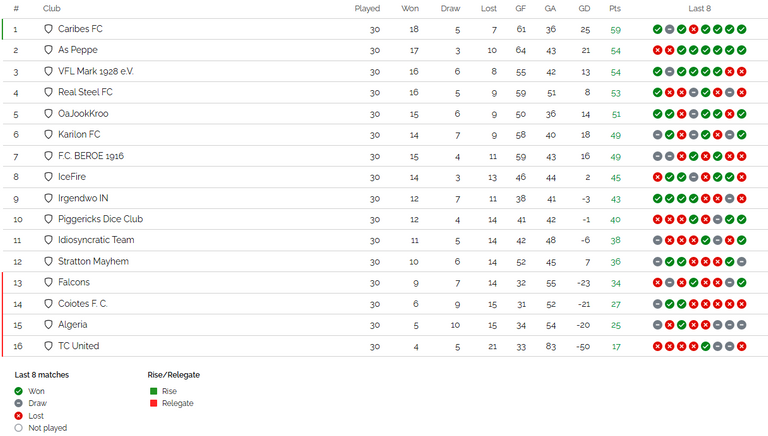 Todos hicieron un gran trabajo.
They all did a great job.
Agradecimiento / Gratitude
Agradezco a todo el equipo de Rabona por su entrega y empeño para seguir mejorando el juego.
I thank the entire Rabona team for their dedication and commitment to continue improving the game.
Una sugerencia si pudieran agregar alguna forma para gastar los RBN en la plataforma, puede ser en publicidad de otros proyectos, y así desinflar un poco el token.
A suggestion if they could add some way to spend the RBN on the platform, it can be in advertising for other projects, and thus deflate the token a bit.
Si aún no están jugando a ser gerentes de su propio equipo y desean unirse a este maravilloso juego Rabona, pueden hacerlo usando mi enlace..
If you are not yet playing manager of your own team and would like to join this wonderful Rabona game, you can do so using my link.
Todas las imágenes son captures de pantalla.
All images are screenshots.
With love for HIVE @cageon360
---
---