CAKEPOP IDO & Next Phases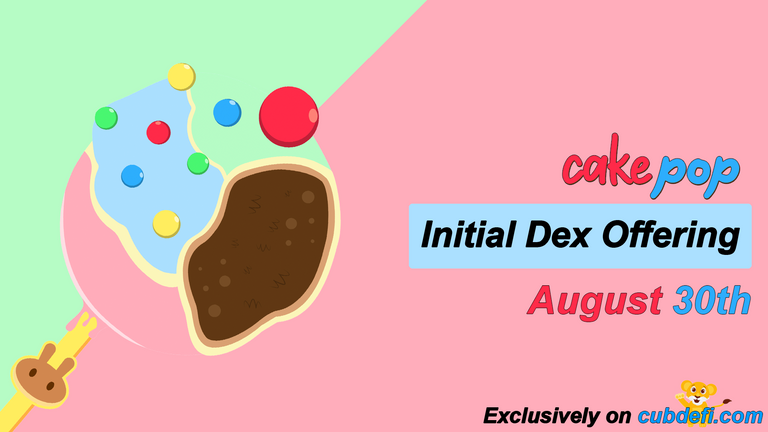 CAKEPOP has had an interesting launch yesterday and today. We've gathered a much higher amount of liquidity than many in the community may have expected in such a short period of time.
Our project is very new and the questions are piling up. This is both a fault of our scheduling: not having specific timestamps for when we would release particular features and general communication throughout the launch event.
Our community is heavily based in Telelgram. For this reason and several more, we decided CubFinance would be a great way to branch out of the international Telegram community and in one that isn't as active in these places.
Some initial materials were given to the CubFinance team to distribute which turned out to be outdated and mistakingly not updated prior to release on Discord and their official content about our IDO.
The IDO is simply phase 1!
We know this is an exciting time as the IDO feature has gone live for CubFinance users and ours is the first to come. Keeping that in your mind, CakePop still has our official launch event and serious round of marketing at launch.
The goal of our IDO is to raise initial liquidity. We are doing this through the CUB-BUSD LP tokens being raised on the new IDO feature for https://cubdefi.com/ido.
All of the $125,000 BUSD we are raising will be utilized for initial liquidity in the CAKEPOP-BUSD Liquidity Pool on PancakeSwap.
This bring us to one major question or concern from the CUB community: why was the UI released after the IDO was live and with an error in the minimum $CAKEPOP to receive dividends?
Again, the IDO phase is simply to raise liquidity. Our plan was to release the Interface at launch Today (when the IDO closes on CubFinance). This was our fault for having a miscommunication with the CUB team on whether or not to include a link to our UI in the IDO vault on https://cubdefi.com/ido.
Marketing
Marketing is everything. We've been deploying major forces on Telegram for marketing our project. With over 25 major telegram DeFi groups, our launch is highly anticipated. Much of our audience is currently based in Asian markets and we think a lot of the activity will pick up around the time this blog post goes live which is actually early-mid day for these folks.
Telegram Partner Communities
Telegram is a big deal in DeFi. We know that the CUB community is less interested in Telegram and more centered around blogging and/or discord, that's great too! Our goal is to capture both during our official launch in about 12 hours.
Some of our partner Telegrams have already published content about the CAKEPOP IDO on CubFinance!
These partners and more will be hyping up our initial liquidity pool launch (when we add liquidity to the CAKEPOP-BUSD pool) and begin trading! This event will be massive and there will be a lot of attention on CAKEPOP. We hope to see you during launch in about 12 hours.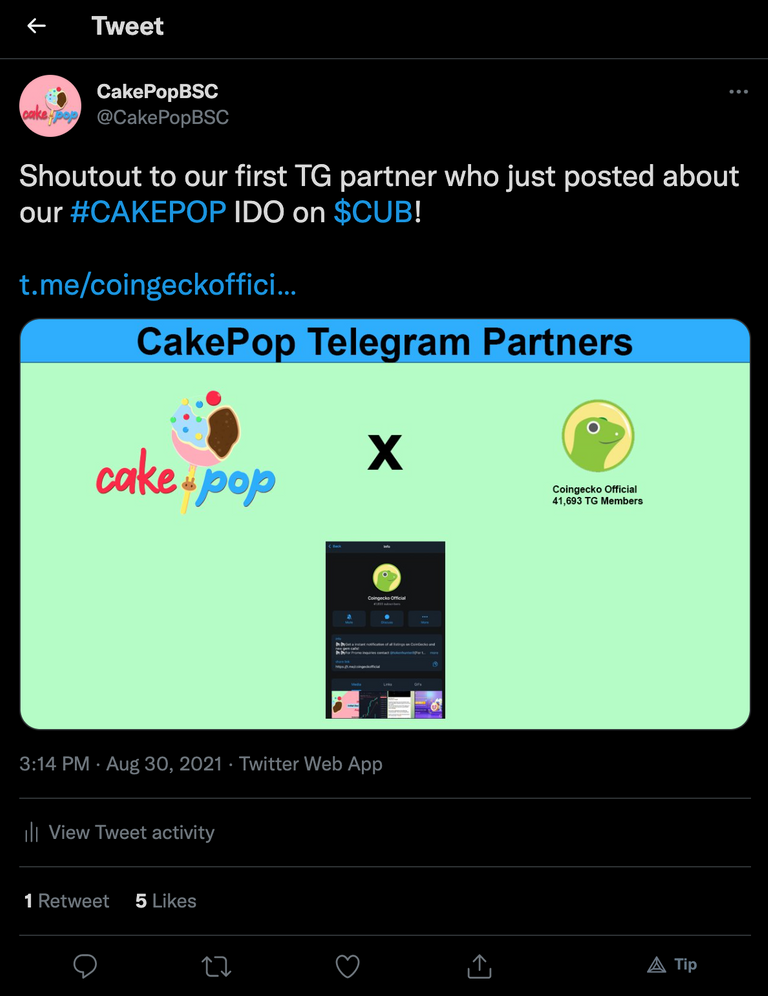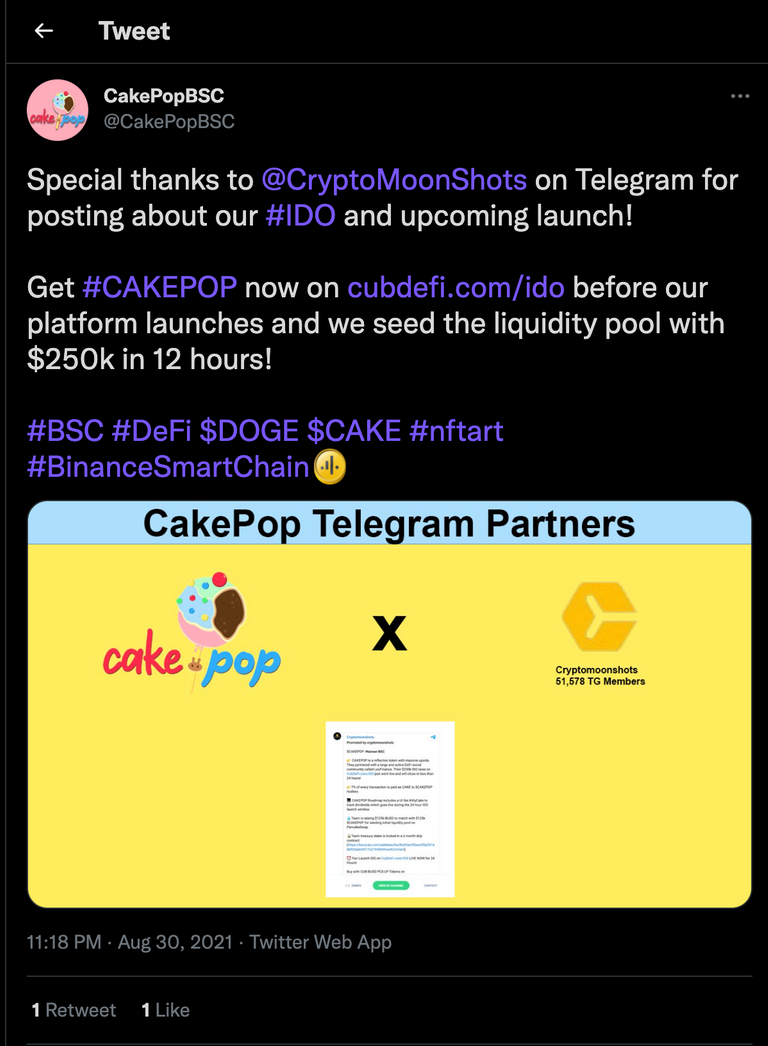 Competitions
We have a number of competitions lined up for CAKEPOP! Our goal is to build a real brand here in the Binance Smart Chain community and this is simply day 1 of that ambition.
As we progress toward launch tomorrow, we'll be releasing a great range of competitions, marketing initiatives and awareness campaigns for the CAKEPOP token.
We've also talked with the CubFinance team about running a LEO-based competition on their platform. We'll be working out the details with them tomorrow on how this will all work. Giving away a mix of CAKEPOP and CUB tokens for the community to write about CAKEPOP, their dividend earnings, experience with the IDO and thoughts on the launch!
This is our first competition of many on Twitter! We also have many more planned prior to our PancakeSwap LP Launch!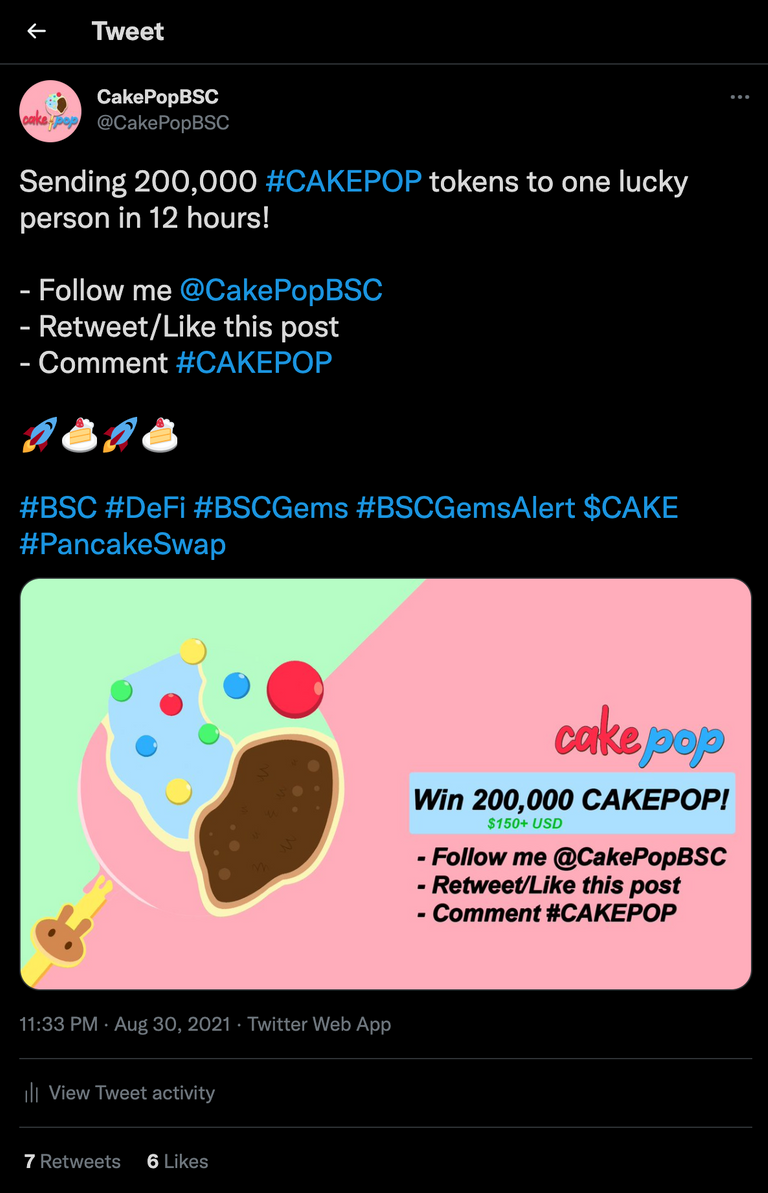 Initial Liquidity Pool
Initial liquidity is essential for projects like ours. That's why we are here on CubFinance gaining initial funding. We can't think of a better launchpad for us to try and raise $125,000 BUSD to seed our LP on Pancakeswap!
When our platform token officially goes live at the closing of the IDO in 12 hours, we'll add $125,000 BUSD + 166,666,667 CAKEPOP tokens to the liquidity pool and that will be our seed liquidity! That's a radically higher amount than other tokens in our Reflection category. It's going to make waves on the internet once people realize just how big CAKEPOP is after our IDO on https://cubdefi.com/ido!
How CakePop Works
CAKEPOP is a very simple platform - our goal is to build a brand around ourselves and continually add features, collaborations and marketing events to drive usage of the CAKEPOP token.
We've negotiated with the CubFinance team to add a CAKEPOP-BUSD Liquidity Pool with a very small multiplier on the https://cubdefi.com/farms page. This will allow users to add to the liquidity pool and earn CUB. The mechanics of how this works will be released both by us and CubFinance. Hint: it benefits both CUB hodlers and CAKEPOP hodlers through cross-distribution (CAKEPOP to CUB and CUB to CAKEPOP).
Why is the liquidity pool so important? Think of how many transactions are required to enter a liquidity pool. These transactions generate fees which are distributed as CAKE to all CAKEPOP holders! Having a small liquidity pool on CubFinance will generate a lot of trading and liquidity adding volume for CAKEPOP which equates to exponentially higher dividends!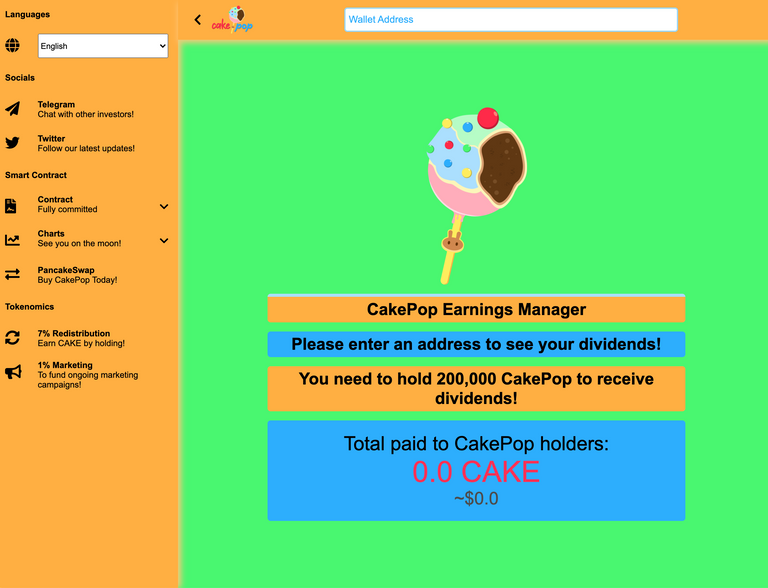 Our UI was modeled after the highly successful https://kittycake.app platform. This UI is simple, yes, but it does offer a lot of easy to access data. This allows for a simple UX that isn't cluttered by modules, multi-page displays and other unnecessary stuff.
This UI is simple and once you plug-in your wallet address (after the tokens are distributed at the closing of the IDO in 12 hours), you'll see the UI instantaneously populate with important data about your position in CAKEPOP, past and future earnings!
CAKEPOP is a Dividend Paying Token!
CAKEPOP is designed to pay dividends continuously. The more CAKEPOP is traded - bought & sold - and used in the liquidity pool - added & removed - the higher the daily dividends get.
In theory, it should be highly profitable to hodl CAKEPOP in the long run. By hodling, you get perpetual dividends forever. As we add new usecases, run new contests and find new ways to utilize CAKEPOP in the BSC world, the dividends will get exponential for all CAKEPOP holders!
Questions? Please leave them in the comments here on LeoFinance.io and we will reply as soon as possible!
Our goal is to have a fair token IDO launch on CubFinance. After the IDO is complete is when the real fun begins - CAKEPOP to the moon!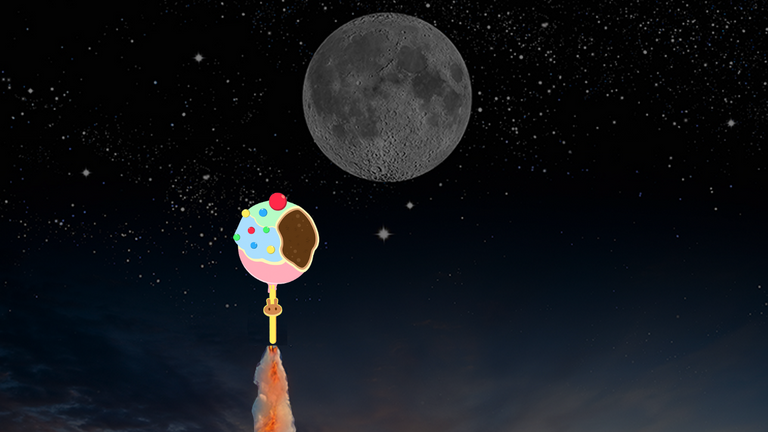 Posted Using LeoFinance Beta
---
---