$CAKEPOP Token Launch  -  Strategic Partnership With CubFinance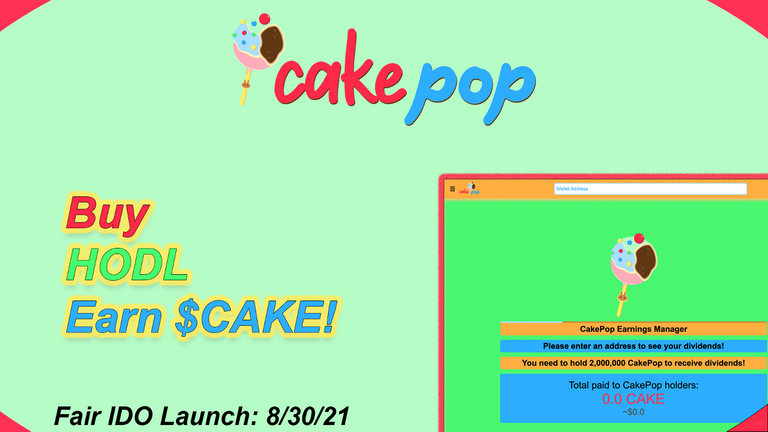 We're excited to announce the launch of CAKEPOP — a new dividend paying yield token on the Binance Smart Chain!
The mission of CAKEPOP is to fulfill our dream of the most fair launch sequence imaginable for the new age of meme-based dividend yield tokens.
Most tokens that launch in this niche are missing a great deal of technical prowess and organizational/marketing capabilities:
No functional UI to track past, present and future rewards
A lack of fundamental marketing capability to expand the token — not just at launch but beyond launch as the brand of CAKEPOP moves into other products in the BSC and multi-chain yield niche
A lack of tokenomic vision — the inability to see how tokenomics play out now and down the line
Lack of a fair launch — many platforms launch with hidden contracts, traps and other unfair mechanisms that aim at hurting bots and retail investors. CAKEPOP has a fair launch via decentralized IDO with our partner and then liquidity pool launch shortly after
Lack of ambition — we aim to take the CakePop brand to much greater heights than our dividend-paying token brethren. Our ambitions stretch out to the multi-verse (multi-chainiverse)of possibilities. Yield platforms, NFTs, and more!
---
CAKEPOP Tokenomics Overview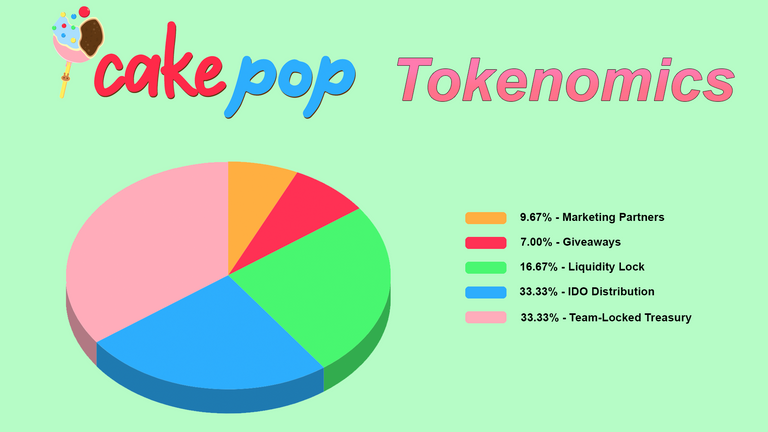 CAKEPOP Supply Tokenomics:
Max Supply: 1,000,000,000
33.33% Initial Dex Offering (IDO): 333,333,333
16.67% Liquidity Lock*: 166,666,667
9.67% Marketing Partnerships: 96,666,667
7% Giveaways & Hype-Based Marketing: 70,000,000
33.33% Locked Team Treasury*: 333,333,333
CAKEPOP Mechanics:
7% Rewards Tax: 7% Tax on CAKEPOP TXs Used to Buy $CAKE and Distribute to CAKEPOP hodlers
1% Marketing: 1% Tax on CAKEPOP TXs Used to Fund Ongoing Marketing Campaigns to Spread the CAKEPOP Brand and HODLER count
*Liquidity Lock is the CAKEPOP that will be locked in the liquidity pool alongside the $125,000 BUSD that we raise in our IDO (166M CAKEPOP+ $125,000 BUSD will be our seed liquidity in the Pancakeswap LP)
Locked Team Treasury is the CAKEPOP reserved for the treasury. This $CAKEPOP will be released via smart contract drip paying out in small chunks weekly for 6 months. Before launch, we'll release all of our Smart Contracts (including this drip contract) with details about how they work for public review
---
Our Partnership With CubFinance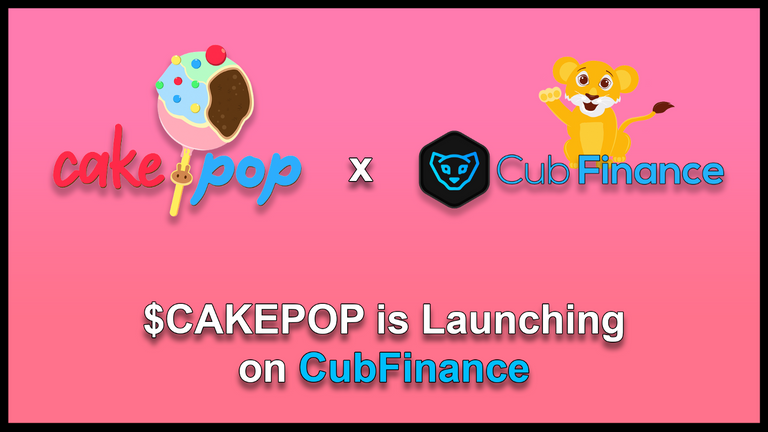 CakePop is not your average yield token launch! We've partnered with CubFinance to launch our token through their new decentralized IDO Contract.
This contract will allow CAKEPOP to launch with an initial Liquidity Pool of $250,000:
$125,000 BUSD from our IDO on Cub Finance
$125,000 CAKEPOP to match the BUSD
This level of liquidity is relatively unprecedented from the perspective of reflection tokens. Many haven't yet seen a real token with real ambition. We aim to not only mirror the likes of KittyCake at launch but surpass it in the long-run as we continue to build our Brand awareness beyond basic reflection token standards.
---
$CAKEPOP IDO Overview with CubFinance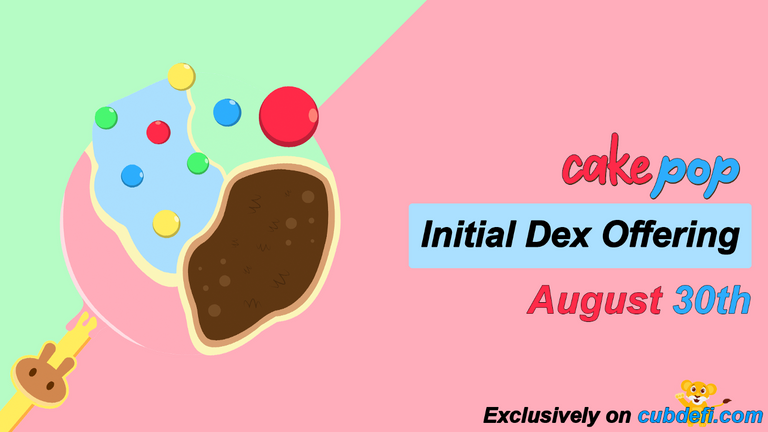 CubFinance has not yet released a public/detailed post about how their IDO system will operate. They've said that a post will follow shortly after our announcement of IDO Partnership with details specific to how our CUB-BUSD IDO raise will work via decentralized smart contract!
We will also publish a detailed tutorial on how to deposit and interact with the CubFinance IDO vault for $CAKEPOP. For the purposes of this announcement, these are the IDO economics we will launch with:
1/3rd (33.33%) of total max supply released in IDO: 333,333,333 $CAKEPOP
Raise: $125,000 BUSD + $125,000 CUB
IDO Valuation: $0.00075 USD per $CAKEPOP
Split: $125,000 BUSD goes to our team address and will all be used to seed initial liquidity (matched with 166,666,667 $CAKEPOP in the LP)
Split: $125,000 CUB goes to 0x..dead as a decentralized payment to the CUB Community for hosting our IDO
$CAKEPOP Launch Price $0.00075
Overflow* style IDO raise (no max raise cap — when $250,000 is breached, tokens enter overflow distribution. Each user gains a proportional share of $CAKEPOP based on their individual $ share of the total $ raised and any un-utilized funds are autonomously returned to each participant)
*In an overflow style IDO raise, there is no max raise cap. Any amount of $ can be raised above the $250,000. When the total raise amount is breached, each user receives a proportional share in the total allocation (333,333,333 $CAKEPOP) based on their % ownership of the total raise amount.
For example if a user deposits $10,000 in the IDO raise of $250,000 but the total raise amount overflows to $500,000 then the user will receive 50% (since it was 2x overfilled) of their share in the total 333,333,333 $CAKEPOP up for grabs (10,000,000 $CAKEPOP tokens for this user) at the fixed IDO valuation of $0.0005 per $CAKEPOP. This means that this user has received $5,000 worth of CAKEPOP and their other $5,000 deposited in the IDO that wasn't used will be automatically returned to their wallet as the original CUB-BUSD tokens.
The CubFinance team has said that a fully detailed breakdown with infographics is coming prior to our IDO Launch Date which will explain the actual mechanics of the IDO and how to participate. We will also make sure to reiterate their message and apply it directly to the $CAKEPOP IDO!
---
CakePop Roadmap
August 2021:
1). Pre-Launch Platform Checklist:
✅ Website and Earnings Dashboard for CAKE
✅ CAKEPOP Token Contract Deployed on BSC
✅ Official CAKEPOP Launch Announcement — Today! August 24th
✅ CAKEPOP Tokenomic Details Released
2). IDO Details:
✅ Our IDO Partner Announced
✅ Initial IDO Details Announced
3). Social Media:
⚪️ Social Media Growth & Announcements
⚪️ Social Media Competitions — Giveaways & Promotional Campaigns
⚪️ Social Influencer Campaign — Crypto Twitter Influencer Outreach
4). We Are a Go For Moon Landing!
⚪️ Decentralized IDO Launch via https://cubdefi.com/ido
⚪️ Successful Raise of $250,000 USD ($125,000 BUSD and $125,000 CUB)
5). Platform Launch:
⚪️ Launch CakePop UI
⚪️ Launch $CAKEPOP Token & Distribute to IDO Participants
⚪️ Add $125,000 BUSD and $125,000 CAKEPOP to Initial Liquidity Pool (PancakeSwap V2)
⚪️ CAKE Dividends Begin — $CAKEPOP Hodlers Earn for Their HODL Skills
6). Post-Platform Launch — Reaching Orbit:
⚪️ Expansion of Social Media Promotional Campaign
⚪️ More Social Media Influencers — Press Release Run About Out Successful Decentralized IDO Capital Raise
⚪️ Expanding Our Awareness Through Social Media Competitions — Talk About CAKEPOP on Social and Earn!
⚪️ Listing on Major Data Platforms — CoinMarketCap, CoinGecko, Dex Trackers & More!
7). The Future! Going Further Beyond!
⚪️ Liquidity Pooling Partnership — Pool CAKEPOP & Amplify Earnings!
⚪️ Layered Dividend Coin Partnerships — Hodl CAKEPOP to Enter Partnerships
⚪️ CAKEPOP Merch & NFTs
⚪️ Entering the Multi-Chain Landscape
---
Follow The CakePop Brand On Social Media!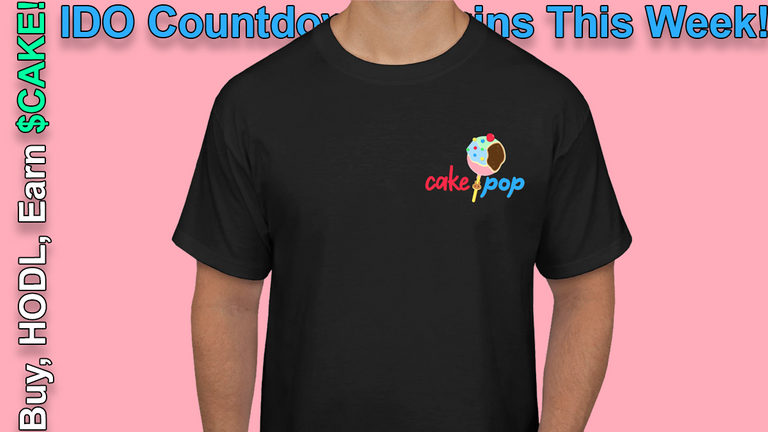 Twitter: https://twitter.com/CakePopToken
Telegram: https://t.me/CakePopToken
Leofinance: https://leofinance.io/@cakepop
Medium: https://medium.com/@CakePopBSC
Posted Using LeoFinance Beta
---
---