RE: Maximum reward - A draft of a proposal
You are viewing a single comment's thread:
Circle?
@richardcrill autovotes content and has been for months. He hasn't removed it even after your post.
@lucylin publishes good content, I vote. @frot posts good content, I vote. Maybe their personalities aren't your cup of tea, but I think they're a good laugh.
I also upvote people like... @hranhuk, @shubhwaj, @aiuna, @offgridlife, @sofs-su, @edystringz, @jaxsonmurph, @mineopoly, @thomashnblum, @melbourneswest, @revise.pob, @wiseagent, @alekst7, @clixmoney, @allcapsonezero, @elricmoonslayer, @sugandhaseth, @anacristinasilva, @dwinblood, @interpretation, @malopie, @katerinhernandez, @scholaris.pob @nonsowrites.pob, @trostparadox, @josediccus, @denmarkguy, @kemmyb, @captaincryptic, @thoughts-in-time, @phusionphil, @uwelang, @samsmith1971, @shepz1, @fireguardian, @memeisfun
(probably missing some, but it's quite the circle. https://hivestats.io/@calumam)
---
malicious circle-jerk voting
Now. Let's objectively define malicious.
characterized by malice; intending or intended to do harm
Please, if you are able, can you state what harm is intended? I think some clarity on this would be important for the community.
I'm curious because I noticed your downvotes on @lucylin's comment votes as well as his posts. So some clarity on your definition of "malicious" would be fantastic. Not just for me, but so that the community can understand what is deemed as malicious so they're not hit by your downvote too.
---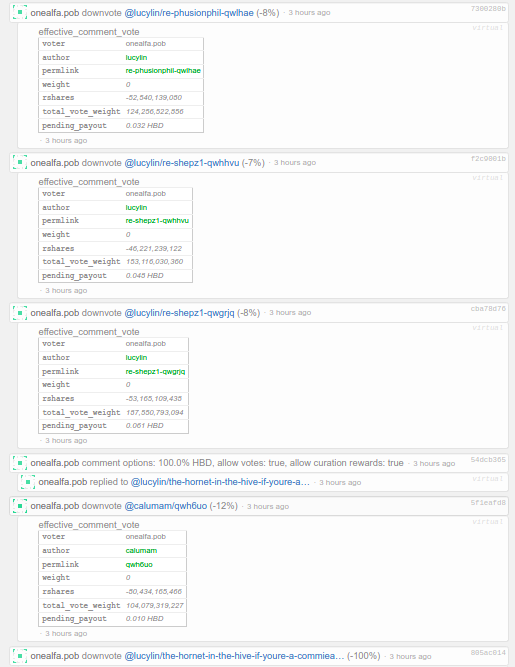 ---
You also removed my vote to @shubhwaj on this comment. The guy made a funny? 1.8 POB? Alright, seriously now, what's your definition of malicious?

---
Disagreement of rewards? Well, back it up. You seem to pick and choose who you downvote but still drop the occasional comment saying what is over-rewarded.


https://www.proofofbrain.io/hive-150329/@onealfa.pob/qwhqqe#@onealfa.pob/qwkzew
so alfa, why do you not downvoted then?
---
P.S. with your definition and explanation about the malicious nature of the votes (which you'll obviously share, because you love replying to me), just so you don't throw your friend under the bus, @vempromundo is also followed by @richardcrill's autovote. He's supported by this "malicious circle-jerk voting" by proxy.
Ask yourself if you are reading along... is this unnecessary drama? or is this genuinely important since @onealfa is the #2 stakeholder on the platform?
---
Posted via proofofbrain.io
---
---