Quick And Easy Mexican Inspired Food.
Here is a quick and easy, super yummy Mexican inspired meal I came up with while here in Mexico.
I love food and I like cooking but when you don't want to spend forever cooking a meal it's great to have recipes that don't take long but are still super delicious.
The other day I made this meal for probably the third time since I've been here and I thought I would share it with you guys.
So what is it?
Lentil Tostada and guacamole.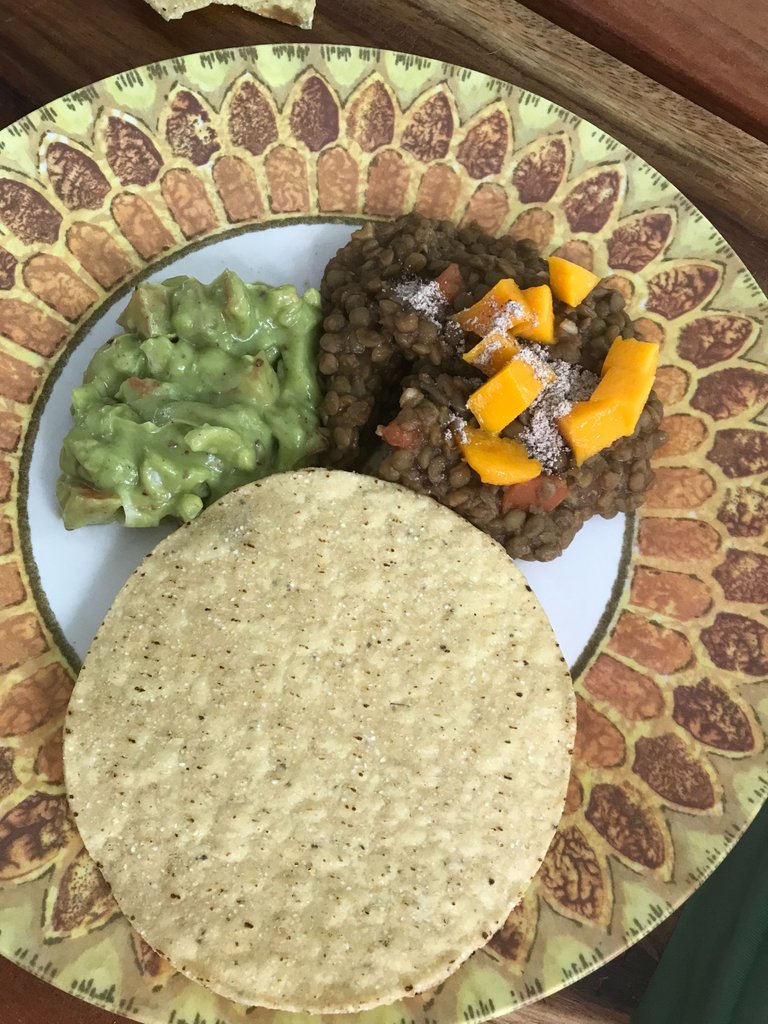 I'm not going to lie I did cheat a little, for the lentils I usually use a shop bought tomato, onion and garlic sauce but next time I'm going to try and make it all fresh.
How I cook the lentils:
It's super easy to cook lentils so I just put what I think looks enough for how many people I'm cooking for. Fill it with water about an inch over the lentils and leave it to boil.
Check it now and then to see if I need to put a little bit more water
in.

I like the lentils to be really soft, but just cook them to the
consistency you would like if you prefer them a bit firmer.

When they are nearly cooked I add half a vegetable stock cube and leave
it until most of the water is evaporated.

I then add the tomato sauce. 1 chopped onion, and a few fresh chopped tomatoes.
Cook for a few more minutes and then its done.
When the lentils are nearly done I prepare the guacamole.
There's definitely better ways to make guacamole but only having a few ingredients here's how I made mine:
2 avocados, Mashed with a fork.

A few finely chopped spring onions.

Chopped tomatoes.

Pinch of salt and pepper.

Chilli flakes and a hint of lime juice.
Of course you need tostadas but would also be good with regular tortilla chips. To finish it off chopped mango adds a really nice sweetness to the lentils. I know sounds weird right, but it's actually really nice.
My girlfriends' little brother is usually a picky eater and even he loved it, so I guess that says something.
Thank you for reading and I hope you like the recipe :)
Photo is mine.
---
---