The Lil' Devas Are Born - Rising Star Update

Hey all!
Long time no post.
Status Update
While it has been a long time no post, it has not been a long time no play. I have been busily (or should I say idly?) earning starbits and gaining experience.
Last time I posted about my Rising Star status, I was just about to hit level 60.
Well in the last month plus since that post I've now made it up to level 77 and have formed my band as of TODAY!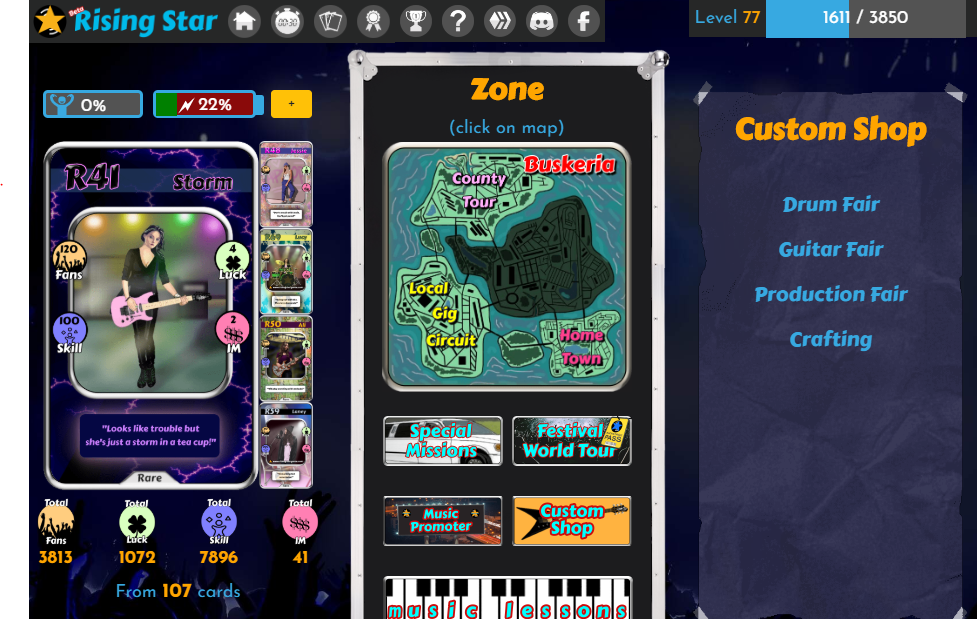 Getting the Band Together
I have decided to go with an all girl band and have named them "The Lil' Devas".

For my front woman, I have Storm on lead guitar. As I've said a few times now, she just looks like my kind of girl. I know you are thinking, "a guitarist for the lead", hey... she is just that good.
On lead vocals I've put Jessie. Don't tell her, but she is on thin ice. Too many nights partying and not learning the lyrics. She sounds a bit whiny sometimes too so don't be surprised if she doesn't get replaced.
Lucy is on the drums, but that poor thing clearly needs a drum upgrade. Might be time to go hit the custom show and build some a nice set of custom drums for her.
Finally I have Loney pulling double duty working the mixer and doing backup vocals. Put her at lead vocals, but she sounds too much like a man. Not going to cut it for The Lil' Devas.
I was pretty grumpy during the Band Rehearsals. I had nearly 19 rehearsals in and only two band members, than bam bam! Back to back successful missions.
I like their sound so far . Click here to listen to them for a bit.
Opened Up Country Tour
Forming your band unlocks Country Tour too.
I had not seen what the gigs were in the Country Tour and I have to admit I was a little disappointed.
I'd expected a significant increase in earnings at the next level, but that doesn't seem to be the case on first review. The big gig in Country Tour pays about the same as the big gig in local.
One difference is that it seems like you may not gain as much ego in Country Tour, which would be a big advantage long term.
But it will also take a lot more gigs and a lot more fans before I can do much of anything in the Country Tour stage. So...
Current Strategy
I'm still to low of a level to do any of the Country Tour gigs, so I will go back to running a more or less max #starbits strategy. That means doing my Starbits millionaire gig, maybe a music leason and then 3 or 4 Local Mini Tour Support gigs.
Good Luck All!
I hope everyone is out there getting their gigs in and working towards Mega Stardom.
---
Posted via proofofbrain.io
---
---