My Savings Goal & Plan
Image Source
I think the first time I saw the idea of savings was from an article someone posted during the festive period but since I was new here, I did not know how to go about it and decided not to do anything about it but sixteen days ago, I came across @wolfofnostreet post titled, The Saturday Savers Club | My Savings Goal & Plans, in the post, she talked about the Saturday Savers Club strategy initiated by @eddie-earner @shanibeer I declared my interest to be a part of it but I was confused even though I needed to be a part of the savings club.
I decided to go read more about the article, I went through their post and also I asked questions that I did not understand since I am new here. Fortunately, I got answers and ideas that helped me decide that I should take the step and stop thinking about the possibilities that I might not be able to do it.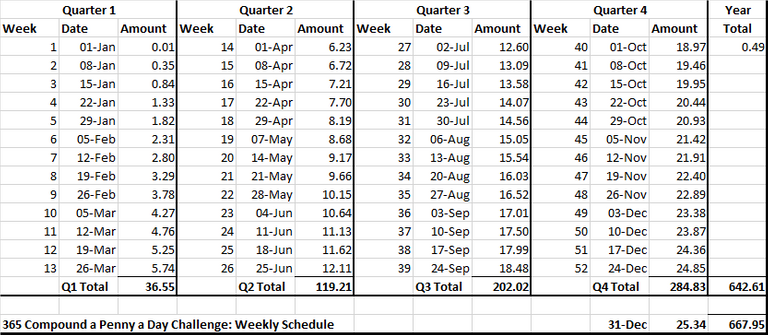 I decided to go with the weekly savings luckily, for me, I had already started the savings the very day I knew about savings and currently I have 6.660 HBD.
It was time to write a post to declare my interest but I was confused about what to write because I knew it was going to be a little step to begin the journey. Finally, today, I decided to write about my intention and here I am.
If I would be following the weekly chart for the savings which I choose although we have different saving charts but I choose the weekly savings option. At the end of the year, I would have 667.95 in my savings and also have a primary goal of achieving 1000 H.p in my wallet.

To be sincere, I am a bit scared of not reaching my goals considering the fact that I am still a newbie here, although not losing hope but I hope I would be able to keep up till the end.
Posted Using LeoFinance Beta
---
---