Splinterlands; weekly battle share challenge submission with Theme Bloodlust
Hello splinterlands fan!
This is my weekly battle share challenge with the Theme Bloodlust.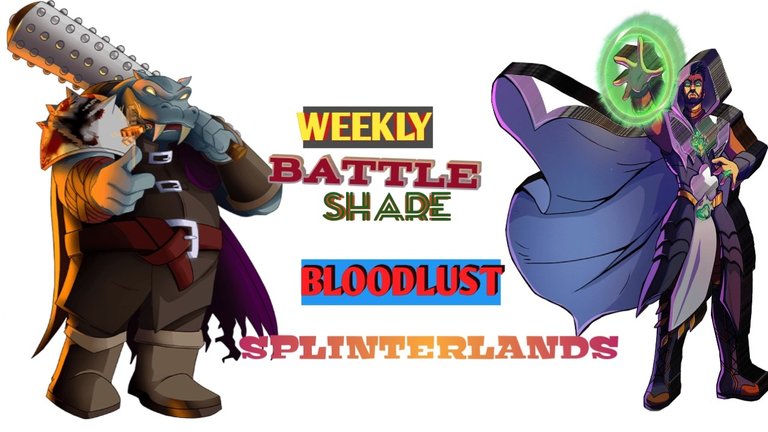 https://splinterlands.com/?p=battle&id=sl_b22780d643b6f8915fc7f9a839e3aa56

Before I explain brief about this battle I want to have a quick view over Soulbound card that I claimed yesterday evening and also recently ended splinterlands season.
Exactly 7:29 p.m. I was ready to claim my first daily focus chest from Gold League. It was just 5 in number.
To be honest first time I burnt 25% Energy rate to collect these 5 daily focus chest. It means strong opponent in each battle. Most of them were bot. When I revealed my daily focus chest then there were two Soulbound reward card FIRECALLER & DRYBONE BARBARIAN, containing 3 and 4 card with each. Yeah happy with that. It is just beginning. As there will be improvement in League surely there will be more daily focus chest.
Before it on 31st January when I revealed my 46 season focus chest then I was surprise to see 752 SPS, one God foil, single Chaos Legion pack and a Bloodlust Legendary monster Jared Scar from Life unit.

■MY SUMMONER■

It was using *Grandmaster Rathe as my summoner for this battle.. This is a Legendary Chaos Legion summoner from Fire unit with three special Buffs Ampifire, Void Armor and additional Armor. I wanted to use Jared Scar as my Bloodlust monster, so it was a perfect summoner in 48 Mana battle gameplay.
●Edition- Chaos Legion
●Splinter- Life
●Rarity- Legendary
●Price- $19.79
●Buffs- Additional Armor, Void Armor and Ampifire.

●Theme- BLOODLUST

Few months before Bloodlust ability considered especially for the Gladiators card. Till now there is only two cards Grum Flameblade and Jared Scar with Bloodlust ability in normal gameplay.
Monster revels in the glory of combat and becomes more dangerous as the battle goes on. Every time it defeats an opponent, it gets +1 to all stats (in the Reverse Speed ruleset, -1 to Speed).>

●BATTLE RULESET AND MANA
It was 48 Mana game with Three battle rule set, in the form of Super Sneak, Ampifire and Odd Ones. You must have noticed that recently game ruleset has been changed and there is one more additional ruleset in daily focus battle. Death Water and Life Splinter were active for this battle. First time I am publishing my splinterlands post with Three battle ruleset..

●SUPER SNEAK
All Melee attack monster have Super Sneak ability and can perform from any position..
●UP TO ELEVEN
All monster will eligible for Ampifire ability.
●ODD ONES
Only Monsters with Odd Mana cost may be used in this battle..

TEAM SQUAD AND CARD PLACING
It was a great battle between legendary summoners under 48 Mana. Under Three battle ruleset it always be difficult to choose perfect combination.
My faith was with Four Legendary monster including one monster without attack. My initial tendency was clear choosing 4 Monsters with Melee attack. Out of them Three Monster having armor as I was using Grandmaster Rathe as my summoner.
There was a single monster with Range attack and Dodge ability in the form of Air Elemental. One Demoralize Melee monster in the form of Disintegrator to reduce Melee attack. One monster with Recharg and Heal ability in the form of Uriel The Purifier.
One more Legendary monster Jared Scar with Bloodlust, Piercing and True Strike ability. Another Legendary monster Sacred Unicorn with Trample ability. Actually I prepared my team similarly taking the battle ruleset Super Sneak. To use Ampifire there was Thorn and Magic Reflect Monster Lord Arianthus. It was a perfect team combination according to my plan.

■LORD ARIANTHUS
■SACRED UNICORN
■JARED SCAR
■URIEL THE PURIFIER
■INVIGILATOR
■AIR ELEMENTAL
■LORD ARIANTHUS

Maximum time I use this Legendary monster in any battle ruleset . I placed this Monster at first position to use it's ability . This is a Neutral Legendary monster with Void Shield, Void,Thorn and Magic Reflect ability. This is a monster without attack but everyone knows that it's utility is great. This is a long lasting monster with strong resistance. No doubt this is one of the most useful Monster without attack.
■SACRED UNICORN

Likewise it is a Melee monster that performs with first position but it was Super Sneak battle ruleset so I placed it at second position..
This is a Heal Legendary Melee monster from Life unit that I am using since initial time. This Legendary monster comes with 5 Melee attack and 4 speed, 7 Mana and 9 Health at level three.
I always like this Monsters because of it's Piercing, Trample and Heal ability. With the arrival of Riftwatcher I hardly use this Legendary monster.
■JARED SCAR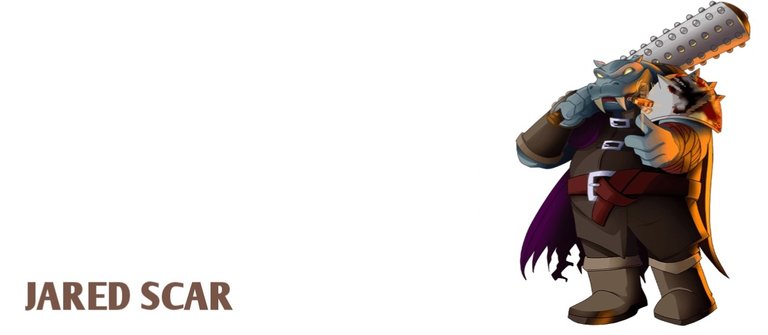 This is Bloodlust Legendary ability monster from Life unit. After Grum Flameblade, it is single Monster that gains Gladiators ability. This monster comes with 7 Mana, 2 Speed, 2 Armor and 5 Health at level-3.
This monster has pretty good abilities like Bloodlust, Piercing and True Strike*. All these abilities are superb for this Low health monster. Recently I started to play with this Legendary Monster especially in Melee Mythem and Super Sneak battle ruleset.
■URIEL THE PURIFIER

Does it make sense using Last stand monster against Recharge ability Legendary monster? Maximum time I able to won the battle with Uriel The Purifier against Last stand..
This is a dangerous Legendary monster with Flying, Recharge and Heal ability. It's Mana caste is 11 with 4 attack and 3 speed.
This monster comes with 6 Armor and 12 Health at level third. I was using Grandmaster Rathe as my summoner so the role of it's armor becomes great.
■INVIGILATOR

This one of the most useful Chaos Legion Edition common monster with Demoralize and Trample ability. There was single reason to use this common monster to get Demoralize ability in Super Sneak battle ruleset .
There was possibility to use Melee Monsters and due to Void Armor summoner I was using this monster in battle squad. This monster comes with 3 Melee attack 2 speed 3 Armor and 6 Health al level 6. It's Mana cost is seven.
■AIR ELEMENTAL

This is an Epic Monster from *Life splinter. To see it's utility recently I purchased it but could not leveled up into 4. I was using this Monster due to its pretty good speed and Range attack. This Monster comes with Dodge ability so I placed it at last position.
I was using level 4 and at this level this Monster comes with 3 Range attack 6 speed and 6 health. No doubt this is an effective monster with pretty good speed.

■HERE IS THE VIDEO LINK OF THE BATTLE
■YOU CAN ALSO ENJOY SOME BATTLE FOOTAGE HERE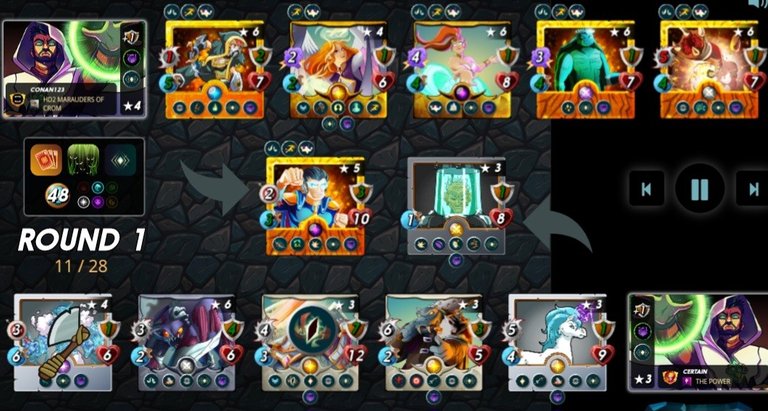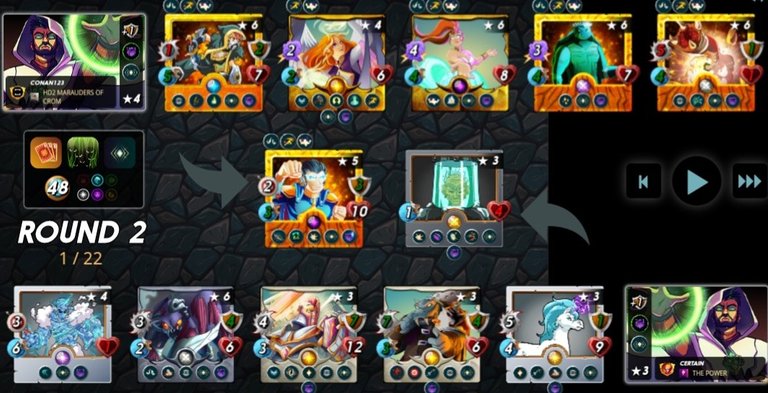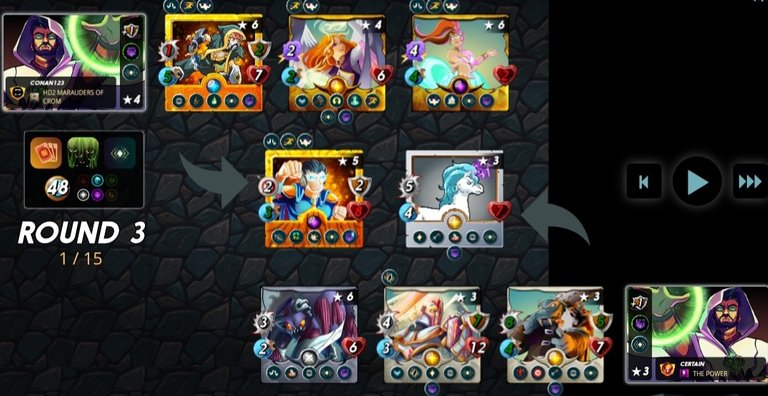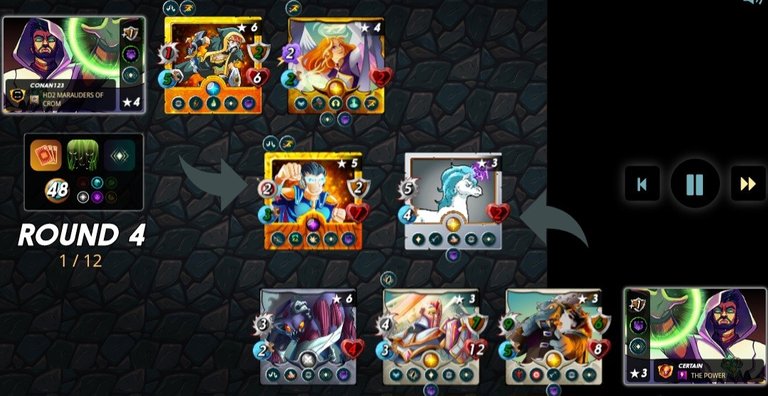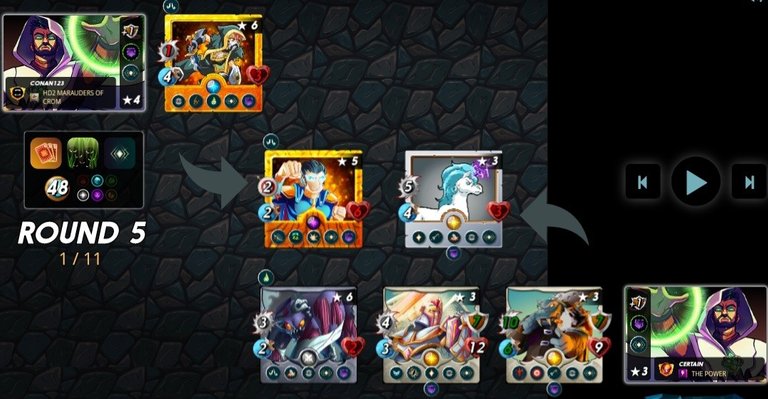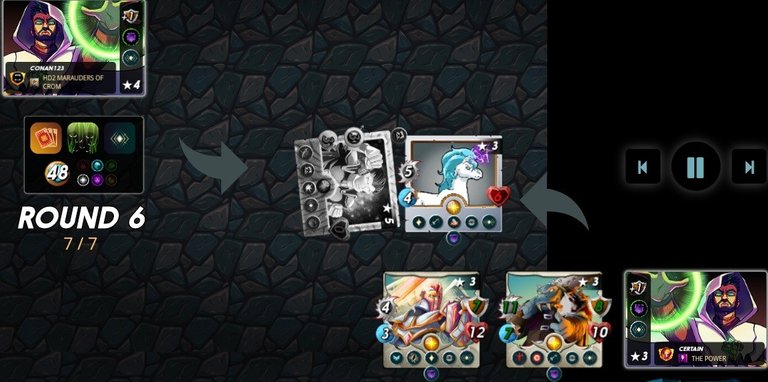 ●DO I BATTLE WITH BLOODLUST ABILITY OFTEN? WHY ARE WHY NOT?
To be honest after Gladiators when I saw two monster Grum Flameblade and Jared Scar with Bloodlust ability in normal gameplay then I was little surprise whether it is Gladiator cards or normal card.
Mostly I like to use Grum Flameblade with Bloodlust at first position in high and low Mana Battle ruleset. In other hand second monster Jared Scar I use only in Super Sneak or Melee Mythem battle ruleset..
I like Bloodlust ability very much. Now with the arrival of Soulbound reward card there is opportunity use these abilities in normal gameplay by using Gladiators cards. Soon there will be more battle with Bloodlust ability. I have over then 50 + Gladiators cards in my card wallet..

●●DID MY STRATEGY WORKED WELL? WILL I TRY DIFFERENTLY IN NEXT TIME?
To be honest I was not sure that with which summoner my opponent will come. So placed traditional squad with four Melee monster, one Range Monster, one monster without attack with Void Shield, Void, Thorn and Magic Reflect in the form of Lord Arianthus. I placed Bloodlust ability monster Jared Scar in the middle to get enough chance for attack and use Bloodlust. I was also using a Recharge ability monster in the middle. Low health of Uriel The Purifier was a bonus point because it was getting chance to attack after two attack from high speed Monsters. Jared Scar that totally destroyed opponent's squad in just three attack. It was the bad luck of the opposition team that he was using three Magic Monsters. There were three Monsters in my battle squad with Armor and I was using Void Armor summoner. Overall it can be say that my strategy worked well. Sure one have to change their strategy and plan according to battle rule set and I also do that.

●LOOKING FOR OPPORTUNITY? to participate in this wonderful gaming platform, then check out the original post from splinterlands**-
https://peakd.com/hive-13323/@splinterlands/share-your-battle-weekly-challenge-grund
DECLAIMER
All images, gif, photographs are not mine, it is taken from creator's post and games website Here-
PS- images edited with pixelLab app
And all images are taken from Here
It is taken just for post purpose..
Thanks for your valuable time..
Keep On Battling
Have a nice day..


---
---