Rising Star Giveaway Winners (5000 STARBITS & t6 Cheap Car) and New Drawings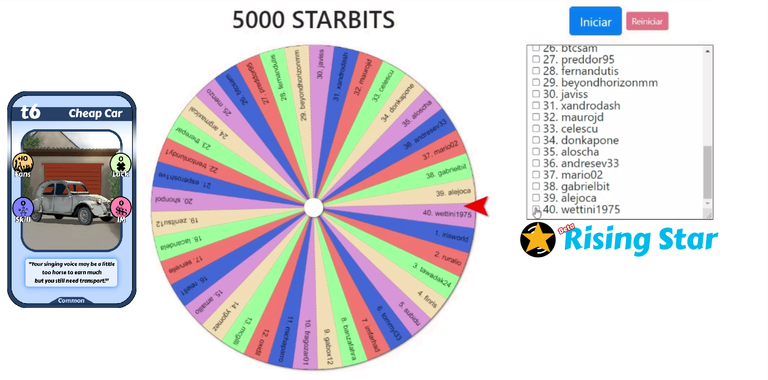 Greetings, one more week of giveaway friends of Rising Star, but first I apologize for the delay in the publication, but several factors played against me. However, against all odds here we are, we already have new winners, and I am pleased to announce them.
Saludos una semana más amigos de Rising Star, pido disculpas por el retraso en salir la publicación, pero diversos factores jugaron en mi contra. Igual contra todo pronóstico aquí estamos, ya tenemos nuevos ganadores y me complace anunciarlos.

English
Once again I am grateful for all the receptivity on your part, this time breaking records about the previous week. I am pleased to say that forty users participated, best of luck to all of you in future draws.
Spanish
Nuevamente agradezco toda la receptividad de vuestra parte, esta vez rompiendo récord en relación con la semana anterior. Me complace decir que fueron cuarenta usuarios que participaron, la mayor de la suerte para todos en futuros sorteos.
This week as you know, we were raffling 5000 STARBITS and a "t6 Cheap Car " and the winners were @wettini1975 (5000 Starbits) and @btcsam (t6 Cheap Car). Congratulations to the winners and remember that you can keep trying your luck in the next giveaways.
Esta semana como ya saben, se estaban sorteando 5000 STARBITS y un "t6 Cheap Car" saliendo ganadores de estos @wettini1975 (5000 Starbits) y @btcsam (t6 Cheap Car). Muchas felicitaciones a los ganadores y recuerden que pueden seguir probando su suerte en los siguientes giveaway.

All the details of this raffle and delivery of the prizes can be seen in the following video, stored on the Youtube platform. Also, today we are opening a new pack of three cards so as not to lose the custom.
Todos los detalles de este sorteo y envío de los premios los pueden visualizar en el siguiente video almacenado en la plataforma de Youtube. De igual forma hoy abrimos un nuevo pack de tres cartas para no perder la costumbre.

New Giveaway
And as we don't want to stop being active, I will do another giveaway, and the dynamic is just the same as the previous one just leave me a comment, and you will already be participating.
As I mentioned in the video, I will be raffling this time 2000 STARBITS for one person and a "17 Moon Child " for another player.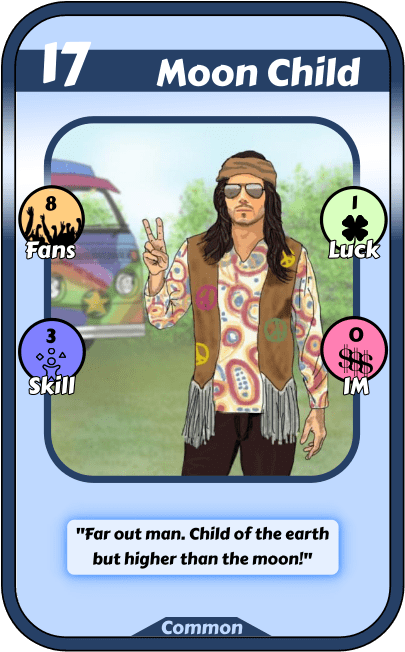 Nuevo Sorteo
Y como no queremos dejar de estar activos, haré otro giveaway y la dinámica es justo igual a la anterior, solo déjame un comentario y ya estarás participando.
Como mencioné en el video, estaré sorteando en esta oportunidad 2000 STARBITS para una persona y un "17 Moon Child" para otro jugador.

2000 STARBITS

| R83 Lime Acoustic | i36 Tubular Bells | i42 Mid Range Decks |
| --- | --- | --- |
| | | |
Today I opened only a pack of three cards for 10000 starbits, I got only instrument cards, and checking now my card only one of the three I didn't have so it was only a single card which was the "i42 Mid Range Decks".
In the next section, I will share with you my updated stats from last week, if you have any suggestions you can leave them in the comment box.
Hoy abrí solo un pack de tres cartas por 10000 starbits, me salieron solo cartas de instrumento y revisando ahorita mi carta solo una de las tres no la tenía así que solo fue una carta única que fue el "i42 Mid Range Decks".

En la siguiente sección les compartiré mis estadísticas actualizadas con relación a la semana anterior, si tienen sugerencias pueden dejarlas en la caja de comentarios.
---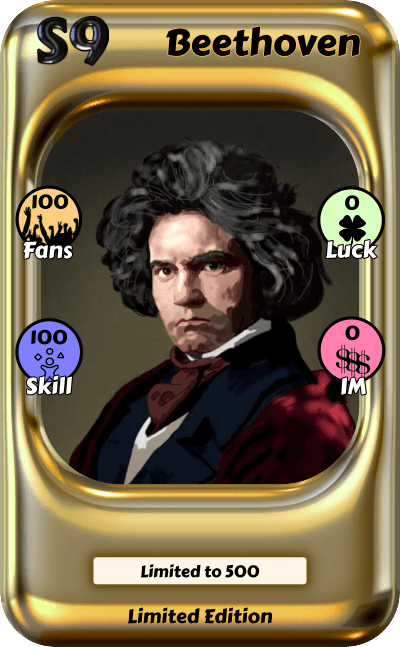 | | Before | After |
| --- | --- | --- |
| Total Fans | 2385 | 2391 |
| Total Luck | 673 | 1000 |
| Total Skill | 3390 | 4034 |
| Total IM | 30 | 30 |
| Unique Cards | 62 | 65 |
| Total Cards | 94 | 86 |
| Score | 635 | 813 |
| Level | 45 | 47 |
| Rank | 563 | 408 |

This week there was no big difference in the points focusing mainly on investing in the skill so I invested days before in luck. Three new cards and because I have put on sale a good number of my NFT musical piece, the total of cards went down.
By the way, I inform you that for a while the recording "Full Moon" will be at 24000 Starbits to make it more accessible to new buyers and thus I also invest a little more in the account, thus preparing myself for level fifty and the investment in the million starbits for the millionaire card.
To finish this report, my level went from 45 to 47 with only three levels left to reach fifty. Somehow the decisions taken during the week helped me to climb in the ranking, so I feel satisfied.
Without further ado, I say goodbye and hope you continue to participate in the weekly draws, congratulations again to the winners of this week, and good luck to those who participate.
Esta semana no hubo gran diferencia en los puntos enfocándome principalmente en invertir en el skill por lo que hice una inversión días previos en la suerte. Tres cartas nuevas y debido a que he puesto en venta un buen número de mi pieza musical NFT, el total de cartas bajo.

Por cierto les informo que por un tiempo la grabación "Full Moon" estará en 24000 Starbits para que sea más accesible a nuevos compradores y de este modo invierto también un poco más en la cuenta, preparándome así para el nivel cincuenta y la inversión en el millón de starbits para la carta millonaria.

Para finalizar este reporte, mi nivel pasó de 45 a 47 faltando solo tres niveles para llegar al cincuenta. De algún modo las decisiones tomadas durante la semana me ayudaron a escalar en el ranking, por ello me siento satisfecho.

Sin más me despido esperando sigan participando en los sorteos semanales, felicitaciones nuevamente a los ganadores de esta semana y suerte para los que participen.
---
The separators used and many others are available by clicking here and their use is free to distribute, many are cool I recommend them.

The screenshots were taken on my desktop computer.

The images of cards belong to Rising Star.
Los separadores usados y muchos otros están disponible haciendo clic aquí y su uso es de libre distribución, hay muchos que son realmente geniales se los recomiendo.

Las capturas de pantallas fueron tomados en mi computadora de escritorio.

Las imágenes de cartas pertenecen a Rising Star.

¿Quieres aprender más sobre los comentarios y su importancia?
Visita la etiqueta
#hivecomments
y vuélvete un experto.

---
Usamos Hive Vote para configurar nuestro trail de curación.
Vote @mahdiyari as a witness. You can read about why to vote him as a witness here.
---
---

Banner made in Canva ||| Banner realizado en Canva



---
---