My Favorite Cryptocurrencies & Tokens | Zilliqa - The World's first Sharding-based Blockchain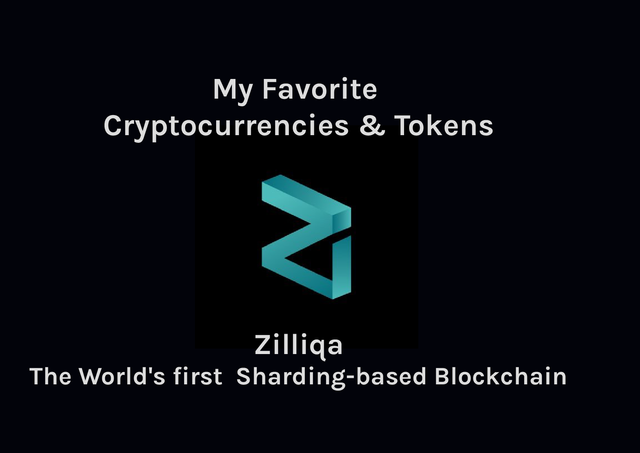 source Edited with Adobe Illustrator
---
Hello Everyone
---
---
Introduction
---
Over the last 10 years, cryptocurrencies have become one of the digital currencies whose prestige has increased along with the innovation of its technology which has made it chosen by the general public, especially those seeking alternatives to fiat currencies that have many one-sided policies. Many cryptocurrency projects have their characteristics and creativity to attract users to use their projects, like Bitcoin and Ethereum which have managed to steal the world's attention as digital currencies that have had a huge influence over the past few years.
In this post, I will share about my favorite cryptocurrency and token among many other cryptocurrencies on the market, I chose it because the projects and innovations offered by this cryptocurrency, in my opinion, are what people need today.
---
About my favorite Cryptocurrencies and Tokens
---
My favorite cryptocurrency is Zilliqa and I will explain in detail here.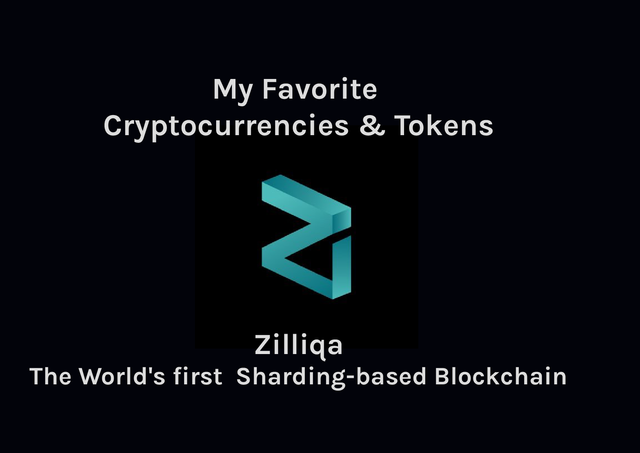 source
The reason I chose Zilliqa is the innovation offered by this cryptocurrency is very innovative and different from other digital assets on the market. Zilliqa is a cryptocurrency under its Blockchain that has the concept of Sharding in the transaction process, the concept is beneficial for speeding up transactions by dividing transactions into small groups for miners who verify in parallel more quickly and efficiently than Ethereum or other cryptocurrencies.
Even though it is new in the world of cryptocurrencies, Zilliqa provides innovation where it is considered the next generation of Bitcoin and Ethereum because of its technology that provides faster performance than ever before. In their Whitepaper, they explain that Zilliqa consensus capability is fast and more efficient in increasing the number of transactions within a certain period, so DApps under Zilliqa will work more optimally because they can process more than 2000 transactions per second.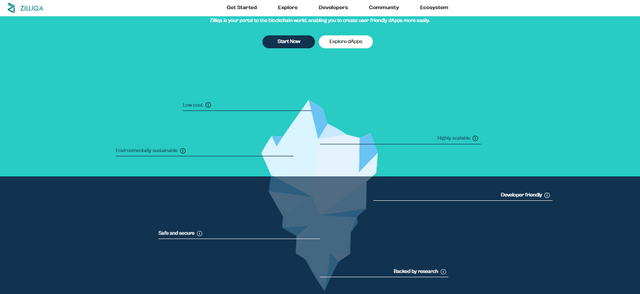 source
Currently, there are many Decentralized Applications (DApps) in the Zilliqa ecosystem and hundreds of other projects, this proves that Zilliqa is trusted to be able to provide optimization for projects under its shelter even though it is relatively new compared to other cryptocurrencies.
Some of the main features provided by Zilliqa are:
1). Low Cost
2). High scalability
3). Environmentally Sustainable
4). Safe & Secure
5). Developer Friendly
6). Backed by Research
---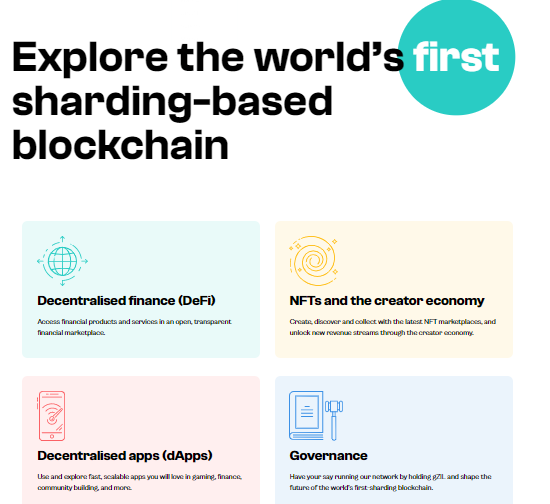 source
Zilliqa created a Smart Contract under the name Scilla for DeFi and Dapp projects under its ecosystem, Scilla uses an intermediate-level language supported by the world's most advanced sharded protocol. Scilla also uses an analysis framework and automatic scanner that provides effectiveness for Developers to easily identify possible problems on the network.
Besides that, the Smart Contract used in Scilla has a strong system that makes it more secure and has also been proven to be safe mathematically because it uses functional programming language.


source
Scilla also provides lessons that can be learned for those who want to know about the coding applied to Scilla Smart Contracts, the lessons provided have three levels, namely Elementary, Intermediate, and Advanced that can be used to find out information related to Smart Contracts.
---
ZIL Token
---
Zilliqa has a native Token with the name ZIL which can be used as an asset for investment and other types of finance such as NFT in the cryptocurrency market in the Zilliqa ecosystem, users can use it for Staking ZIL in an eco-friendly manner because they implement strong securities in the system and stable, to do ZIL Staking we can use digital wallets in the ZIL ecosystem such as Moonlet, Zipay, Guarda Wallet, Zillet, and Atomic Wallet.
Users who have ZIL can take advantage of this Staking feature to get rewarded with a stake of several tokens they have, the benefits that will be obtained are very profitable because the Annual Percentage Yield (APY) provided by Zilliqa currently reaches 14.89%.


source
ZIL is currently ranked 80th via CoinGecko with a Market Cap of 502,905,157 USD, a Circulating Supply of 14,448,938,410 of a Total Supply of 21,000,000,000. For a relatively new project, Zilliqa has proven that they deserve to be where they are now because the innovation and ecosystem that they provide to users provide many benefits, and Zilliqa has never experienced a scam issue like what happened to other cryptocurrencies.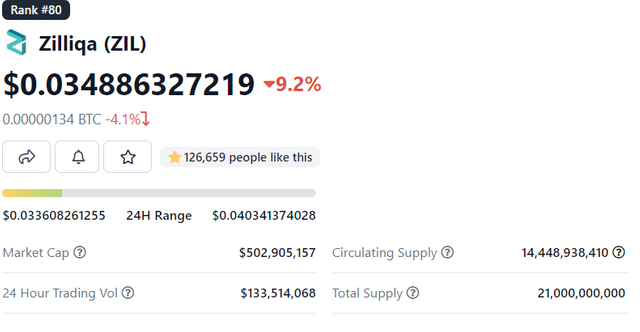 source
As I write this, the price of ZIL is 0.034886327219 USD down by 9.6% over the last 24 Hours, ZIL once reached its All-time High in 06 May 2021 at 0.255376 USD. Currently, we can't expect much because all cryptocurrency markets are experiencing a downtrend, and almost everything has been in bearish condition for the last few months. However, the trend may soon change to an uptrend, and all cryptocurrencies will be bearish going forward.
In terms of the community, Zilliqa has a positive community that always supports developers and is also active on social media to shill and share information about Zilliqa with other users. Recently, Zilliqa has 455.5K followers on Twitter and 25161 members on the Zilliqa Official telegram.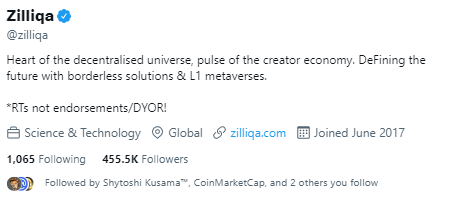 source
[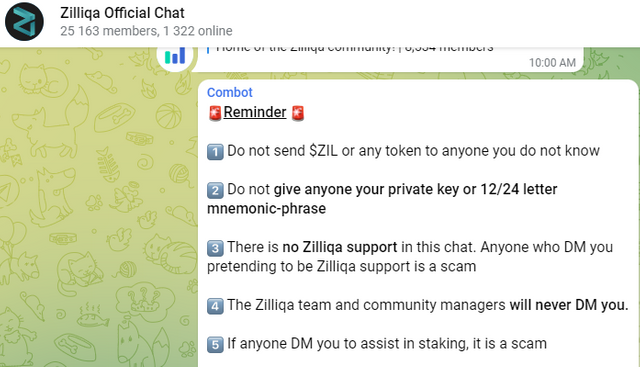 )
source
---
Conclusion
---
I chose Zilliqa as my favorite cryptocurrency and token because the features and technology they created provide innovation and also an alternative for users to use their ecosystem or even just become a Hodler of the Token.
I learned that there are many cryptocurrencies and tokens out there that have great potential that can be used as investment assets, but please remember that never decide to buy a cryptocurrency just because of information from other people.
Always look for information and do your analysis of coins or tokens that will be purchased or used as digital assets, because cryptocurrencies have a high risk and users must do their research to avoid fraud and scams.
Don't forget to always Do Your Own Research (DYOR)
---
This post is for educational purposes only and is not an invitation to invest. Investing in crypto and tokens carries a high level of risk. You must first consult a financial advisor
---
References
---
---
---