Keep An Eye On Those BSC Fees | How Much Have You Spent?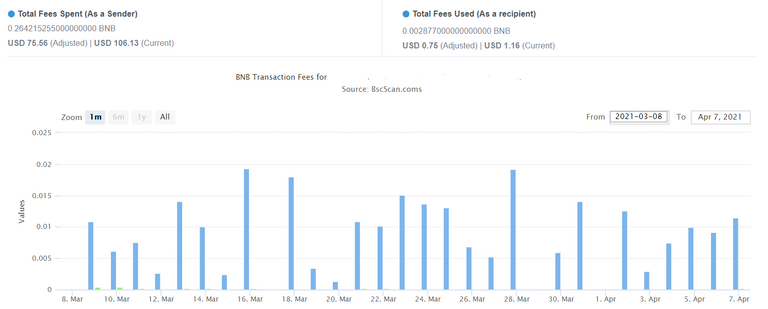 It has been about a month since Cub launched and with that, it's time to see how much i've spent in fees.
To track how much you have spent on BSC fees:
view your account on BscScan.
Select the Analytics Tab
Select Txn Fees below
You can specify the dates as necessary. In this case, i have gone for 8th March to 7th April.
Results and observations
In total, i've spent about $105 on fees in a month. That's a lot higher than expected but those daily transactions do add up. I suppose the good thing is that this is still lower than Eth's fees.
The daily expenditure
Probably the most useful thing to do is to see what's the average spend on your usual daily transactions. For me, that would be harvesting from a farm and a den. Then selling half before making a liquidity pair and then adding the pair to the pool.
All these transactions seem to be costing me 0.009 BNB a day. That's about $3 at today's prices.
The most expensive transaction is creating the liquidity pair but there doesn't seem to be any way around lowering the fees.
---
Anyway, in case you're wondering how to keep track of the fees you're spending on the BSC network, i hope you have found this useful.
---
---