Bitcoin Could Create New Towns And Economies
Hey Jessatoshis
As Bitcoin continues to grow, the incentive to mine Bitcoin increases, the network requires more security as it stores more value, and miners are looking at finding unused or untapped energy resources all over the world. The thing with energy is it's not easy to transport; it can only support a certain range from where it is being generated.
Many of our major cities are built due to things like proximity to ports, mines or freshwater sources. But that doesn't mean they always in proximity to energy sources.
As we humans create new energy and latch it onto the global grid from fossil fuels, natural gas, nuclear, solar, geothermal, marine and tidal, wind, and hydro, not all of that can be properly monetised.
Unfortunately, we don't have the battery technology, and even if we did, it has its limitations. The issue here is that Bitcoin can be the best way to monetise that wasted energy, and people simply don't like that.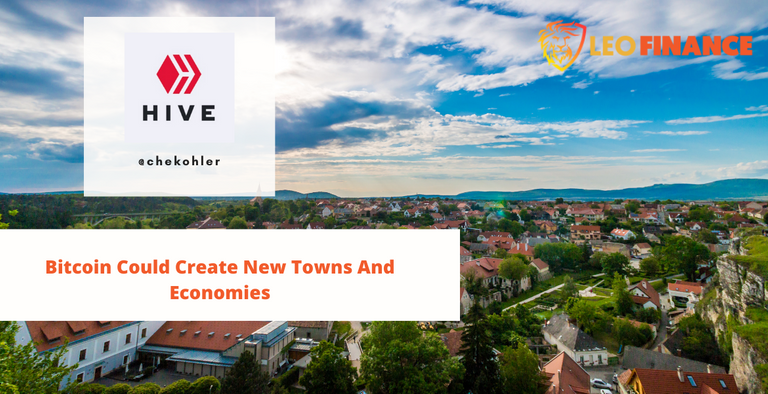 What if we let Bitcoin monetise wasted energy
So let's say you want to start a mobile mining operation or a mining operation moves into an energy source near you; what do you suppose they do? Create jobs, of course.
When they create jobs, they provide people with an income, that income is spent, which encourages other businesses to be spun up to support it.
As with mining towns of the past, where people struck gold, towns were built to support and then exhaust the mine faster, but that's beside the point.
I think that if people are allowed to monetise these various energy sources that they would not only attract people out of cities, but it could reshape old towns, build new towns, decentralise population centres and give us all a better standard of living.
Centralise cities
All over the world, we see cities become more populated, more crowded, more competitive, and prices are skyrocketing, and the cost of living creates more poverty than it solves.
People remain because this is the most likely avenue to tapping into the money supply; the big cities are where the banks are, where the governments are, where the spending happens, where the infrastructure s built and maintained.
So people are forced to stay and compete for access to the flawed way we distribute capital.
Decentralising goes further than the ledger
Perhaps I am a dreamer, but if they have more places that are energy independent, that can provide for themselves, they will attract talent if that energy can be monetised. Once the energy is monetised into something like Bitcoin, it allows for an economy to be build from what is procured in that area.
We could see an exodus from the city; we could see better use of land; we could see affordable land home prices and an improved standard of living for all.
Have your say
What do you good people of HIVE think?
So have at it, my Jessies! If you don't have something to comment, "I am a Jessie."
Let's connect
If you liked this post, sprinkle it with an upvote or esteem, and if you don't already, consider following me @chekohler and subscribe to my fanbase
| Safely Store Your Crypto | Deposit $100 & Earn $10 | Earn Interest On Crypto |
| --- | --- | --- |
| | | |
---

`
Posted Using LeoFinance Beta
---
---