Finlands Bitcoin Faux Pas
When I speak about bitcoin's ability to reduce government overreach, I often get backlash or I'm met with skepticism. Normies are aware of the power their governments have in the fiat system and their ability to paper over their mistakes with infinite money printing, but with bitcoin, it's a different story and you're going to be made to pay for your mistakes.
As we often celebrate bitcoin pizza day, a reminder of the opportunity cost of spending your bitcoin, I think this will be another one to add to the list. Finland has announced, that they will send aid to Ukraine by donating millions of Euros earned through the selling of their bitcoin holdings.
The country's finance minister announced late on Wednesday. The Finnish government holds 1,981 Bitcoin worth nearly €75 million at current rates.
"The government will donate tens of millions to help Ukraine thanks to the proceeds from the sale of Finnish Customs' confiscated Bitcoin," - Finnish finance minister Annika Saarikko tweeted, adding that the decision was "right and proper".
Finland dumping bitcoin
In order to acquire the cash, Finnish Customs said that it had selected locally based digital asset firms Coinmotion and Tesseract to carry out the Bitcoin sale, saying it was satisfied with their "procedures to prevent money laundering and investigate the background of the buyer".
Ideally, they're looking to get as many euros as possible and dumping 1900+ BTC on the market in one go, for a small market like BTC/EUR would send the price tumbling down. So these companies will have to strategically sell, not a great time might I add with the price already trending downward.
However, great for plebs like me, more supply coming online means cheaper bitcoin that will go into my stash.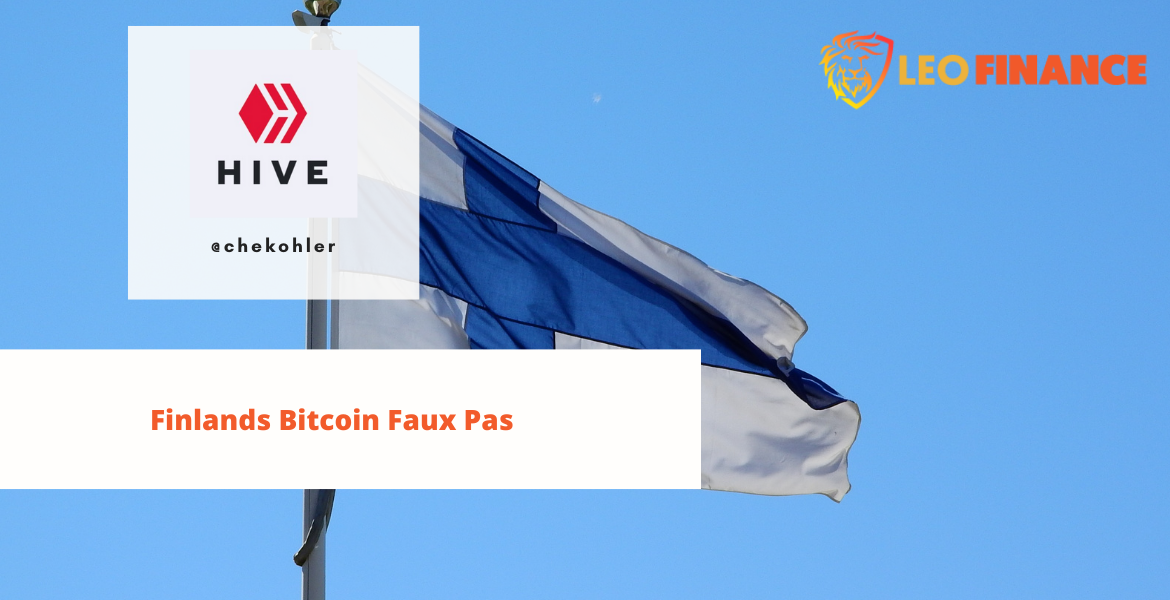 Where did Finland get this bitcoin?
The Finnish government has hodling these coins for 6 years now, not bad hands, but it looks like they turning tail with paper hands, I wonder why?
About a year ago Finland's customs announced a plan to auction off the seized Bitcoin, most of which dates back to a major drug bust in 2016 when 1,666 of the tokens were confiscated.
At the time, the Bitcoin haul was worth less than €700,000. However, the price appreciation over the last 6 years has seen that value balloon and at current prices put its value at closer to €62 million.
Blacklisting suddenly doesn't matter
I find it hilarious how, if you were someone who held bitcoin deemed to have been used in illicit activity and your coin can get seized should it hit a centralized exchange. Even using privacy tools like coinjoins can get you flagged, yet they can use coins from a drug bust to fund war and it's all water under the bridge.
No rules for me, different rules for thee.
Proof of confiscation
Governments have no idea how proof of work influences money, to them it's just numbers on a screen. When you didn't mine it, didn't sacrifice for it, and either stole it or acquired it with printed fiat money, you'll never value bitcoin.
Governments will continue to misallocate capital, regardless of it being bitcoin or not and that's why I have faith that even if governments and cities acquire bitcoin through tax, confiscation or other means it will end up with the strongest hands eventually.
The Finnish government will look back on this one as a massive mistake, having nearly 2000 BTC could be a life-changing value for the country in the next decade, that could make them a superpower, but instead they're handing over it at a discount to fund war.
I for one am more than happy to make them pay for their mistakes and will be picking up those sats toot sweet.
Sources:
Have your say
What do you good people of HIVE think?
So have at it my Jessies! If you don't have something to comment, "I am a Jessie."
Let's connect
If you liked this post, sprinkle it with an upvote or esteem and if you don't already, consider following me @chekohler and subscribe to my fanbase
| Safely Store Your Crypto | Deposit $100 & Earn $10 | Earn Interest On Crypto |
| --- | --- | --- |
| | | |
Posted Using LeoFinance Beta
---
---