Is Tesla The BIggest Meme Stock
Hey Jessielons
If there's one man that's keeping journalists in a job, it's Elon Musk; while he does give the media whores a fair bit to suckle on, they do try to jazz things up or milk every tweet into a fully fleshed out story so the can get a few clicks and sell a few ads served by Google. If you cannot understand how destructive this business model is to the product, then you won't understand that media isn't the product.
You might think you go to the website for the article, nope, that's just how they can serve you more ads; it just happens to be an article. If they could serve you pictures of Elon Musks booty hole and it keeps you on the page long enough, they'll do that too.
Now Elon is in the media a whole lot if running Tesla and Space X isn't enough, it's his less popular companies, or his trolling on Twitter, appearances on Joe Rogan, or what his farts must taste like, I don't know I don't really keep up with this stuff too much.
What is a meme stock?
A meme stock is a piece of hot garbage wrapped with a ticker, the company is either about to shit the bed or has shit the bed, but people think it would be funny to bid up the price of the stock and meme the markets.
Since markets are so manipulated today, retail has no found a new hobby in finding pockets where they can manipulate stocks with a little float or through derivatives markets forcing float off the market.
Meme stocks are basically stocks that are stupidly overvalued and lack fundamentals to back them up. Elon has been pretty vocal on meme stocks, using his powers of pump-ementals to moon $GME and a few other stonks.
I find this ironic because I think Tesla is the biggest meme stonk of all.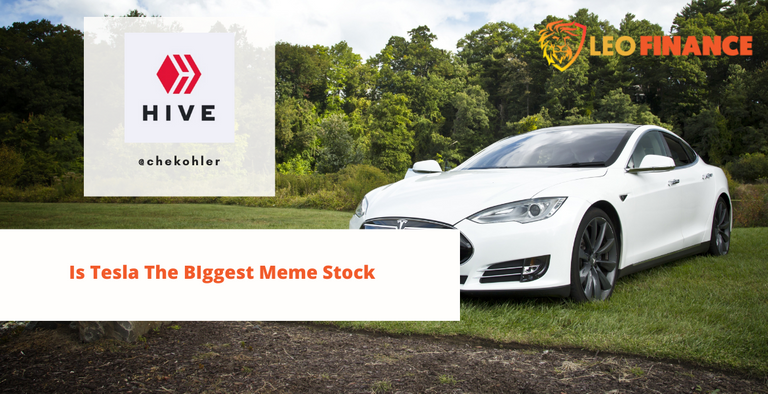 Enter Tesla
Telsa is the darling of the S&P 500, tiktokkers and anyone with no financial experience is buying this thing based on the fact that it's run by Elon. Those in the know are buying it because, well, they can take money from dumb retail and then some buy it. After all, it's their mandate to own something in the $&P 500.
Then there are people like Ark, who are Perma bulls, and if Tesla puts cup holders in their car, it's a bullish sign it's going to take over the market.
Anyway, let's say many people are riding hard on Tesla but can never afford to drive a Tesla. Tesla currently has a market cap of $577,38B and a PE ratio of 600. To put this into context, a fair value company normally trades at around 13 to 15 times earnings.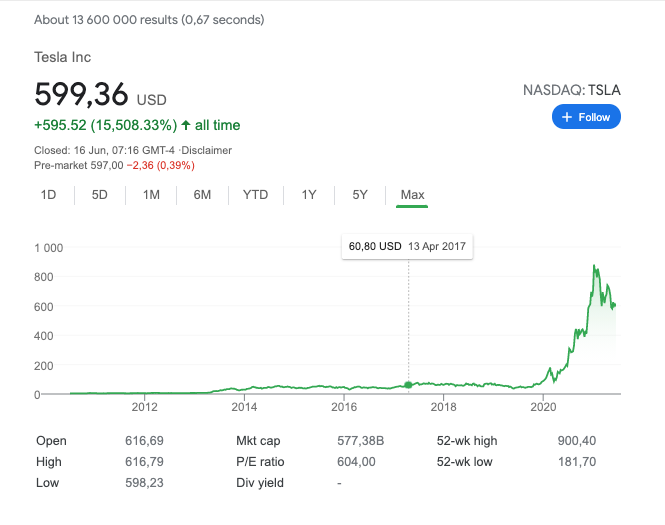 Not a car company its a tech company
Telsa is by no means a basic ass car company; it's banking on a lot of tech, such as its battery tech and its autopilot tech. It doesn't see itself as a car company but a tech company that will be the backbone of EV's and it just so happens they also sell cars.
I get the narrative, but I think a lot of what's priced into Tesla is a bit of a moon shot.
Tesla's goal is to have the best autonomous driving and best battery tech, so anyone who wants to do EVs or driverless cars will have to use their tech and servers. They can milk everyone to death in the process, having a monopoly on the service.
Now, if they get this right and all car manufactures are beholden to them, well, then I get the price action, but I don't get why their pricing further increases; there's only so many EV's the entire world can push out per year to use their service even if they are 100% the backbone.
Tesla is unprofitable
A lot of reasonable people have said this and get the whole well amazon was unprofitable for years example. Tesla also relies heavily on the government and the carbon credits system to stay in business and is far off having enough cars in production or software licencing to increase their earnings to match their valuation.
As much as Elon meme's other tokens and stocks, I think he also used his status to meme his own companies into a whole new set of investors who are price insensitive.
There are plenty of smart people working at Tesla, there's plenty of cash to keep Tesla going, there's indeed a chance Tesla can succeed, but to me, Tesla looks like a meme stock.
We've long passed any financial reality, so it can keep going for years, and I can sound like a scrooge McDuck while others make out like bandits buying Tesla stock.
I'll probably miss out on all those gains due to my conservative nature of investing, but that's okay with me. I can only invest in things I understand and make sense to me, naturally, that means I am often late to the party but hey you can't win them all.
Have your say
What do you good people of HIVE think?
So have at it my Jessies! If you don't have something to comment, "I am a Jessie."
Let's connect
If you liked this post, sprinkle it with an upvote or esteem and if you don't already, consider following me @chekohler and subscribe to my fanbase
| Safely Store Your Crypto | Deposit $100 & Earn $10 | Earn Interest On Crypto |
| --- | --- | --- |
| | | |
---

Posted Using LeoFinance Beta
---
---