Russia Holding Bitcoin As Part Of Reserves
Well well well, I am no geopolitical analyst but the man did I call this one spot on, about 2 months ago I looked at the way Russia was setting up their reserves as a hedge against sanctions and boy was I correct. Not that I knew the extent of these sanctions or why it would happen, but as they say follow the money and you'll find the truth.
Reports state that Western countries have seized between 350 - 500 billion of Russia's foreign reserves and they only have access to 13% of it held in Chinese yuan.
That's no small dent in anyone's balance sheet and to recover from a hit like that with an attack on your currency is not going to be easy either, but the Ruble has held up pretty well all things considered.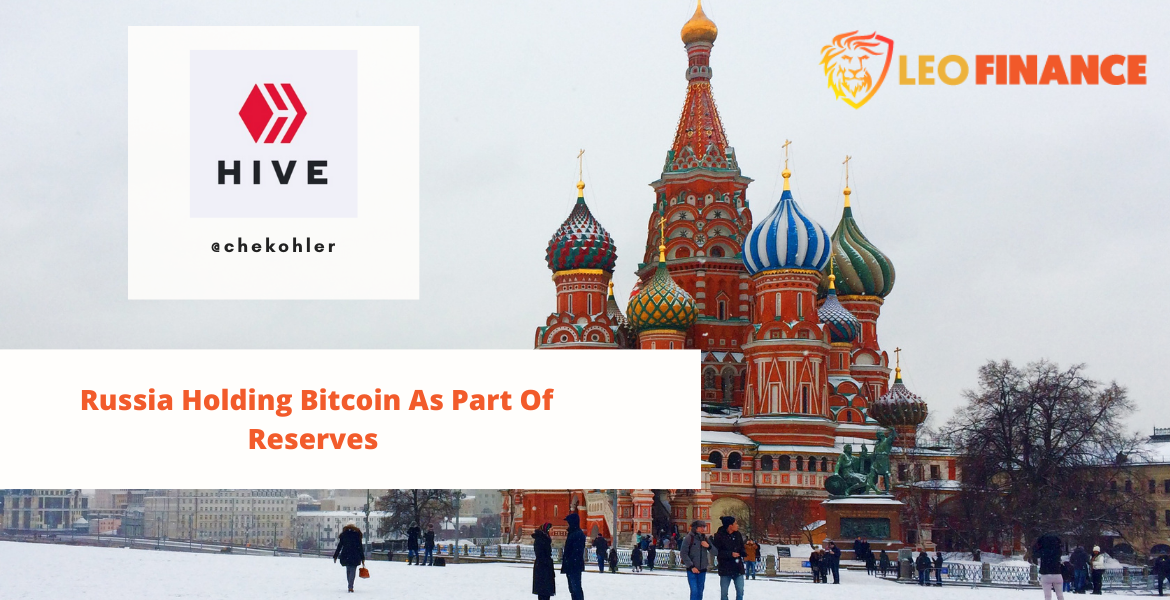 Diversifying the kitty
Now that Russia has no need for Euros, Pounds or Dollars, they'll need to put their income into something else. Yuan and Indian Rupees will be an obvious choice as these two countries will be massive trading partners going forward.
While Russia holds around $106 billion in gold reserves, they've also come out with a statement that they now own $130 billion in bitcoin and cryptocurrency [3].
I would not be surprised if the uptake in bitcoin use on the retail level has also spiked as individuals are looking to get money in and out of the country with banking limitations they suffer from today.
So it makes sense that this could provide a breeding ground for more bitcoin use on the individual, corporate, and state levels.
An excuse to own bitcoin on a sovereign level
These sanctions have given all countries an excuse to move to a bitcoin standard, especially ones who don't have the best relationships with the West. If we only look at countries with the heaviest Western sanctions like
Could all look to follow Russia into having bitcoin reserves. I think that there could be more countries added to the list with talk of sanctions coming for Hungary, Pakistan, and India due to their stances on the Russia issue.
If we consider the size of Pakistan, Russia and India alone that's 1.5 billion people and if we consider resources Russia and Venezuela are the most oil-rich countries in the world.
This is not some tiny section of the world, with no disrespect to what El Salvador has done for bitcoin growth. This is a section of the planet with a higher population than the West, and if their shunning on the global stage pushes their countries and by proxy citizens to bitcoin exposure, this could really foster the next step in hyperbitcoinisation.
Bitcoin is still a baby
This move has not come without serious consideration if we consider
the response from Deputy Governor Ksenia Yudaeva who rightly states that bitcoin doesn't have enough liquidity to clear transactions on a central bank level while a bank of Russia Governor Elvira Nabiullina didn't feel comfortable adding it to the country's balance sheet.
Of course, trusting bitcoin can be seen as a massive risk, but I think with the lack of choices they've been forced into it. I do think they could have had a smaller allocation, but I suppose it was a race against time to secure some of those foreign reserves into something else, so as not to leave completely empty-handed.
A silent move with a bigger impact
I don't think this news has really sunk in due to attention firmly focused on Ukraine, which is understandable. But, I am sure if I told you 1,2 or 5 years ago that a massive country like Russia would have bitcoin on their balance sheet to the tune of billions, you would have laughed me out of the room.
Sources
Have your say
What do you good people of HIVE think?
So have at it my Jessies! If you don't have something to comment, "I am a Jessie."
Let's connect
If you liked this post, sprinkle it with an upvote or esteem and if you don't already, consider following me @chekohler and subscribe to my fanbase
| Safely Store Your Crypto | Deposit $100 & Earn $10 | Earn Interest On Crypto |
| --- | --- | --- |
| | | |
Posted Using LeoFinance Beta
---
---