Sharemax Yet Another South African Financial Fail
South Africans are used to getting screwed financially, if not by their governments, then by their banks and if not by them then by these scams that offer them returns that may help them escape the currency debasement and tax burden they face.
While MTI and Africrypt, are some of the biggest bitcoin affinity scams/ponzi schemes the world has ever seen, they are but a succession in what has always been a culture of financial shitcoining long before there were shitcoins.
One of the biggest scams before the shitcoin era was that of Fidentia, the failed investment firm that embezzled over 1 billion Rand and defrauded its investors.
Ubank which specialised in the mining sector fell into administration, African Bank failed after wreckless lending practices and let's not forget the Steinhoff saga.
These are all pretty popular, but one that hasn't got much publicity is Sharemax, which has been a scandal running for years.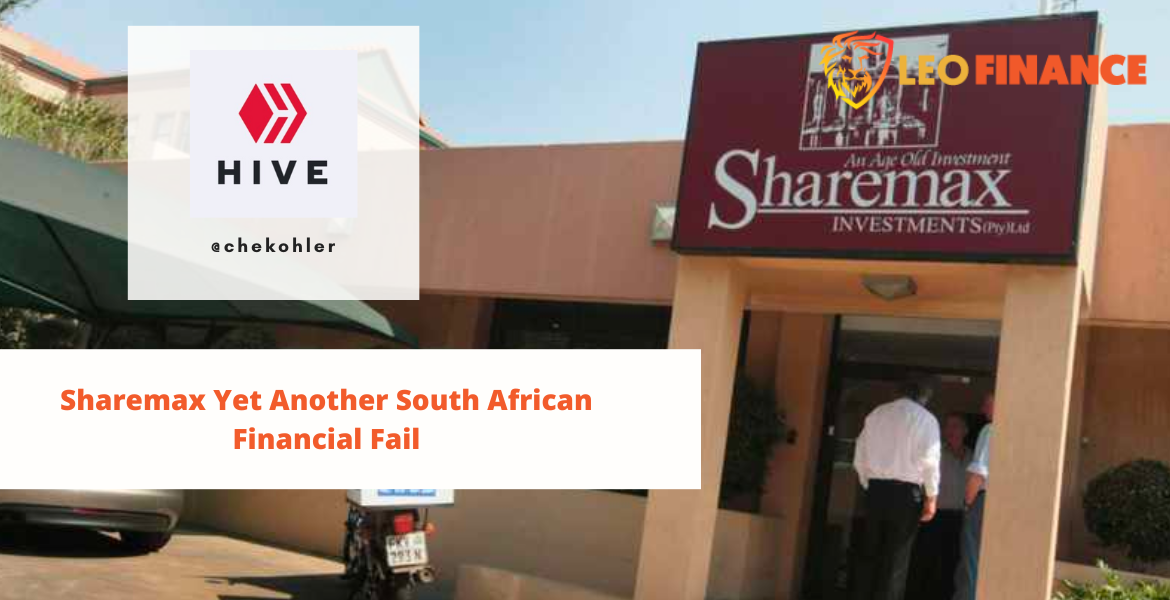 After the dot com bubble imploded in the early 90s, many investors, around the world looked for a safer place to put their money and that vehicle became real estate, a trend South African investors took part in too, you can see it through the gross overpricing of land in the major cities, but that's talk for another day.
As people started to pile into real estate, there were only so many opportunities to monetize land, and derivates of land started to become popular. Property syndications flourished in the years eventually coming back down to earth in the 2008 GFC.
However, before that, the property market was booming and many investors were persuaded to invest in these complex, murky structures, containing companies within companies.
One of the companies benefitting from this risk on attitude was Sharemax, which operated between 1999 and August 2010. The glossy brochures of unbeatable returns were pushed on the public by advisers who peddled the investments and enjoyed handsome commissions. They didn't care to whom they sold, nor did they pay any attention to the risks involved.
As reality does, it eventually reveals the truth with time and the scheme collapsed taking with it 18 600 investors who collectively invested R4.6 billion of their savings and pensions.
The move to Nova Group
When Sharemax went tits up, instead of going into liquidation, whereby investors would have received the proceeds from a sell-off of assets, a "rescue plan" was devised in 2012.
Part of the plan was launching new company, Nova Property Group which would offer investors a trade in. Most investors opted to trade in their Sharemax investments for debentures in a Nova subsidiary, with the expectation they would be recompensed over time.
That has not happened and investors were taken for a ride a second time. Nova has slowly been selling off the Sharemax assets, but the investors have received only about R176 million out of the R4.6 billion they invested.
So where did the money go?
Nova directors have been paying themselves well over market rates for their services to the still embattled group while telling investors their money will be freed up for withdrawal soon, as they have been saying since 2014.
This is just one of many operations in South Africa taking consumers for a ride and you can see why I am advocating for people to hold their own keys and not trust anyone with their money. If there's any place constantly advertising the benefits of self-custody, then it's South Africa.
Sources:
Have your say
What do you good people of HIVE think?
So have at it my Jessies! If you don't have something to comment, "I am a Jessie."
Let's connect
If you liked this post, sprinkle it with an upvote or esteem and if you don't already, consider following me @chekohler and subscribe to my fanbase
| Earn Free bitcoin & shop | Earn Free Bitcoin & shop | Claim Free Bitcoin & Shop |
| --- | --- | --- |
| | | |
Posted Using LeoFinance Beta
---
---