Swapping Tron For Bitcoin On The Lightning Network
Hey Jessatoshis
So I post my regular actifit updates that also post to my account on the STEEM blockchain. Since I connected a TRON wallet to my STEEM account, I can get some TRON from these posts, you know, stacking up those shitcoin rewards because I have nothing better to do with my life. The unfortunate truth, I suppose.
So I had this TRON piling up, and I can't do much with it since it's not enough to throw into DEFI or any other TRON services like swapping it on an exchange for Bitcoin.
I'd be wasting my time; then I found this site called fixed float not at all sponsored lol, I wish!
Then I'd be stupid hyped about it. Yoh, it's your boy crypto shills back with another update. LOL, like and subscribe. Anyway, I decided what the hell; let's give this 50 TRON a test, and I sent it to fixed float.
Fixed float is an instant crypto exchange, so you trade on spot prices, but you don't have to sign up or KYC which works perfectly for me, I fucking hate that shit; why you always up in my business wanting to know my email and shit?
I am looking for a 1-night stand kind of trades. I don't want you to know my details. So I appreciate sites like this that don't ask you for anything but your crypto.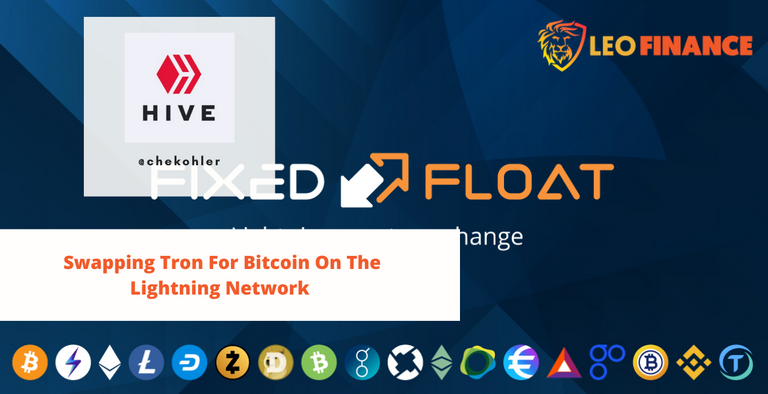 First time is always a fuck up
I set up 1 exchange, but I sent more than I was supposed to, thinking I need to cover mining fees, but when I did that, the exchange didn't go through because I sent too much, and I had to refund the transaction.
The next one, I sent the exact amount needed and swapped 50.23 TRON for 0.00008755 sats. It took exactly 30 seconds, and the transfer was in my lightning wallet, and I couldn't be happier.

Stacking sats
Thanks, Justin, for the free sats; you know I appreciate it. I am so glad I found this site, and I'll be converting a lot more of the tokens I've earned into trusted sats and grow my bags slowly but surely, avoiding them mining fees in the process.
The site supports several currencies that you can earn like doge, Bitcoin cash, BAT and BNB, so if you're looking to avoid another exchange to swap your tokens and want to get more BTC into your wallet, I think this is a pretty cool option for you.
I won't be using it for big bags, like I sad, small shitcoins balances I may pick up during my time online; they'll be going back into my lightning wallet.
Personally, I wouldn't keep more than 10 million sats in a lightning wallet; I'd much rather send that to a main-chain wallet unless you're planning on opening channels to try and earn from routing fees.
If you're using it to have some spare BTC for quick access, then a lightning wallet is a must.
Have your say
What do you good people of HIVE think?
So have at it, my Jessies! If you don't have something to comment, "I am a Jessie."
Let's connect
If you liked this post, sprinkle it with an upvote or esteem, and if you don't already, consider following me @chekohler and subscribe to my fanbase
| Safely Store Your Crypto | Deposit $100 & Earn $10 | Earn Interest On Crypto |
| --- | --- | --- |
| | | |
---

Posted Using LeoFinance Beta
---
---