Taproot Activation In Progress As Bitcoin Latest Upgrade
Hey Jessatoshis
If your compare Bitcoin to other chains, upgrades tend to move at a snail's pace; the last upgrade, segwit, was implemented during the previous bull run. Since then, most of the work done on Bitcoin has been conducted on side-chains like the Liquid and Lightning network.
As Ethereum and other chains take the limelight when it comes to protocol upgrades, the Bitcoin core developers work quietly in the background to release features that won't cause too much disruption but add the functionality needed to extend the chain to more users and use cases.
I mentioned a future upgrade recently in the form of BIP 85 which is still while off, but Taproot is an upgrade spoken about for some time, one that we recently saw take its first steps towards activation on-chain.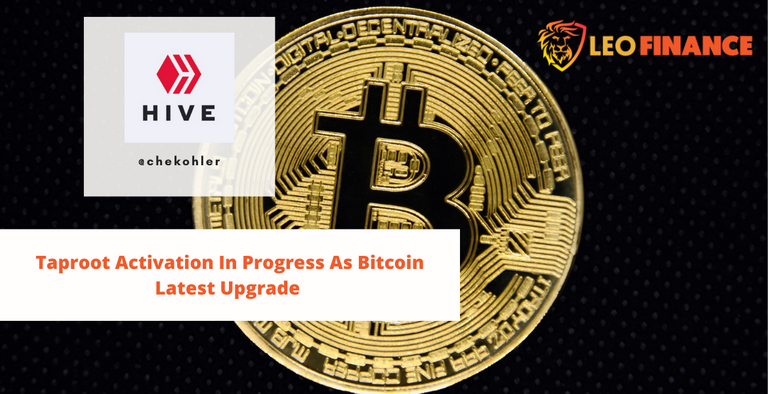 What is Taproot?
A big criticism of Bitcoin is that it doesn't have much functionality, you can send and receive the asset, and that's about it. Sure we have discrete log contracts and multi-sig but developers and dapps are looking for more functionality from the chain.
Taproot aims to improve the overall usability of the network by making transactions cheaper, faster and form the base for the deployment of smart contracts on Bitcoin.
How the activation process works?
Since Bitcoin is a decentralised network, it requires opt-in from nodes and miners, whereas other centralised chains can pretty quickly run an upgrade. To get consensus for the upgrade, miners need to signal this in the blocks they mine.
The Taproot activation requires the green light of 90% of all mined blocks include an activation signal within a difficulty adjustment window (2,016 blocks)
So far, the majority of mining pools have said yes to the upgrade, while others have yet to answer. Many expect the upgrade to pass with unanimous consent. If all miners accept the upgrade, it should be available around November this year.
Now that takes a pretty long time in blockchain terms, but if you're a trillion-dollar asset class, you can't be making moves that could open up vulnerabilities.
How taproot improves Bitcoin
So I bet you're asking, that's cool, but what does this upgrade do for me as a Bitcoin user.
Reduced transaction fees.
Bitcoin fees are determined by the size of the transaction and the data/amount of UTXOs that make up the transaction. Taproot will reduce the data size and allow cheaper transactions. The reduced cost won't only apply to standard transactions but more complex transactions like multi-sig or time-locking contracts.
Increased privacy.
With Taproot and Schnorr signatures, Bitcoin wallets "with more complex spending conditions, like a multi-sig wallet or one that uses time-locking, will no longer be distinguishable from simple single signature wallets. You won't see the difference between a standard transaction and a lightning channel closing, which is something you can see on-chain right now.
More wallet functionality
Taproot will allow developers to create vaulting logic that is better protected against permanent loss by having multiple time-locked redemption conditions.
"As an example of this, you could create a 3 of 5 multi-sig wallets that 'gracefully degrades' to a 2 of 5 wallets if you don't move funds from that wallet for 5 years."
This would "allow you to recover your Bitcoin even if you lose 3 of your 5 keys!
Slow and steady wins the race
This is not only a base chain upgrade; remember that lightning and liquid are side-chains but also compatible forks of the chain, so any upgrade should improve the performance and integration of these protocols too.
Have your say
What do you good people of HIVE think?
So have at it, my Jessies! If you don't have something to comment, "I am a Jessie."
Let's connect
If you liked this post, sprinkle it with an upvote or esteem, and if you don't already, consider following me @chekohler and subscribe to my fanbase
| Safely Store Your Crypto | Deposit $100 & Earn $10 | Earn Interest On Crypto |
| --- | --- | --- |
| | | |
---

Posted Using LeoFinance Beta
---
---