The First Steps To A Bitcoin Economy
Hey Jessatoshis
Bitcoin continues to grow despite the price moving side sideways. Each day more users, wallets and institutions buy up supply and become part of the network.
We see the growth of Bitcoin on Ramps and off-ramps; we seeing Bitcoin-based businesses, Bitcoin-friendly countries and states and software built to support the network.
The growth of the network is not something many talks about, but it's an important part of the next phase of adoption.
For Bitcoin to move from store of value to medium of exchange, it has to firstly have A LOT of people use it and be willing to accept it.
Then we can move to The medium of exchange phase. I think this is still a bit early as we are still well below the trillion-dollar market cap, and where I think the medium of exchange would work is around 10-13 trillion.
This will reduce daily volatility and keep Bitcoin in certain ranges long enough to be palatable for people to accept for goods and services.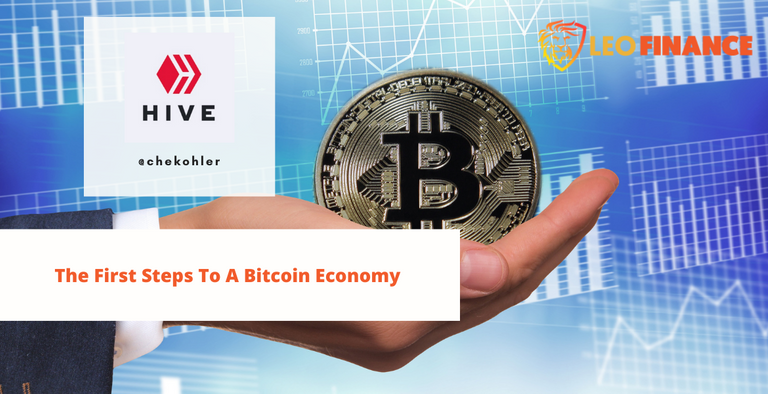 The higher the market cap and trading volume, the lower the volatility
For most people, Bitcoin is seen as a volatile asset as you price everything against it in fiat currency. I get the argument, and I totally understand why people behave the way they do towards the asset.
However, as we see with the price of Bitcoin moving to new highs and the market cap increasing, it takes more money to push the coin in any one direction. As the market cap moves into the trillions of dollars and trading volume supports billions per day, it will take a lot to move the market.
This makes it more stable and can become more attractive as a medium of exhcnage.
This won't be true for developed nations as their currencies still have relative purchasing power, but for those of us not on the AUD, CAD, EUR, GBP or USD, it makes a lot more sense.
Early adopters of a Bitcoin standard
Recently news broke that the first fully bitcoin-enabled community will be set in Bequia.
It is an 18 sq km Caribbean island that is part of St Vincent and the Grenadines. The project is the brainchild of real estate developer Storm Gonsalves, who plans to build 39 luxury villas, shops, a clubhouse and buildings with his company One Bequia.
This creates a closed economy where you can use your Bitcoin in daily life, and while this may seem like a novel approach now, it could catch on in the future.
We've already seen a community in El Salvador move towards a Bitcoin standard where stores and people are all using Bitcoin to trade for services rendered.
As more countries not part of the G7 see their currencies implode, Bitcoin becomes an attractive option to use, store your purchasing power and transact.
In my own country of South Africa, 1 rand gets you 190 satoshis give or take; it won't be long before the 1 rand hits 100 satoshis, and the single satoshi would match that of a South African cent.
Once we hit that range, it makes it more economical for people to render their services and charge in Bitcoin as it wouldn't make much difference, and in fact, as the price appreciates, it makes it even more attractive to use Satoshis.
It's this kind of adoption that makes me bullish that developing nations are going to start to adopt Bitcoin or will fall victim to currency collapse.
Have your say
What do you good people of HIVE think?
So have at it, my Jessies! If you don't have something to comment, "I am a Jessie."
Let's connect
If you liked this post, sprinkle it with an upvote or esteem, and if you don't already, consider following me @chekohler and subscribe to my fanbase
| Safely Store Your Crypto | Deposit $100 & Earn $10 | Earn Interest On Crypto |
| --- | --- | --- |
| | | |
---

Posted Using LeoFinance Beta
---
---