Tonga On Track To Make BTC Legal Tender
2020 saw El Salvador make history by adopting bitcoin as legal tender and the decision has got the wheels turning as others look to get on the gravy train earlier. The smaller your country, the less government you tend to have so the faster you can move to make changes. Don't expect large countries, especially G7 to G20 nations to move anytime soon.
Especially when those countries benefit from the current setup of the fiat system. As Arizona and Texas declare their intentions for legal tender laws for bitcoin, so too has the island nation of Tonga.
According to one of the Polynesian country's former MPs, the bill is in the works and will be presented to Parliament this year and if all goes well, the law should be passed in 8 months, around November of 2022.
Lord Fusitu said a ruling for legal tender is "almost identical to the El Salvador bill"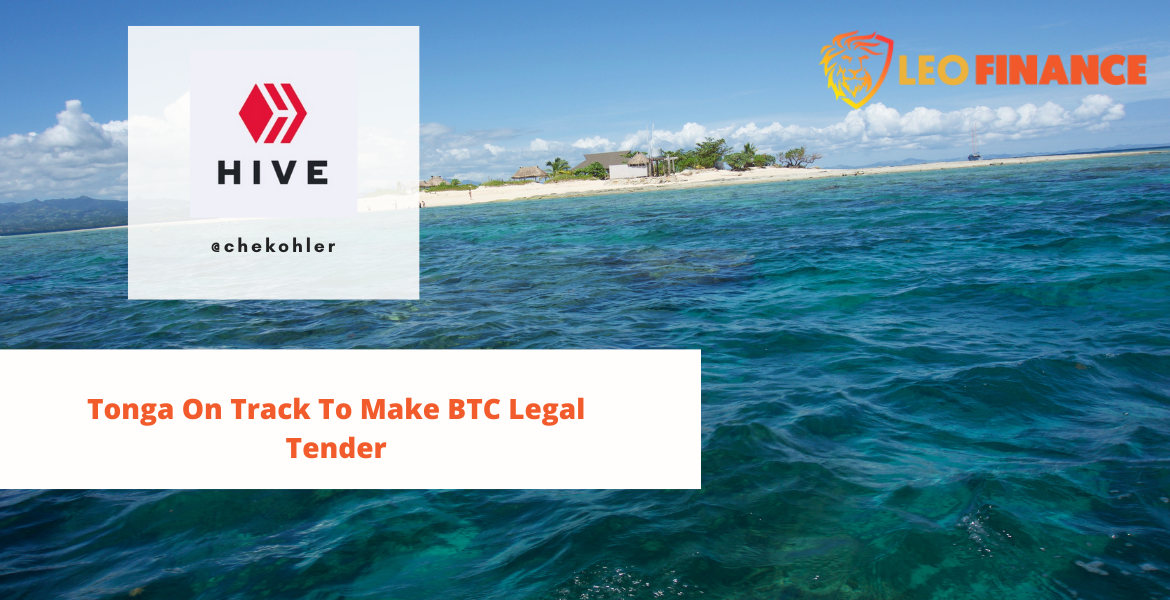 Arizona to beat us 🇹🇴 to it by 8 months ✊🏽💪🏽💯

https://t.co/IwBRCIcoPe pic.twitter.com/dQ2WbR7zES

— Lord Fusitu'a (@LordFusitua) January 29, 2022
The game theory has begun
As El Salvador remains the only bitcoin-friendly country in the world, we've seen companies and individuals flock to the island to enjoy the benefits of legal tender bitcoin. So El Salvador is enjoying the lion's share of bitcoin investment which will give them a massive leg up in terms of job creation and income into the country.
Other countries in similar positions prior to the law will be looking at El Salvador as an example and as they produce more results and share their success, they will be tempted to emulate the country.
If the Tonga domino falls this year, it won't make much of a difference given that there are only 105k people on the Island. Sure it makes remittance from Australia and New Zealand to Tonga much cheaper and brings more value into their country, but it's not enough demand to really move things on the bitcoin price front.
Banking big on remittance cost savings
The Pacific nation is a constitutional monarchy and comprises 169 islands, 36 of which are currently inhabited, which can make traditional banking and trade a bit of a pain even though they all use the same local currency. The Tongan paʻanga is equivalent to $0.44 US and like many smaller nations, the currency gets battered by foreign policy.
The country props up its currency through remittance from the US, Australia, and New Zealand due to the large number of Tongans living abroad. To give you an indication, there are more Tongans in Australia than Tonga.
Despite the small numbers, cutting out the cost of remittance and using the lightning network and bitcoin to settle instantly in Tonga will cut out a massive cost and bring more value into the country. The more value, the more reason to come back to Tonga and build within its borders.
I am not saying Bitcoin is a silver bullet that will save a nation, but seeing countries experiment with the technology to try and improve the lot of their citizens sure is an inspiring story, I think we can all get behind.
Have your say
What do you good people of HIVE think?
So have at it my Jessies! If you don't have something to comment, "I am a Jessie."
Let's connect
If you liked this post, sprinkle it with an upvote or esteem and if you don't already, consider following me @chekohler and subscribe to my fanbase
| Safely Store Your Crypto | Deposit $100 & Earn $10 | Earn Interest On Crypto |
| --- | --- | --- |
| | | |
---

Posted Using LeoFinance Beta
---
---