Vbit Mining Ponzi Collapses
In today's YIYL, we take a look at an old scheme that was rehashed from 2017's run, the bitcoin mining cloud contract, there were plenty of these some real, some scams back in 2017 and many people lost money. You'd think people would learn their lesson or at least do the research on the body of knowledge available from 2017, with mountains of reports.
But when the next bull run came around, so does the ability to do any kind of due diligence. People were stuck at home and wanted to make money and so in 2021/22 we saw cloud mining operations back on the map.
vBit gets in on the bull run
One of those companies was an operation called vBit, which attracted a lot of novice users by pledging enormous returns for investors.
Using an affiliate program, people would recruit others to the service to take out mining contracts. These salesmen and women who have no idea how these products work and were recruiting from their networks using social media and word of mouth to attract more users.
Mind you they did a good job in recruiting with thousands of people signing up for the service that's basic package was $2,443.
If it sounds too good to be true, it normally is
Many people who used the service would not take out their returns and chose to reinvest them and build up a lump sum, some did redeem and redemptions were met. However, once the bitcoin price reversed withdrawals started to dry up, sound familiar?
Now roughly 15,000 investors whose money is now sitting inaccessible in company-controlled accounts are looking to be recovered with a total of over $11 million sitting in limbo and investors holding empty bags.
Since the fall of the company and complaints by investors, vBit is now the target of a crackdown from state financial regulators and complaints to the U.S. SEC. The SEC has filed a federal lawsuit alleging massive securities fraud and what's alleged to be a Ponzi scheme.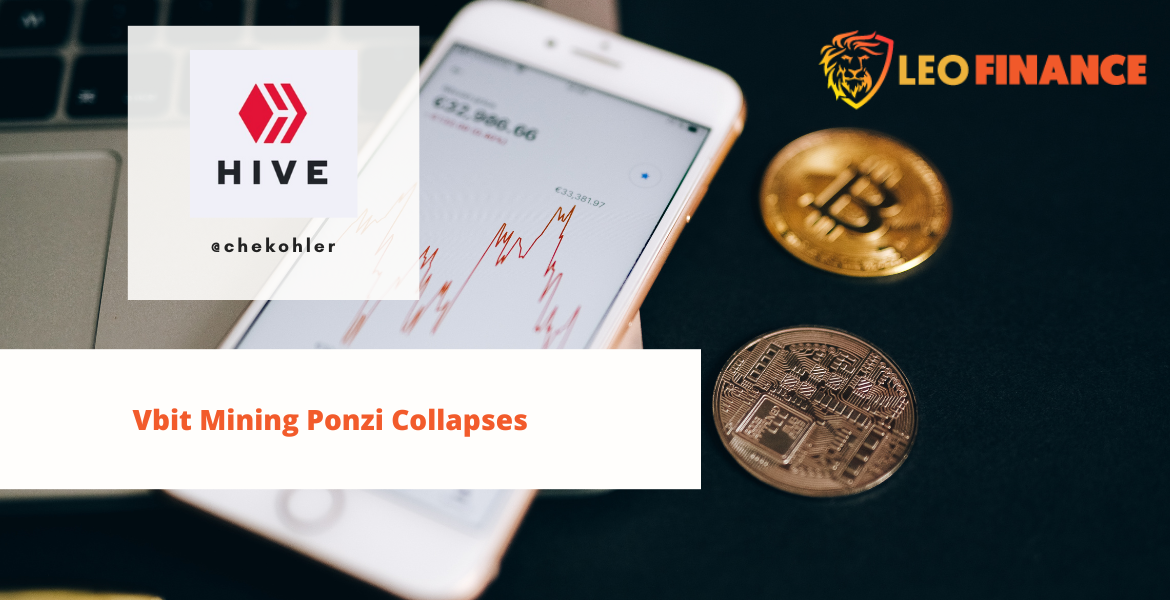 A Mining MLM
From what I can tell from the reports it sounds like vBit did have mining operations but as it grew through affiliate marketing and paying handsomely for those sign-ups, and making affiliates wealthy their business became oversubscribed. Instead of saying they cannot take on more business, they still continued to take on investment despite not having the cloud mining to back up the sales of the packages.
Since so much money was coming in from the affiliate arm of the business, they thought they could cover redemptions with that incoming capital and expand later with bitcoin continuing to rise in price.
Clearly, there was a massive miscalculation and the down turn in the bitcoin price made their operations far less lucrative.
Don Vo disappears
VBit's 34-year-old CEO, Don Vo has also up and vanished reports state that he sold the business for $105 million dollars to a Chinese company with no disclosed ownership on any public records. A pretty shady move when your customers lost access to millions of dollars in bitcoin in what has become the largest cryptocurrency scandal in Pennsylvania.
Now it's up to the courts to try and figure out this mess and try to salvage some value for those customers.
Sources:
Have your say
What do you good people of HIVE think?
So have at it my Jessies! If you don't have something to comment, "I am a Jessie."
Let's connect
If you liked this post, sprinkle it with an upvote or esteem and if you don't already, consider following me @chekohler and subscribe to my fanbase
| Earn Free bitcoin & shop | Earn Free Bitcoin & shop | Claim Free Bitcoin & Shop |
| --- | --- | --- |
| | | |
Posted Using LeoFinance Beta
---
---