Why I Welcome The Possible Tether Implode
Hey Jessociopaths
Who would have thought after Tether paid its fines that the USDT FUD would be back? Well, me, of course, you can only pay off, so man, people on your way to a 65 billion dollar market cap before people come knocking for their next payday so you can keep your Ponzi going.
I've spoken about the FUD around Tether before. For the record, I don't hold USDT or any stable coins for that matter; I personally think all they are is a painful taxable event which I would like to avoid.
The whole point of Bitcoin was to set up a new store value and unit of account, which is WHAT money does. Bitcoin was another trading pair to other currencies and allowed you to get out of one monetary policy and into another and has done well in honouring that promise.
As more people wanted Bitcoin and later shitcoins, they needed more fiat on-ramps. So Tether was born, it allowed people to swap in and out of a fiat representation faster and brought a lot of efficiency to the market, so at that point, it has done well.
My personal feelings on stable coins
Personally, I think stable coins are the first NFT, getting you to believe you can take something and "back" it with something from outside the digital realm. It doesn't make a whole lot of sense to me to say, oh, look at these decentralised dollars backed by centralised dollars lol wtf?
Anyway, people need this for their transition into Bitcoin, so I get it. The USDT unit of account gets dicks wet and pussies hard; people love measuring their personal wealth and, to an extent, their self worth in doll hairs.
If I wanted fiat, I could earn it, so I see no reason to hold USDT; I don't trade, I don't need to take profits from gambling on shit coins, so USDT has no value to me.
Satoshis are all I need, and as it moves towards parity with every other fiat currency, I don't see the need to hold a depreciating blockchain asset. So to me, USDT's possible demise wouldn't affect me too much.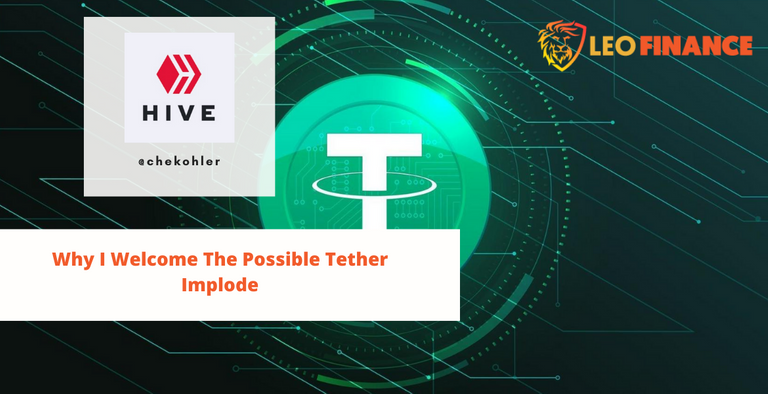 Maybe more than just FUD
Now those in the crypto space have been fudding Tether for some time, and there has been plenty of PR to try and drown it out. But what concerns me is when people who are outside the crypto space traditionally are now looking into it and giving their take on it.
That, to me, is a signal of a far bigger story in the making once it starts to reach the normies and precoiners. I honestly don't blame people for hating crypto. It's a complete shit show of tribalism and scams, but because there's money involved, people are willing to throw all morals aside and whore themselves out for a few extra tokens.
If you want to get some great takes on the USDT fud, I suggest checking out these two videos, really well done and breaking down the issues and providing you with the history of Tether.
Coffeezilla
George Gammon
Why Tether doesn't matter to me
Tether is the crypto spaces liquidity provider, 60+ billion to be exact, and growing. There are other stable coins like USDC at 23 billion and BUSD at 10 million, but you can see they're not even close to the systemic size of USDT.
USDT is also minted on multiple chains like BTC liquid chain, OMNI, Ethereum, Binance Smart Chain, TRON and EOS, I think, can't really keep up. Anyway, if the thing backing many crypto trading pairs goes up in smoke, what happens to all those orders?
People would be selling like crazy if USDT were to implode. Shitcoins would be obliterated in the thousands, and no cryptocurrency would be safe.
I could easily see BTC dip down well below the 20k if USDT were to shit the bed.
To me, that would be one hell of a buying opportunity, so I am getting dry powder ready in case we do see this end badly, despite the amount of paper wealth that would be obliterated in a matter of weeks.
In the end, one Bitcoin remains 1 Bitcoin, no matter what the market values it at today.
I say bring it on, open up the books and lets rip off the bandaid.
Have your say
What do you good people of HIVE think?
So have at it, my Jessies! If you don't have something to comment, "I am a Jessie."
Let's connect
If you liked this post, sprinkle it with an upvote or esteem,, and if you don't already, consider following me @chekohler and subscribe to my fanbase
| Safely Store Your Crypto | Deposit $100 & Earn $10 | Earn Interest On Crypto |
| --- | --- | --- |
| | | |
---

Posted Using LeoFinance Beta
---
---