Why The Nordic Model Isn't All Sunshine And Rainbows
As the world's economies come under strain from the cocaine that is the manipulation of the money supply, we see more people feeling economic pain, when it should have been cleared out a long time ago, had we lived under a hard money standard.
We hear more calls for socialism as populist voices push for change, any change. We're told that the money doesn't need to change, all we have to do is change policies and everything will be fixed. We can paper over 60 years of systemic fiat failures if only we had more control through CBDCs, shits fucking scary.
To me it's one of those shoddy solutions like, Instead of eating meat, have some bug-based protein pills, like fuck off will you?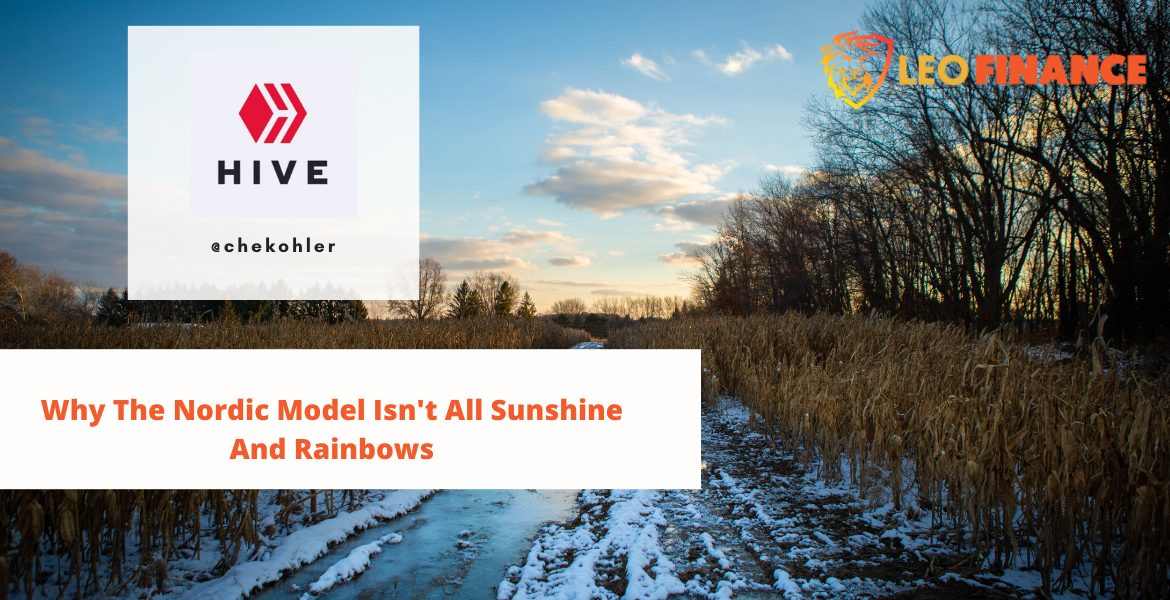 The path to Scandaslavia
To make this bullshit palatable, politicians, economists, and talking heads in the media love to cite Nordic countries like some Bastian of democratic success. Look at them, they did it, let's copy their model and we're all gravy training it baby.
If you're not living close to the north pole you've probably heard your politicians talk about how Scandinavia is some sort of Utopia, they figured out how to generate capital from their natural resources, they managed to re-invest that to build a healthy balance sheet and with the citizens willing to fork over high taxes, they can provide all sorts of socialist programs.
You'll always hear stories in the media about how this Scandinavian country is top in happiness, and prosperity, how they offer such great maternity and paternity benefits, and how they're able to provide a healthy work-life balance for their citizens.
Here are the top 10 happiest countries and their score according to USA Today
Finland- 7.821
Denmark- 7.636
Iceland- 7.557
Switzerland- 7.512
Netherlands- 7.415
Luxembourg- 7.404
Sweden- 7.384
Norway- 7.365
Israel- 7.364
New Zealand- 7.200
It all sounds great, but I know when I am being sold a dream, there's always something hidden under the carpet and in the closet.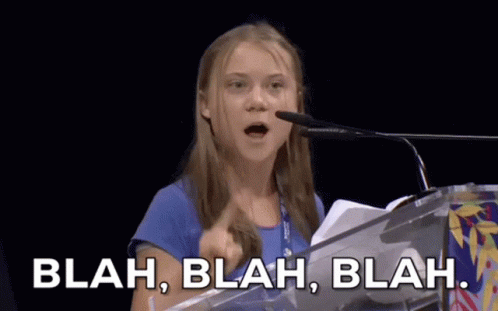 Not socialist at all, they're your friendly neighborhood imperialists.
One thing Nordic countries have on their side is good PR, they've greenwashed their image to be seen as ahead of the curve when it comes to ESG and quality of life with great social benefits.
Yet these same countries are using exploitative tactics outside their borders with Norwegian oil and gas company Statoil, also partly owned by the state involved in multiple corruption cases around the world.
Norway dropped 588 bombs on Libya as part of imperialist operations to open up the path for Statoil to run oil extractions operations worth millions in a ruined country that had forced regime change backed by NATO.
War profiteering
Let's consider this world war 2 ended in 1945, we've only seen regional conflict in Africa, the Middle East, and parts of Asia so why would weapon sales need to increase in times of so-called global peace?
The graph below looks at the income from weapon sales from Swedish companies, a country that pretends to remain neutral, why? So it can sell its weapons to as many buyers as possible. Consider this, it's a tiny country of 10 million people with a GDP of $612 billion, of that $15 billion comes from exports while $286 Million comes from military equipment.
If weapons are such a tiny part of your economy why would you continue to produce them? Well because it's not about the total amount shipped it's about the margins on those products. It might be small in terms of value, but in terms of margin, it's netting much higher returns.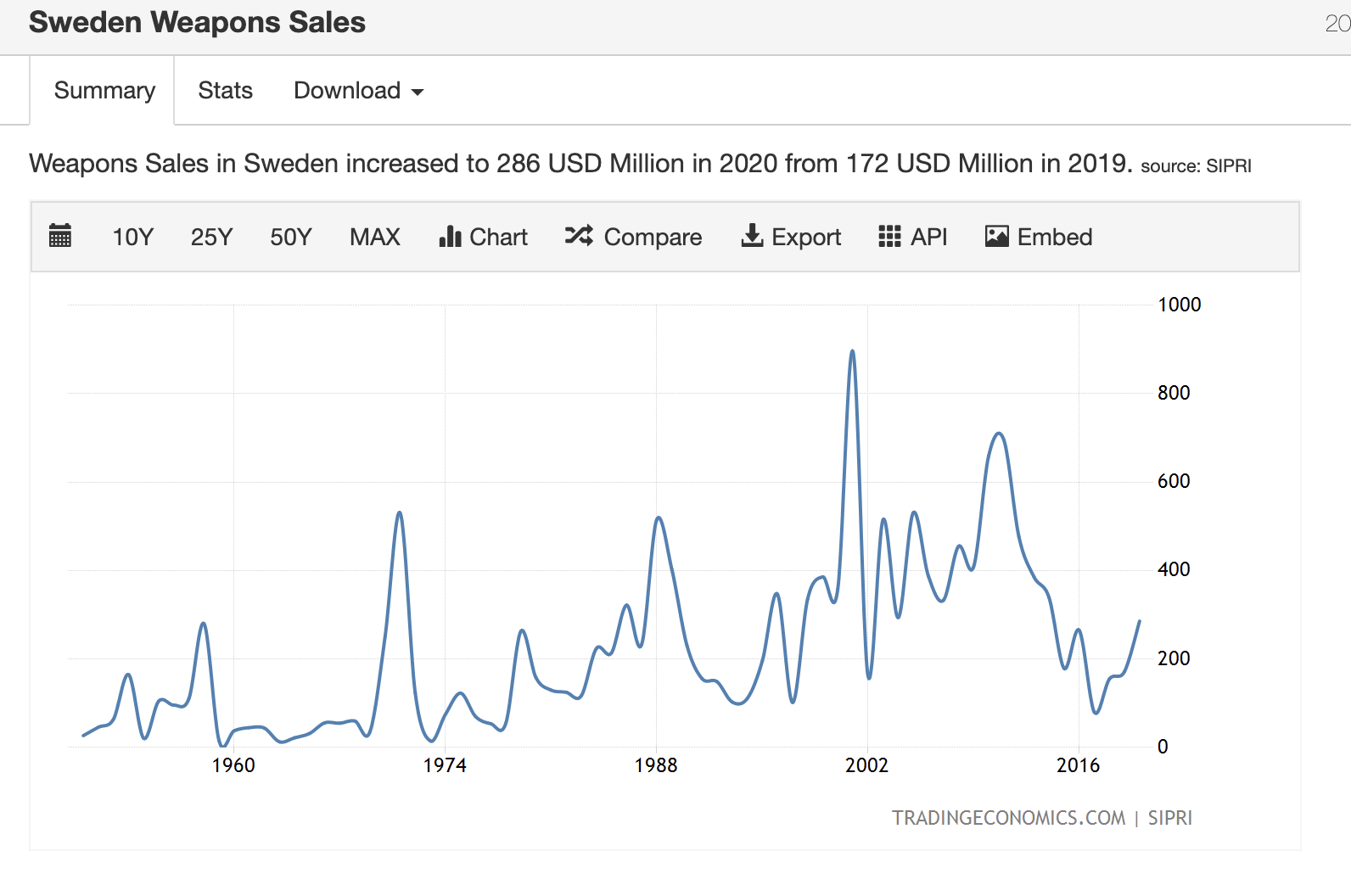 Source: - tradingeconomics.com
Wage arbitrage
What actually put me on to this topic was the fact that in my native country of South Africa, there is a Volvo factory, that does the same work as the one in Gotenburg. The only difference is the staff at the Durban only get 10% of the wages the Swedes get.
Now you can make a case for currency exchange, labour demands and cost of living but it wouldn't EVER come down to 10% of the wages, that is simply an exploitative practice.
In 2008, Norwegian communications multinational, Telenor which is partly owned by the state — was exposed in a documentary as partnering with a Bangladeshi supplier that employed child labor in horrendous conditions.
In 2009 NGO Swedwatch discovered that Swedish and Finnish confectionery manufacturers have been child labour in cocoa harvesting in African countries.
If a country is prosperous, why would its companies need to pull stunts like this?
This is just a few example, however, a large portion of Scandinavian companies' productions has been offshored while profits are retrained in the country.
The unequal exchange
The fact is, these models are not replicable and they're excluding a lot of factors in these countries' relative success to only paint a picture of unicorns, rainbows, and candyfloss.
I hate to break it to you but no African country is going to turn into Wakanda by adopting the Nordic model. It's not sustainable and it's not replicable.
They can only be achieved and sustained by offshoring reality to other countries in the global South. You could say these countries have a choice, but do they?
The political elite and business elite in these countries are willing to rack up debts with the IMF and world bank and saddle their citizens with the debt repayment obligations while they extort resources which they then in-turn remove from the country and store in banking sectors in Europe and the US.
This is not an economy based on two parties mutually benefitting from an exchange, it's neo-colonialism through financial oppression.
A dive into the truth
Sources
Have your say
What do you good people of HIVE think?
So have at it my Jessies! If you don't have something to comment, "I am a Jessie."
Let's connect
If you liked this post, sprinkle it with an upvote or esteem and if you don't already, consider following me @chekohler and subscribe to my fanbase
| Safely Store Your Crypto | Deposit $100 & Earn $10 | Earn Interest On Crypto |
| --- | --- | --- |
| | | |
Posted Using LeoFinance Beta
---
---