A Gameplay Evaluation of Voxie Tactics | Play2Earn EcoSystem | and Living up to High Expectations
I bet you are having a hard time catching up with all the hype going on, there's just too much happening, AND all at the same time, I rarely use Twitter and even I can feel the heat cranking up. Just Discord, Hive and Reddit is enough to get my temperature boiling. Thankfully though - I've been feeling way more relaxed than I did about 2 weeks ago. With all that's happening, people's attention is divided between NFTs, play2earn gaming, being an early adopter, it's like we're all trying to stick our noses into every piece of the pie(i know I am), and we can't blame ourselves - Why? because No one wants to get left behind, we all want to be among the next big wave, tide whatever.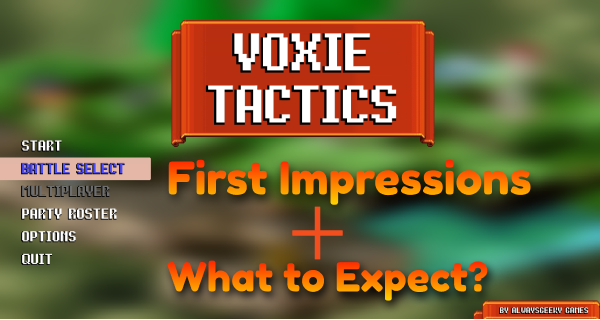 I mean, why am I saying all these, it might be completely unrelated to what this post is all about; But in a way, it is connected all right; I'm effectively spending time to review the most adventurous Play2Earn game, to simply justify my liken for it and if it's a suitable trade-off, against time, pleasure and financial rewards. I am doing this, and well I hope you to can profit from this first-hand experience of evaluating games and save your time.

Voxie Tactics has been top on the list of blockchain games that serious investors/gamers on Reddit are targeting. Like in almost every single Reddit thread in the Play2Earn Sub, along with Illuvium, an open-world RPG adventure game that is still under development. I really didn't think much of it because well, the website didn't actually have a game ready way back In September/ October. There was no download button, no trailers back then, so I couldn't grasp why there was so much hype over this. To this day - I still can't understand, maybe there's something special I missed on their Discord, Twitter? Well, I'm still searching.
Voxie recently released their Pre-Alpha Demo version for users to test out, with no play2earn features, but just the plain game. When I first saw this project's site, I got the impression of an open-world exploration game type, something just like The sandbox or Minecraft. Well, I was moderately surprised to find out it's actually a turn-based PVP-style game, yeah I can't lie that I wasn't a little disappointed.
Voxie Tactics - GamePlay Style, Mechanics, Features
The game is still being under development, so I expect that all game features are not yet active;
A Story Based Mode, where you can Improve your Parties(Voxie) Experience, Hp, and Practice Moves

A party roster of all your Voxie NFTs, currently I do have 12 voxies generated freely - but this again might not be active once the game launches

Multiplayer mode where you can compete with other players in Arena

Each Voxies are equipped with stats, such as strengths, experience, armor, weapon that influence your power and defense during battle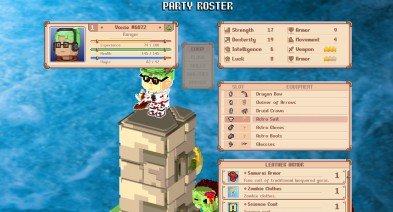 Voxies also come in rarity levels; From common up till Godly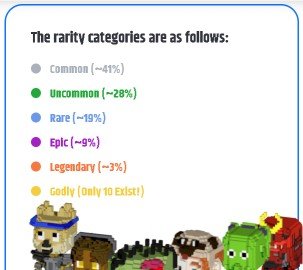 You can Equip OR Uneuip different Amours and weapons Assets that affects your stats either increasing or decreasing, I expect this is where marketplace comes into play.

As I said it's a turn-based style, but you can actually move free around in story mode

In Battle, You are choosing from limited options such as - Move (where you can get into target position, or flee if you are almost dead), Action (choose your weapon of attack and mark out a target), Defend ( rather than attack, put up a shield or armor) AND Wait out your turn. All these actions are influenced ultimately by your Voxie stats
These are the basics of the game tactics and battle style, and honestly - It's very straightforward to wrap your head around
How Fun has Voixe Tactics been for Me?
Not gonna lie, it's was on par with average. My first impression after the first story mode battle I played was that the game was too slow-paced. You know a game needs work when you feel sleepy whilst playing, and now this is just a Demo so I'm still looking forwards to other features of the game that can bring it alive, like the multiplayer mode, marketplace, earnings voxel tokens, etc. Because right now, It wasn't really piquing my attention, the music was too dull for me and my Voxie character moves a bit slowly for my liking.
Don't get me wrong, because NOT all aspect is dull, because I see a strong potential for fun in the Battles. The system of planning your movement, striking, and strategy was the part I liked the most.
Let me give you an idea; Battles are PVP (3 players each), and the goal is to defeat the other rivals by reducing their health to 0(zero). You go through turns deploying tactics, by moving and striking the enemy, this is when you spend time reading your chances based on your position, enemy position, their health against your weapons, etc. It's almost similar to Splinterlands, except that you have a whole lot of freedom in Battle to adjust tactics and even run farther away say, when you are almost dead, so you play catch with the rival xD.
Voxie Tactics Market Ecosystem, Play2Earn, Tokens
First, I think that regardless (up to a point) of how a blockchain game's gameplay mechanics might feel for players, the market, trading, and play2eran can really improve its value amongst players. Take, for example, Our very own Splinterlands; The Marketplace, Trading Cards, Waiting for price dips, Renting, SPS Airdrop is an ecosystem that drives more than 70% of the Activity on-chain and Posts on the Hive frontend. Battles are just one part of it all. In order words, many players are capable of earning and enjoying Splinterlands without actually playing the game, they inject value in their own way. The same goes for Axie Infinity, remember - Breeding, Staking, Axie Auctions, and the Marketplace.
This was one aspect I was searching for in this hype Voxie Tactics and did I find one? Well Slightly SO, I say so, because I mean the game is just in its demo phase yet, so it's impossible for me to predict how it can really scale. In Voxie Tactics, there are basically two means of ownership, Voxie NFTs, and Voxel Token. NFTs comprise a wide array of resources like Voxies, their Pets, Armour, Weapons, Costumes, etc.
All these can be purchased using the in-game Voxel Token currency. Currently, there is no private or in-game marketplace for Voxie, and all trades so far are carried out on Opensea. Perhaps not the BEST move when you think of the [restrictive] fees Opensea charges for making transitions with ETH, just like Gods unchained Card Strategy Game, I'm hoping that we can see the development of a sidechain where market activities can take place, to lessen the fees players have to contemplate. No doubt, the seamlessness of Splinterlands and Hive Feeless transactions has been a huge factor in our industry dominance.
My single Overall Impression of Voxie Tactics is that - We really shouldn't over anticipate the ongoing mega releases of Blockchain play2earn games because like everything in life, few live up to our expectations (I know I won't go further). A game is either for you or it isn't, the best way to tell is to I guess, watch trailers but sometimes even these can be confusing. Voxie tactics can no doubt scale to be a successful game with the huge amount of supporters and followers they have carried along, when all the elements they plan to bring on are refined in their future releases, we're gonna see!
Turn your attention to some of my other posts( Now OR Later, You're the Boss)
---
---