How to Stake on the Axie Infinity Sidechain| Guide for Complete Beginners | Noob Terms and Long Term Profit Stream
Staking has never been easier in the Axie Infinity Ecosystem. With the launch of the Axie Ronin Sidechain, you can now stake your tokens with the utmost ease. This post would guide you through the process involved, possible risks, and APR or profits that is to be expected.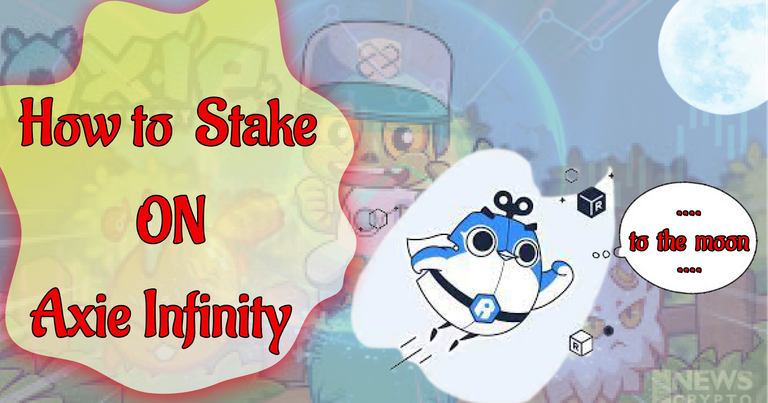 For this guide, I'm gonna be using the AXS - Axie Infinity governance token as an example, it is also the main token used for breeding Axies along with SLP.
This is supposed to be a complete guide for those who play Axie infinity and are conversant with its terms but also for those complete beginners with no previous knowledge about staking or Axie Tokens, Why? Because it only takes a few easy steps AND everyone can gain rewards from the thriving community of Axie Infinity. With that in mind, let's begin;
Before giving you the staking process, I had like to explain the following terms, so you can have a complete grasp of what you are doing, the possible risk involved, the profits APR, etc, regardless of your expertise in the blockchain gaming space.
Staking;
Staking is a Crypto term that is used to mean, committing your tokens or coins in a decentralized exchange (DEX) in order to provide liquidity, verify blockchain transactions, AND be rewarded for doing so. There are several reasons for staking tokens, the most popular being to provide liquidity for a certain token and to solidify blockchain transactions. Understanding the second reason to stake requires an understanding of a term called Proof-Of-Stake which is integrated into many blockchains today (Solana, Cardona, Avalanche, etc)
Therefore, you are gonna be staking AXS, i.e, locking your funds for a period of time and when that date arrives, you receive a percentage of AXS as profit.




APR (Annual Percentage Rate);
An easy way to understand APR is to think of it as a calculation of your profits for (1) the number of tokens you stake, (2) the total amount of users staking, and (3) the period you are staking for. This calculation can/should be used if you don't know what the APR of say a lending platform, staking, or Liquidity Pool is, but in most cases, the APR is shown to all users and it becomes easier to determine your profits that way.
As such, I'm gonna give you a simple example;
Profits = APR * Number of Years
*when you know the APR and since APR is calculated yearly
Say for an 100% APR return, I'm staking $1000 on a certain Defi platform, what would be my profits by the end of 12 months which I'm locking away for?
Chel's Profit = 100 * 1 = 100%




Therefore, 100% of 1000 = $1000




I earn a profit of $1000, and by the year's end , I own exactly $2000 or thereabouts.
But what if the period of locking is less than a year?, then you can divide the number of months by 12.




Proof of Stake;
Proof of Stake is a consensus(agreement) in which most blockchains are built upon, that works by creating new blocks (linking up to previous blocks) by using the stakes of users in a blockchain to validate block mining and secure the network. It's an alternative mechanism to Proof of Work(which is more competitive), is less energy intensive, more secure and has a decentralized approach because all stakers has a random chance of being selected as the next validator on the blockchain (even though differences in the amount staked is greatly taken into account).
Staking AXS on Ronin; Preparation Guide
You can start the process of staking AXS, by certainly having some AXS in store, either on your Ronin Wallet or by first Buying AXS directly.
STEP 1: Go to your Ronin Wallet Extension and log in there [If you don't have a ronin wallet, you've got to create one]
STEP 1(b): You can create a Ronin wallet, by first, downloading the extension from Chrome Web Store here. After Adding to Browser, complete the entire wallet creation process and save your seed phrase - The seed phrase is what you can use to retrieve your wallet in case you forgot your password. It is VERY Important
STEP 1(c): Your Balance should be empty of some AXS, so you need to buy some first. Buying AXS through Binance is about the easiest way to do so. You can learn how to Create a Binance account AND Deposit Funds, OR proceed with this guide if those two are settled.
This is where I tell you - If you already have A Ronin Wallet and AXS stored, simply move to Step 8.
STEP 2: In Binance, with some USDT balance available, go to Trade -> Advanced, and in the search box - type AXS and then click on the pair - AXS/USDT. You can then purchase any amount of AXS as you see fit, if you are just venturing into staking, it might be better to purchase a couple, between $20 - $30(so as to meet the minimum withdrawal amount).
STEP 3: Now that you have AXS coins in your Binance balance, you need to transfer them to your Ronin Wallet. This process is very easy and just requires your Ronin Wallet Address.
STEP 3(b): In Binance, Go to Wallet -> Fiat/Spot Balance. Click on the Withdraw Button, Make sure the tab says Crypto and Not Fiat, before searching for AXS in the search box
STEP 4: Now go over to your Ronin Wallet Extension and copy the address by clicking the little copy icon. Paste that in the field that says Address in Binance. In the network option, you can notice that you are unable to select any, all of it is greyed out. One little step would fix this.
STEP 4(b): One important step before you can safely enter your preferred network (which should be RON) is to slightly edit the address you just pasted. You can do that by changing the prefix [ronin:] to [0x].
For Example, My address is: ronin:c5ca26db858061495b933faff5af43f4d4f0acce, To send some AXS successfully from Binance, I'm gonna change it to: 0xc5ca26db858061495b933faff5af43f4d4f0acce. With that settled, change the network to RON, write the amount of AXS you want to send over in the amount field, then Withdraw.
Now before moving on to the next process, Verify that the tokens are dropped in your wallet. If all steps were followed correctly, they should arrive in 2 - 5mins
Staking AXS on Ronin; Actual Staking
STEP 1: To start the Staking process, go to stake.axieinfinity.com
STEP 2: Login here so that your Ronin Balance can be reflected, do so by clicking the "Connect to Ronin Wallet" Button and verify the transaction through your ronin wallet popup
STEP 3: Use the "stake" button, then select the desired AXS amount – press "stake" again, and approve the transaction via your Ronin wallet that pops up.
STEP 4: Your AXS are now staked. You can use the staking dashboard to see your rewards live, as well as the current APR which is changing over time.
Accordingly, after these steps are completed, you can calculate your expected profits (distributed as AXS) using the formula above, or you can use this dynamic website to do the work. The APR is a close live update of Axie Staking APR and you can choose amongst varying spans of time. Have fun in stakingrewards here
That brings us to the end of this guide on AXS staking, I hope it has been very easy to understand especially for those just getting into the space (because I mean, you gotta start from somewhere) and making sure you can secure your Ronin Wallet by keeping your Password and Seed Phrase offline, then we can all benefit from these kinds of rewards.
NOTE; The APR on AXS Staking decreases over time - As more AXS tokens are staked in fact. But currently, the returns are still pretty high and a great valuable return but this is not necessarily financial advice.
Thanks for reading,
Chel_
---
---