Why I stopped Playing Splinterlands for Over 2 weeks and What I learned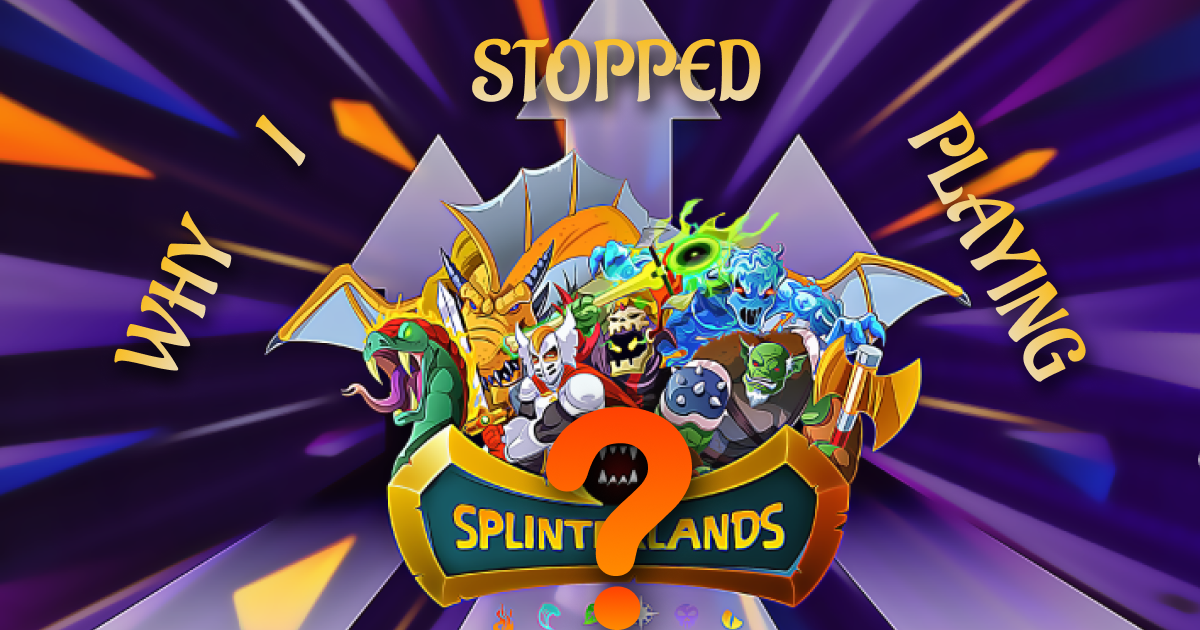 Surely everyone can agree with me that Splinterlands is a great game. In my previous post involving a positive comparison of both Splinterlands and Axie Infinity, we can see that in the aspect of Game Mechanics and Enjoyment from playing, Splinterlands beats Axie hands down, and no doubt many of the blockchain games that exist today.
In this post, I had like to explore some of the reasons that made me blatantly quit playing splinterlands for more than 2 weeks now, because honestly, there was no concrete reason I could pinpoint until I decided to drill my mind for one. More exploration would continue as I write here too, it took me a considerable amount of courage to write this post because of the following reasons;
We in the Splinterlands community are always shilling the game, it sometimes feels like we're meant to shill this game
Everyone seems to be playing splinterlands, why should I contradict a large user base and say I'm not playing, Lol.
And Lastly, I couldn't sincerely go back to start playing until I cleared all doubts in my mind and was comfortable with the route I would decide on
PS: The Monsters are What I have Missed the Most!
But then, my decision to share this post finally won over because I wanted to be transparent in the hive community, to truly explore the issues my subconscious were harboring and bring them to light, and to certainly also encourage the hundreds(who knows thousands?) of players who might be in the same boat as me but got no refuge.
I was super enthusiastic about Splinterlands 2 months ago when I began playing it, and back then I could never have believed that the enthusiasm in me would die down. Now I do wonder what caused that and if
(a)#splinterlands are doing the right thing concerning their player base community, using me as an example, a lot of other players might lose interest after a few weeks of playing,
(b) Simply, was I wrong to expect too much from the game, and Did I start with the wrong mentality that my ability to play and enjoy the game were most important AND would be rewarded
But #dynamicrypto post here offered me some encouragement because I saw a reason right there;
Why I Gave Splinterlands a Break!
Dynamicrypto in his post, talked about the value of SPS when compared to AXS(Axie Infinity Token). The price difference in correlation to market cap is just too wide apart, now we all thought back then that the CL presale and 10% discount when purchasing packs would have seen the prices of #SPS rise to something more respectable, but Nope it has scaled further down, even below the initial price before the CL presale kicked off.
Now why I'm I saying this? - I think that along with the discouraging price of SPS, newcomers with a meager stash of SPS staked would be further discouraged to buy more at the current price because at face value, it does seem like the token wouldn't take off for a while, not until we can experience a mooning event in the nearest future. As you all would agree, the SPS airdrop is currently the easiest way for ALL players to earn in the game with the littlest amount of effort, and to increase SPS daily drops, one needs to invest in other resources like DEC and Card Collection which are the most popular means so far. Card collection is no doubt a fairly expensive way to grow airdrop points BUT Dec is rather easy, regardless this undervaluation has just had me watching the waters rather than fishing like there's no tomorrow.


At the end of September Season and the start of October in Splinterlands,
it was announced that rewards for bronze league players would be nerfed and along with that, only CREDITS rather than DEC would be distributed, further to that - End of season rewards would be freaking limited to credits LOL. The reason was the popular Anti-Bot measure. At that time, I honestly didn't mind one bit (because I assumed it was for a good cause in the long term).
I believe that at this stage the goal of every bronzed league member was to grind their way OUT of the bronze league, but then with this new rule, I turned out to be twice difficult, physically and mentally I presume. I started splinterlands around September, and in just one month of regular playtime, I was able to amass a good amount of cards and DEC during the End of season rewards and importantly, whenever I complete a Daily mission. Because of these supportive incentives, I sorted out that along with my investments - I could grow steadily. Now, Massive LOL, when I complete a daily mission, I'm rewarded with 1 credit - really if that's NOT a negation of player retention in a game, I don't know what is. That took the fun out of it for me!.
A lot of folks in a comfortable spot are gonna argue of course, and that's ONLY because they either got in Early or they have the cash to literally buy enough cards to attain the collection power and 'yed out of the bronze league!.
I feel that no game that claims to be FUN should be based on grinding. Brawl Stars by Supercell, my best game ever and perhaps the most satisfying game I ever played rewards players regularly - Both those that put in the Cash and those that don't, AND guess what? The rewards are NOT the same for both players but I'm very satisfied with the little I get because it has actual utility, I can use it to further progress.

Who else noticed that Splinterlands got tougher towards the end of September,
I don't know if it has always been like this but at least for me, I only noticed it then. And I mean, I'm not complaining or anything, because I actually derive enjoyment from lost matches because I just learned a better strategy by losing. But I think that the Rewards - Time Playing Tradeoff started to weigh down on me, and I mean - I got a life. Coupled with the time I invest playing Axie Infinity(which is guaranteed income) and writing my Blogs, I simply couldn't keep up with it because, on one hand, I'd resolved myself to forget about the rewards and just grind out of Bronze. But all these little nuances I guess won over!.

What I Have Learned
Perhaps I have learned a lot during this period; what I should do better, relating better with other people's issues, But Wow, DID I LEARN CARDS RENTING. Like, why did nobody give a precise guide on how to earn By renting Cards in SPlinterlands???. Ok, So I admit that I saw lotta guides, but I just concluded it to be a method/system only beneficial but for the whales. As they say, Experience is the Ultimate Teacher of all.
During my spree away from Splinterlands, for more than a week, I only logged in regularly to claim my SPS drops, Until I out-of-the-blue decided to start renting cards, and Well, that turned out to be the Most Profitable way a Bronzed league player could Earn. I'd never rented out my cards, so this came as a complete surprise because I can actually earn DEC even in Bronze League!.
As much as I found this out, the other issues still persisted - but it has given me a breather. Splinterlands isn't perfect, A lot of players are earning a living from it, it has changed a lot of peoples' lives and financial status, and I've heard talk that the game is evolving with greediness and shortsightedness, and personally, I don't see the game as greedy, but shortsighted perhaps YES. The Early adopters gain early, and the newcomers find it hard to progress, just like every other Blockchain Play2Earn Game there has been. New rules are being implemented, usually NOT in favor of the growth the game is now experiencing, They (@splinterlands) see it to be in favor of the economy at least, but how many of the early adopters' gamers started by investing thousands of dollars or even hundreds??? Certainly Not ALL. Therefore it simply became unfair.
What would I do??,
I would probably devise a master plan to work around getting more cards whilst earning DEC Renting Out to also get more cards, In other to earn enough Card Collection for the Silver League and proceed in one sitting spree. That might solve my lack of interest in splinterlands, but it doesn't solve everyone's neither does it do any good to the important issue of player retention because some people are gonna lose interest and leave straight away. Me? I see the future advantage of Splinterlands because, after the storm, I believe we're gonna see the rainbow - Like All communities that ever existed. The few people that hold on, are those that reap rewards.
At the end of the day, this is a game that players should progress by playing not by forming a master plan to earn Passively. But I guess, All Splinterlands care about are players that give to the economy(And well Take back), So at least they are gonna have One More Ideal player in me!. Lol
I hope to update you all on my Master plan in time to come,
Thanks for Reading, Chel_
---
---