Bitcoin is Close to Big Crash - Huge Dump is Coming Soon
While Bitcoin is being traded in 26800 USD in a few days, the volume of market is on the lowest level for last 3 years.. There is no buying pressure on market while possibilities of financial crisis are on the table.
Market maker may want to increase long position on market to dump the market. While Bitcoin price seems accumulated on 26800 lots of investor getting bullish as I read on Twitter. This is good signals for market maker to dump market.
When everyone thinks that market is bullish, it may be time to dump market..
I can see hidden resistances on Bitcoin price chart.
Here you can see daily chart of Bitcoin price. There is Fisher Indicator below. There is downtrend line on Fisher Indicator coming from the beginning of 2023. We will touch this resistance in a few days. You can see what happened when Fisher Indicator touched this resistance...
There is also great support 100-day moving average is on 26000 USD, It may be broken down when Fisher Indicator touches this resistance..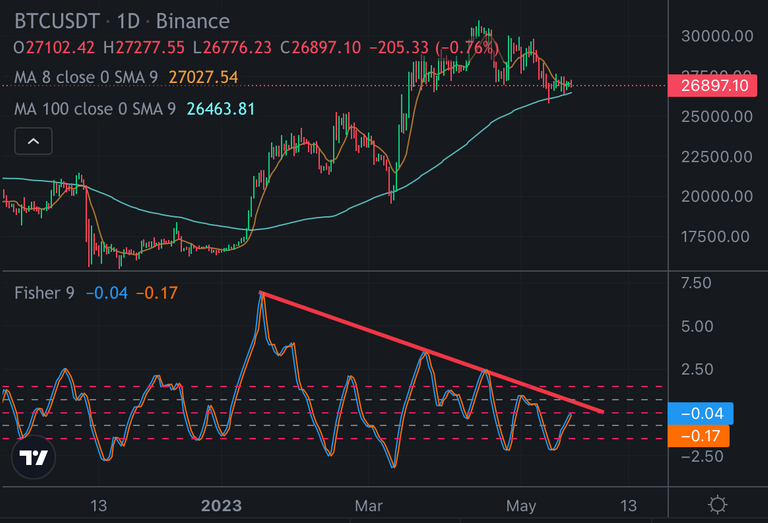 There is similarity between Luna Crash and now. Here you can see MACD Indicator below daily chart of Bitcoin. Selling pressure is decreasing but there is no buying pressure.. So we may see huge moves in a few days up or down. Here you can see what happened on Luna Crash at the same level of MACD Indicator..
Bitcoin price dropped from 42K to 26K on Luna crash. MACD Indicator is below 0 and It means we are in bearish season...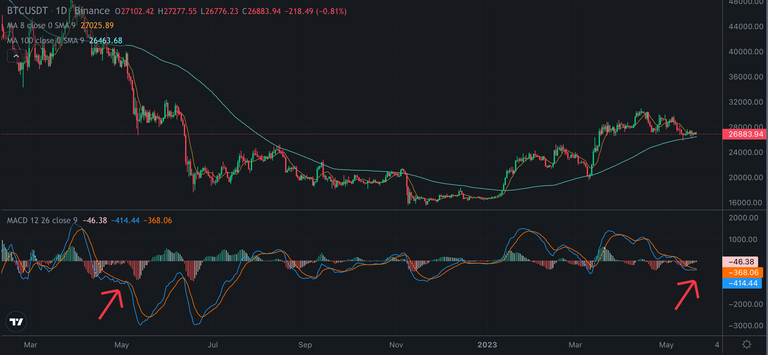 I am on cash to watch this huge moves while not being on market..
I dont like risks during bearish season.
We will see..
---
---