Hive Price May be Accumulated Until September
While Bitcoin price is under correction from 30500 USD, lots of altcoins are on the lowest level in 2023. Even lots of crypto investors are waiting for altcoin pump season, I believe that we will not see this season until September...
Here you can see weekly HiveBTC pair chart. There is falling wedge pattern on RSI Indicator. During being under the top of this wedge, Hive price may go down against Bitcoin..
There is also support line which is the bottom line of wedge. We may be close to this bottom but we need to touch it to go up..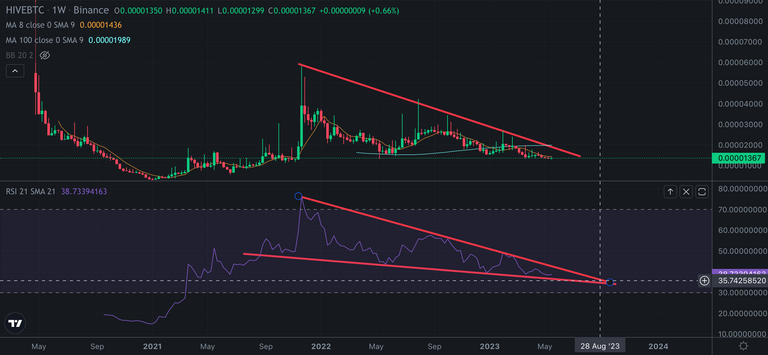 Here you can see support levels of HiveBTC pair. We are on critical support level but it is hard to be supported on this level.. If we breaks down, we may hit 2nd support level which is at down 30%...
MACD Indicator is also trying to reverse on weekly chart. It may be early to reverse now. So, We should wait until September to cash flow for altcoins...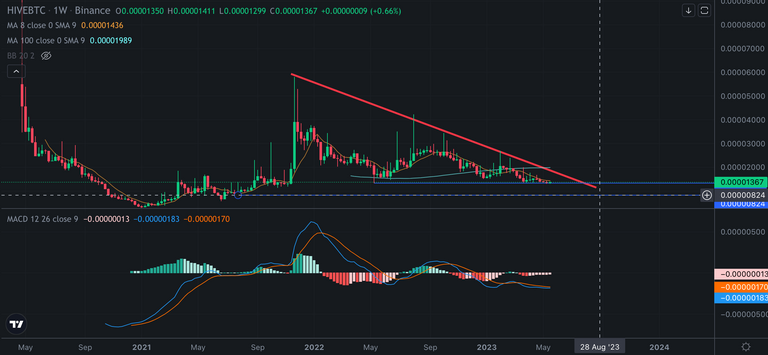 Hive is great chart for me to analysis crypto market. It show us clearly crypto market and we can make thesis for all crypto market...
We will see...
---
---