NEWBIE'S INITIATIVE TASK #3: QUESTIONS ABOUT DAPPS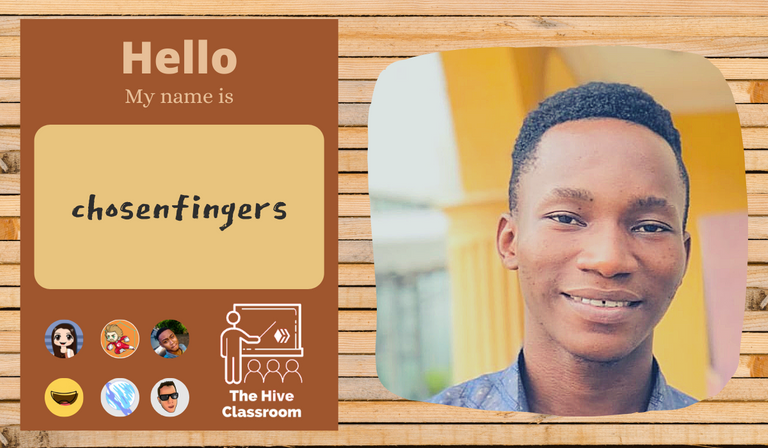 A big thanks to all the organizers of the newbie's initiative, @starstrings01, @projectmamabg, @eddiespino, @aliento and every other sponsor involved with this newbie's initiative.
The Newbie initiative has contributed a lot to my growth here on hive as its main aim is to help newbies adapt easily to hive, her rules and necessary tips needed.
After carefully watching the video assigned for this task, this post is my submission to answer questions given.

WHICH DAPPS DO YOU USE AND WHY?

"Decentralized applications— also known as "dApps" or "dapps"—are digital applications that run on a blockchain network of computers instead of relying on a single computer. dApps are decentralized, they are free from the control and interference of a single authority. Benefits of dApps include the safeguarding of user privacy, the lack of censorship, and the flexibility of development." text source
I know of various Dapps like peakd, ecency, proofofbrain.io , hive.blog but personally, I prefer to use #peakd because of its easy to use navigation and interface.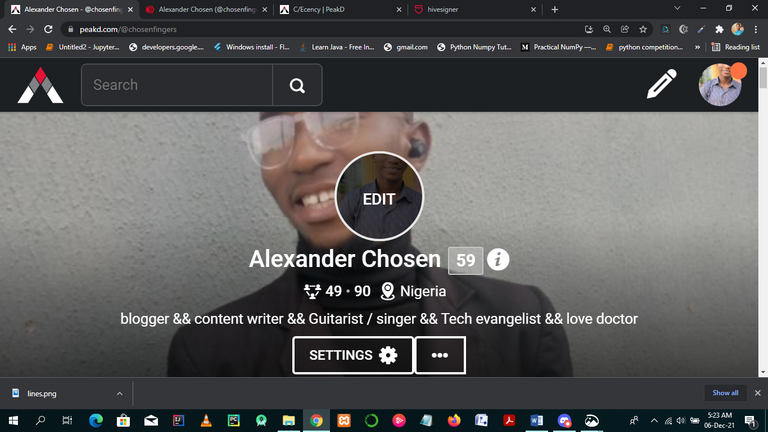 Photo: A screenshot of my #peakd account interface
Using the peakd Dapps, I can easily access different menu, it has a tabular menu where I can easily navigate through my blog, All post, replies, connections, payout, wallet and others still on the same screen. This makes it easy for quick navigation. Through the wallet menu, hive engine can also be easily accessed which makes Peakd a very friendly Dapps.
My account is registered on other platforms too but I find myself using Peakd always maybe because I am a faithful Lover.

HOW DO YOU SEE HIVE NOW COMPARED TO WHEN IT WAS STILL STEEM? AND HOW MUCH HAS THE PLATFORM CHANGED YOU AS A NEW USER?

Hive is a lot better compared to steem. From what I read and also heard, Steem was really friendly to adapt as compared to hive for newbies.
Hive is definitely a better upgrade than Steem since it is now more organized, rewarding and adaptable than Steem.
The platform #hive has really changed me. Through the hive platform, I have met amazing friends and found a means to express my thoughts, activities and lend my voice in specific areas.

WHAT ARE THE BENEFITS OF USING PEAKD?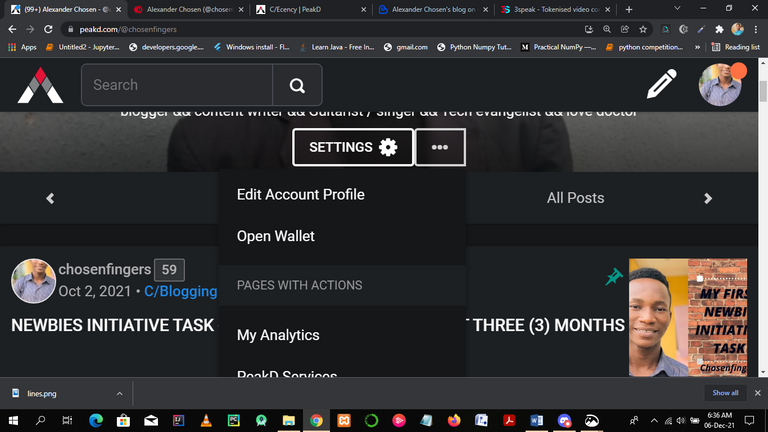 Photo: Screenshot Image of the settings menu from my #peakd account
Personally, my best benefit of using the #peakd interface is its ability to access many menu all from a single screen interface. I mean, using #peakd I easily get to monitor lots of activities all from the users profile menu. I can even change my profile pictures, edit my account bio, check my voting mania and resource credit among other notable qualities.
#peakd also has a menu for creating new post, viewing and editing saved drafts, templates.
From the setting menu, I can easily change my account settings without necessarily leaving the profile page.
Also, the wallet table menu gives a clear view of all payments made, hive earned, HBD earned and savings made with instant options to power Up, power Down, delegate HP and many other unique functions.
Also, using #peakd, I easily get to see a detailed number of upvotes, downvotes, comments I have on a post.
For me, #peakd is a one-in-all interface and its easy to navigate especially for newbies.

WHAT ARE THE BENEFITS OF USING ECENCY?


Photo: Screenshot image of my ecency account profile
The most amazing benefit of using #ecency is its proper wallet value statistics. Whenever, I want to get accurate breakdown on my wallet value, I use Ecency.
Also, #ecency can be used for post promotion. This is done by making post through their platform. Ecency points are also earned through engagement via the #Ecency platform.

WHAT ARE THE BENEFITS OF USING HIVE.BLOG?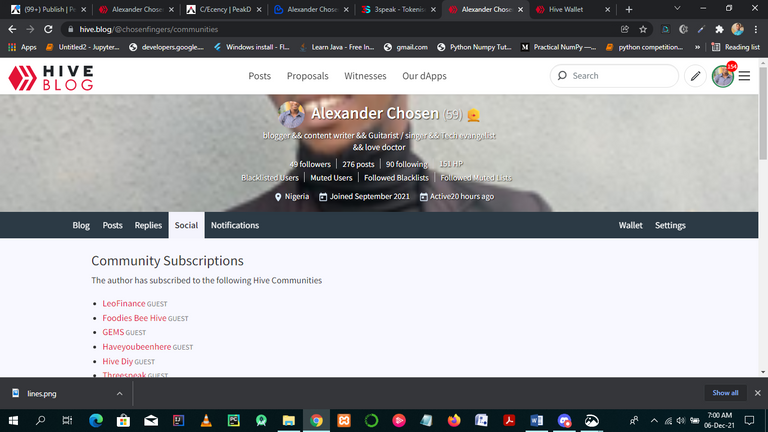 Photo: Screenshot Image of my Hive.blog account profile
One of my favorite benefit of using hive.blog is the Social menu - with this menu, I can easily keep track of my communities and their activities.
Hive.blog can also be used for other functions like blogging, checking wallets, your connections and checking feeds from various communities.

WHAT IS 3SPEAK?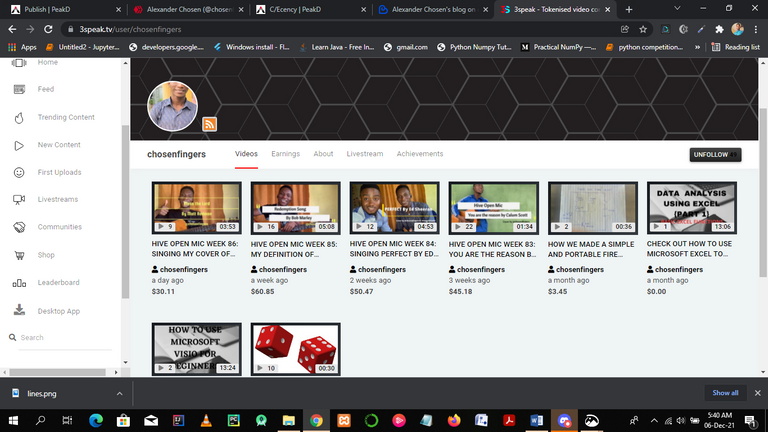 Photo: Screenshot image of my 3speak account profile
In simple terms, 3speak is a community for vloggers. It is a Dapp where video contents are uploaded. The beauty of #3speak is that after linking your hive account to your 3speak, videos uploaded automatically gets uploaded to your hive account profile and community of choice.

WHAT ARE THE BENEFITS OF 3SPEAK? WHAT ARE THE KEY REQUIREMENTS?

I love #3speak. It has an attractive and easy-to-use interface. Through 3speak, we can now upload video contents to any hive community and get rewards.
Also, the platform gives an avenue to meet other vloggers, follow their profile thereby getting updates on posts made. Using 3speak, also increases one's reach. As a newbie, I have been able to reach more people via this platform.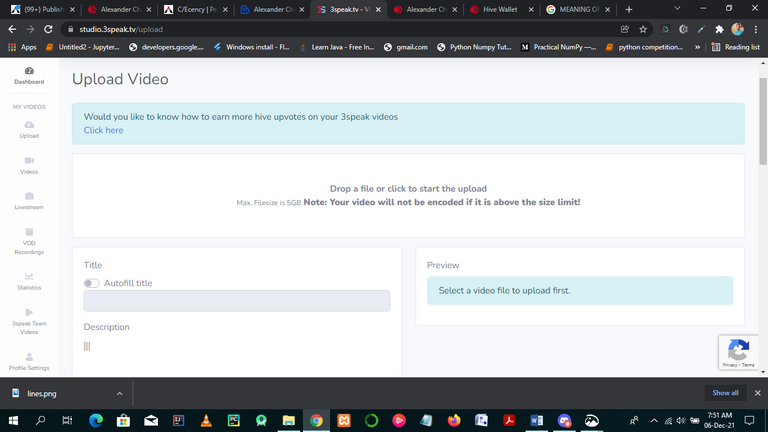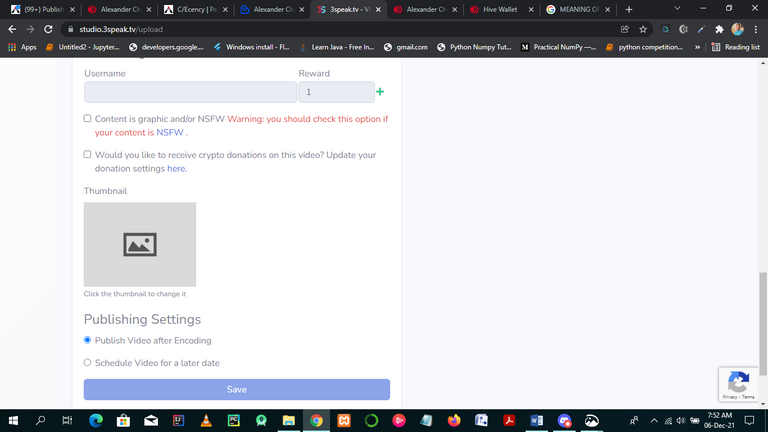 Images source
REQUIREMENTS: The first requirement is opening an account, then uploading quality and engaging video contents ranging from music videos to other content.
#3speak stands for excellence and therefore has an option while uploading a video for censored contents. This will help give viewers a notice before watching your videos.

HOW MUCH VIDEOS MUST YOU MAKE TO GET NOTICED?

I remember asking @starstrings01 this question when I started using #3speak for video contents. He clearly told me that what can make my vidoes get noticed is its quality contents and how much it affects people in the community.
So, in other words, you can make 100 videos without getting noticed if your contents ain't quality and excellent for views, also if it doesn't add to the hive community.
Engagement with fellow community members is also very important.

WHAT IS THE BEST LENGTH FOR VIDEOS TO GET MAXIMUM VOTES?

From my little experience using #3speak, I think videos should be atleast 3 minutes long. In cases where it has to be very lengthy, it must have enough quality content to keep viewers engaged.
I remember making my first video of making a mobile dice app using flutter, it was a video record of the apps functionality after installation on my phone. It was a 30 seconds video and many viewers complained it was too short. @starstrings01 called me and advised that I include more engaging and quality content to make the video a bit longer.
The main aim in mind when making videos should be its quality and not how lengthy it is.

ARE VIDEOS MADE LIKE PRESENTATION AND HUMAN VOICE SUCCESSFUL?

Videos made in presentation and human voice are successful depending on its quality content and catchy engagement.

IS IT HARD TO BECOME A VLOGGER?

At first, I thought making videos required some special blogging skills and levels until @starstrings01 saved me. He clearly explained the process involved and I must say that it is easy to use and doesn't require magic.
Vlogging is not really hard. It just requires time, knowledge, creativity, patience, originality and good video recording tools with quality contents to back it up.
Vlogging helps boost confidence and for me, it is my best way of learning.

EVERYTHING SOUNDS GREAT. NOW, HOW DO YOU CREATE AN ACCOUNT AND RUN IT ?

Creating an account is an easy step. An account can be easily created using any of the Dapps listed here.
The next important step is understanding what to do per time, thus the need for initiatives like this #new-bie initiative. Having mentors who are already on hive will ease your adaptation into the community. Through this initiative, we where told the need to have an introductory post meant to introduce newbies to others here on hive and this helps attract people.
One thing I advise newbies is understanding various communities, their rules and also engagement. Having a particular niche also helps too.
Thanks for reading through my post. I hope y'all learnt a lot especially newbies.
Thanks to the organizers once more for this huge opportunity. Much love😍
---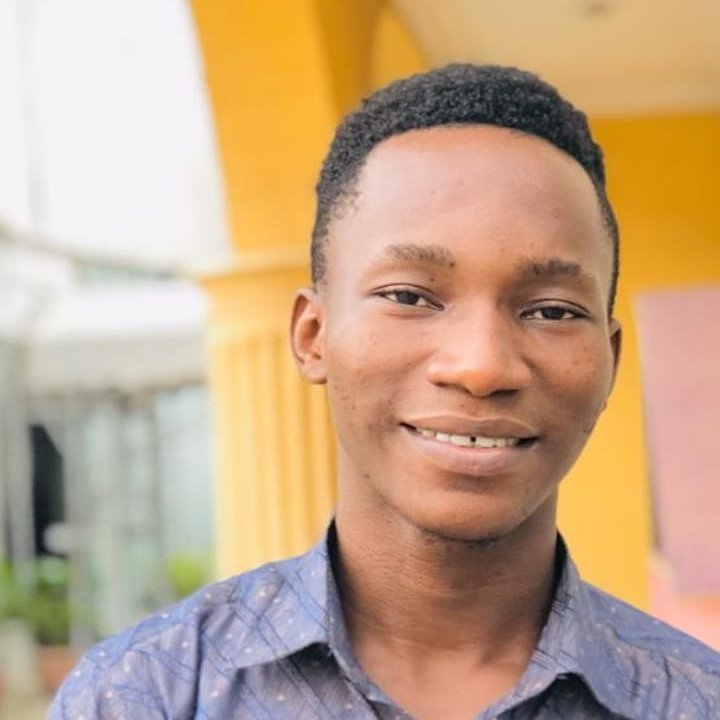 I am @chosenfingers, a young Nigerian studying Mechatronics Engineering, your favourite blogger, content writer, love doctor 🤗 and friend. My main purpose here on Hive is to impact as many as possible with the right knowledge through mind-blowing, educational content. I hope my blog reaches people far and near.
Please don't forget to share on any platform and reblog. Much love😍
Discord: chosenfingers#7582
---
---