UHive Social Universe - Invitation & Introduction - my "Earning through The Internet" Leo Series

This one started as a reply to a comment, but after half an hour it developed to a post itself! 😹 It was already on schedule, but it landed on your feed earlier than expected! 😜
This is not a Guide, but rather a compilation of official information, along with my thoughts and my experience until now. I will definitely come back with more information and guides in the future!
Today I am inviting you to join UHive with me!
UHive is not connected with Hive, that's what I thought too at the beginning, but it's something totally different!

---
This is their website:
Uhive Social Universe
No Censorship, Controlled by Users, Evaluated by Users
(They also offer the chance to subscribe in their newsletter and get notified about news & new features!)
---
and this is the way to use my referral and become connected with me (😺 and also EARN some free Tokens by accepting the invitation! 😺):
Christina The Holy Bass has joined Uhive, you should too. Early sign up rewards available now. Download the app here:
https://www.uhive.com/invite?c=0JFH1I

Use this code: 0JFH1I



---
I am referring some of the key points according to their page:
Uhive Social Universe
No Censorship, Controlled by Users, Evaluated by Users
It's our mission to create a social universe
Uhive is a social media app that's aiming to create real disruption by placing user privacy at the absolute core of its values, giving back a substantial share of revenue, and introducing an entirely new content discovery UX. Individuals are given the option to communicate publicly or try on a new identity and anonymously interact with one another in the ultra-private Free world. While our revenue-share model rewards users whose content we monetize with an impactful percentage, creating a robust community, and truly giving power back to the people.
---
Some of its Social Features:
THE FREE WORLD
The Free World is all about building connections in a judgement-free world. Find different spaces of interest to connect with like-minded users, and express yourself to the fullest.
More on: What is the Free World?
SPACES ON UHIVE
The early users get 5 free Spaces (they are something like a Facebook Page, where they can engage on/ promote specific subjects, ex. Music, Travelling, Crypto etc)!
More Spaces or the ones for the later joining users cost some amount of their currency, Uhive Token!
Your space is your voice, your passion, your experiences. It's who you are. Share it with the world.
More on:
Your Space on Uhive
UHIVE SPACES INDEX (ALPHA) & STATS
OTHER FEATURES
VR - Let's Make Social Media More Human
---
Earning on UHive
Earn
Unlike most social media, Uhive wants to give back to its biggest and most valuable investor - You! By cycling back real value via the distribution of Uhive tokens in exchange for time spent on the app, and engagement with posts, users get rewarded too. Learn More
Every minute you spend on Uhive, every day, you will earn tokens. Every time you create a new post, like, or dislike someone's post, write a comment and repost you keep earning.
Users who use the app daily, and receive tokens, on the 7th straight day, their earnings are doubled, on the 14th day, earnings are tripled, and so on until tokens are quadrupled. Earn up to x4 as many tokens as you usually would, by keeping your streak, and visiting the app daily.
The first 200,000 users to sign up and start creating content, using the app and interacting with other content will be rewarded with up to 100,000 Uhive tokens.
---
The UHIVE Token
The Uhive Token is a utility token based on ERC-20 Ethereum blockchain, limited in supply and will be utilized in the social network. The token was developed under five years of research and is intended to be the foundation of a fully- sustained economy on the social network.
We are building a comprehensive social network with infinite possibilities for the user, and the token would eventually become the method for exchanging services or buying goods.
More on:
What is the Concept of the Uhive Token?
---
They have a referral system there too which rewards both the inviter and the invitee with
U300 Tokens !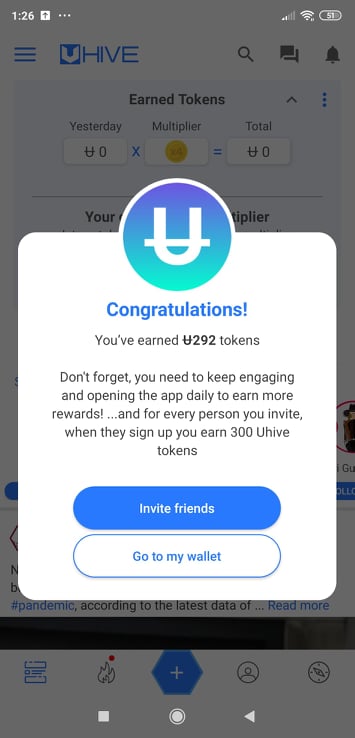 You can read more on the following links:
How Can I Invite My Friends to Join Uhive?
---
I also found the following articles about it on Medium:
Uhive is a cryptocurrency-powered social network built for users, not corporate bottom lines.
Meet Uhive, the new social media revolution that lets you earn tokens (Sponsored)
Harnessing the Power of Social Media
Gain the First-Mover Advantage and Become a Successful Influencer
The Importance of Influencers-
Why Facebook's Libra Will Enhance Uhive's Digital Currency
Unleash Your Creativity, One Interest At a Time
Uhive — A New Dimension of Social Networking
---
My thoughts so far
I am currently enjoying exploring spaces and users on UHive and I have found some really cool Travelling spaces, some of which have also long videos with the places they are presenting! This one except from nice if you want to travel virtually, is really useful for maximizing the engage rewards, as the longer you stay in the app, the more you earn!
The unfortunate thing is that I have not discovered many people & spaces with content that keeps me hooked in yet and the users don't seem to be particularly eager to interact (like, comment etc) except of following. But I am confident that this is a matter of time to happen!
And if more of us join, it is in our hands to make it even better! 😺
Hasta la proxima!
---
MY "Earning through The Internet" LEO SERIES POSTS:
ON HIVE - GUIDES:
Invitation to Join Hive, A thorough Guide Vol I and A Welcome | EN
OTHER:
Invitation to Tsū - Wonderful & Paying Social Media😺- my "Earning through The Internet" Leo Series | EN
UHive Social Universe - Invitation & Introduction - my "Earning through The Internet" Leo Series


---
MY SOCIAL MEDIA
TRADITIONAL SOCIALS
NEW & PAYING SOCIALS
TSŪ - SOCIAL MEDIA THAT PAYS (The_Holy_Bass)
UHIVE - Create - Discover - Earn (Christina The Holy Bass - CODE: 0JFH1I)
READ.CASH : read.cash is a platform where you could earn money (total earned by users so far: $ 216,651.45). You could get tips for writing articles and comments, which are paid in Bitcoin Cash (BCH) cryptocurrency, which can be spent on the Internet or converted to your local money.


NOISE.CASH : Would you like something like read.cash, but for shorter messages? Make some noise on noise.cash, get some Bitcoin Cash!
PUBLISH0X : Publish0x is a crypto agnostic publishing platform similar to Medium, where both author and reader earn different tokens.


WEBTALK : The world's 1st universal contact management system for both personal AND business use ( Connect personally, professionally or both ways to segregate your networks. ​Add searchable tags, labels, notes and network values for your closest relationships and prospects.​ Get CRM contact folders and a file tree for all types of relationships, personal and business ) - You can earn points that redeem for cash monthly. You'll earn points for engagement, creating popular content, and for your referrals to Webtalk.


TORUM : A Groundbreaking Ecosystem with a Mission to Unite and Connect Worldwide Blockchain Technologists and Cryptocurrency Enthusiasts - About Torum
---
Posted Using LeoFinance Beta
---
---