LEO is GOLD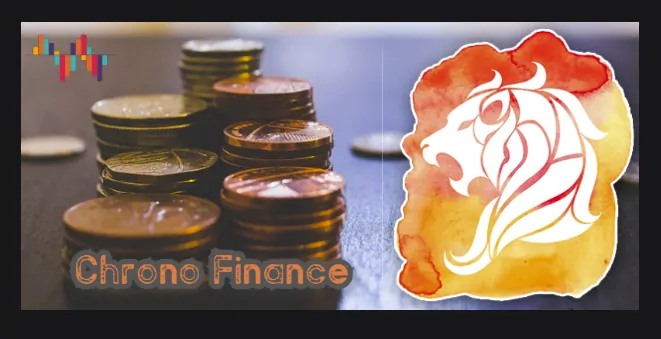 What a great time to get back into Leo, sure it was hyped up and everyone and their mother was all into Leofinance, nowadays the talk is about Splinterlands here on hive and the multiple of incoming airdrops galore., Lets dive into Leo and get back into the groove of things right now LEO to hive ratio is nice, considering the price of Leo is sitting at $0.238 USD.
Taking a look at the ratio of Hive and LEO comparison, makes it easier to see how much is needed to hit that 10,000 LEO stake goal. With just 1700 Hive which comes out to $2550 USD at the time of this post. Considering the price is half of what it was 2 weeks ago at a high of $3.
Tribaldex
If I go check out Tribaldex and see the pool stats, I think I can make it happen, might still pay a bit more but better than on the market. Yes Hive has Defi Pools and we call them diesel pools, or at least the creators of it. By looking at the available liquidity on the pools.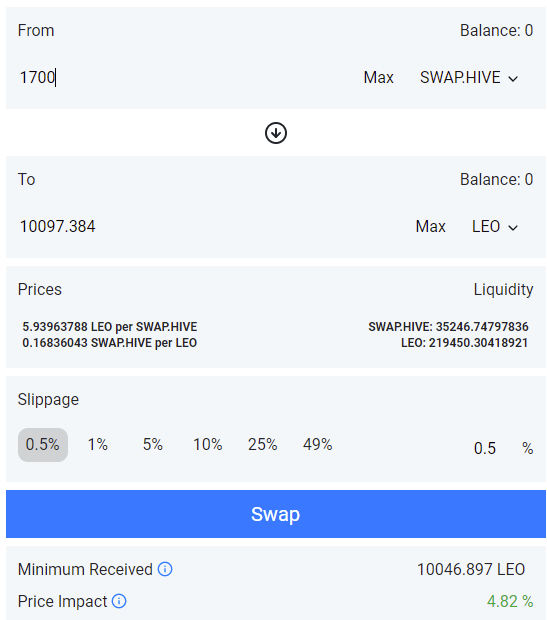 Nothing compared to this beast of a move.. My Greatest Achievement On LeoFinance = 100,000 LEO Staked! I am writing about a messily goal of 10,000 when there are people out there that are making money moves...
100,000 LEO is still more affordable than previously thought possible, the ratio of LEO to hive has shifted and now you can obtain more LEO for less hive..
Even if I wanted to and able too the price impact of this swap is higher than 20%. You may incur substantial losses by executing this swap.
Minimum Received
73813.99 LEO
Price Impact 51.07 %
Yeah, I don.t think so ..
Couple months back I wrote a piece on Leo when I was saying Leo under 1.50 is a steal.. I still hold that to be true at least for me. It is even lower now and well more affordable.. think about it this Project still has some steam and it's about to get rolling.
Listen if you're not buying Leo at these prices what are you buying? Leo under $1.50 is practically free I think at this point with the Leo bridge and cub finance and so much more things happening in and around just the Leofinance ecosystem makes you wonder what the real price of Leo could be.

LEO Finance is in my opinion the leader pack of the tribes the Main Tribe that has made some massive jumps, not only on price but in creation. I would call it only because they just like the honey bees work not only together but it seems as though they are the gold stand for tribe building so many sinks, so many ways to get your word out and get rewarded, implementing a whole mind hive mentality in sharing data so as too all see constant numbers. This again is where Tribe building magic happens. Burn rations, circulating etc.
Many things buzzing about LEO is the epicenter of innovation within blockchains I mean Damn KHAL slow down..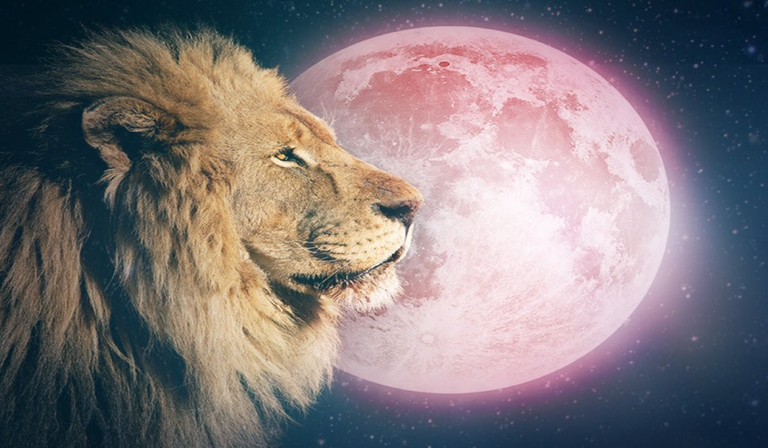 ---
Who Am I?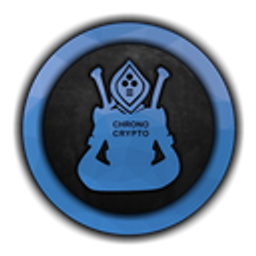 It's me Chronocrypto...
Thank you got reading my content, not as deep as others on here, I express my self like I know how.. I also wanted to share with some things about what I have going on Hive and or around the blockchain..
I run Project Utopis, Project Utopis Whitepaper You probably have seen Utopis posted around, of not check out some of these posts created by holders of the coin.
---
Utopis content from holders
Utopis best in class dividends project - Written by hykss
Planning on increasing my UTOPIS stake | Data of Total Hive received by the UTOPIS investors Written by bala41288
utopis project dividends dropped but now you 're drops in other coins ... Written by funnel
One the best token on hive and its lovely dividends 😍💰- Written by bhattg
A Way To Earn More Hive On Hive While You Sleep- Written by readthisplease
If you're not looking into Utopis, you should be.- Written by dagger212
---
Tokenomics of Project Utopis
Total Hard Cap: 1 Million Tokens~
Total Burnt (null) 850,000
Total Minted: 150,000 and in circulation (80776.7836134) held by accounts, I currently hold 69,223.21638656
Current true* price of Utopis 5 Hive.
Utopis is at 28k hive delegated,
Increased Utopis Delegation Rewards
Delegate Hive to Utopis to earn Utopis token
You can you buy Utopis on Tribaldex.
"Tribaldex is made by the same Hive-Engine Team"


Hive Witness Server
I booted up a Witness Server over on hive using account @chrono.witness.. I figured since I am already running a Hive-Engine Server why not jump on and help out Hive before its massive explosion of adoption and the network gets its limits tested.
Listen, not for much but it's mostly about putting some of my own resources in at least "supporting" Hive.. which is doing very little to be honest.
"So why not shill my won self."
Configuration of the witness server?
The witness node is on VPS from @privex with the following configuration.
CPU: 8 Core
RAM: 16 GB
SSD: 500 GB
OS: Ubuntu 18.04

Hive-Engine Witness Server
I have been Supporting Hive-Engine since the start, by this I mean I purchased over 20,000 WorkerBee when they where 1:1 and I have been earning BEES ever since, tried a couple of pools but realized since I am the largest hodling of WORKERBEE why not also support it hardware style.
I have hired bala41288 to do the maintenance of the tech. You know I would love to and I know its not that much work but I'd rather delegate that work to the pros, while I hustle on the black top.
I do a lot of things here on Hive... well I at least I try.
Any who if you have any Workerbees laying around or hopefully powered up go vote for your favorite android.
---
Future goals

Continue building Project Utopis to it's fullest, I enjoy delegating success to other projects.
Continue providing network support, helping scale once needed and hopefully launch my last part of Project Utopis to be a cool ecosystem in part with Hive and all other projects.
Go ahead and VOTE on both Hive and Hive-Engine Witness Serves @chrono.witness
Hive Witness Vote - https://vote.hive.uno/@chrono.witness

Hive-Engine Vote- https://tribaldex.com/witnesses

Thank you much for the support.
Posted Using LeoFinance Beta
---
---