Supporting CoinGecko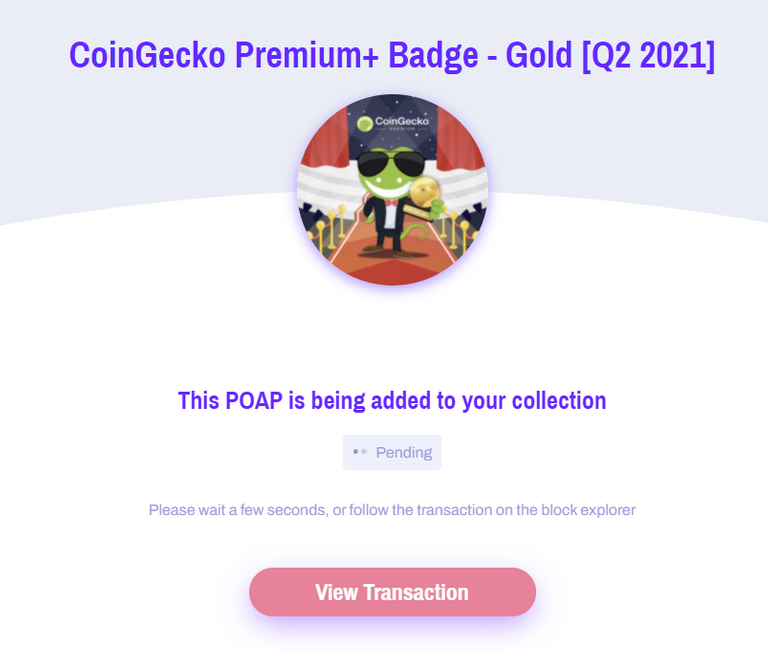 I have used coingecko since its first launch, its been moving in the correct direction and @coingecko is here on Hive.
Here is what I get for the monthly fee of $10. I think its a bit too much but who am I am to put a price on a sweet product I use daily.
I will support them but they get dirty fiat I hope they exchange it to hive. 😁
PERKS
Heads up - This item is meant as an NFT for CoinGecko Premium+ Subscribers as a Non-fungible Token (NFT) of appreciation!
When you subscribe to CoinGecko Premium+, you will receive this badge in your rewards inventory automatically. This NFT has two important uses:
This NFT will be used as your ticket to enter our quarterly raffle/giveaways (more info soon!).
This NFT is also your entry ticket to the CoinGecko Premium+ permissioned chat for Q2 2021.
IMPORTANT NOTICE: There is no need to migrate this NFT over to the Ethereum Network to join CoinGecko's Premium+ chatrooms.
---
Here is my collection for coingecko.
https://app.poap.xyz/token/654215
NFT's are booming and from the last post I made I mentioned I was going to jump into gaming. So here is my update.
I started form zero last night and played for about 90 mins, if calculated.
ProofBaby

If anyone would love to give me any pointers, as far as how to move to Diamond Stats with rentals.
---
---