BNB to the Moon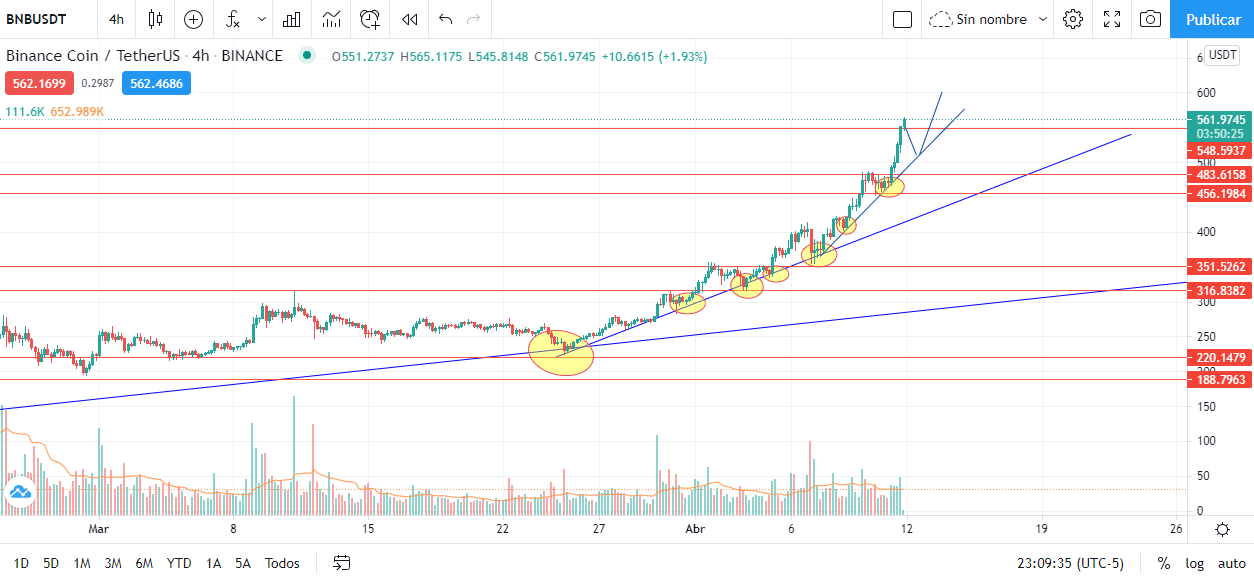 I am an investor in cryptocurrencies, which has led me to buy some coins or tokens that are of interest to me, either because they are among the Top coins in market capitalization, have a good volume of daily transactions, which leads me to deduce that they handle quite a lot of money, or simply because I like the project, what they are doing and how they are running it. Such is the case of "Binance Coin or BNB", which is among my favorite projects and in which I have invested for the reasons mentioned above.
Many months ago I acquired some BNB coins and basically by pure logic I asked myself the following question: if Binance is succeeding, they are implementing many new things that adapt to all the changes that are happening in cryptocurrencies and in the Blockchain world in general, definitely their native coin is very cheap? Based on this buy my coins and as far as I can see, this is the beginning of what may be their true value price. For this reason I will graphically analyze what BNB is and talk a little bit about what Binance is and what in my opinion it is doing very well for the whole community that follows them and uses their services.

BNB Chart Analysis
I am not an expert analyzing currency charts, however, during the time I have been in this Cryptocurrencies I have been learning a little about Trading and technical analysis, so in this opportunity and based on my basic knowledge, I will analyze 2 timeframes that are:
1 Day Chart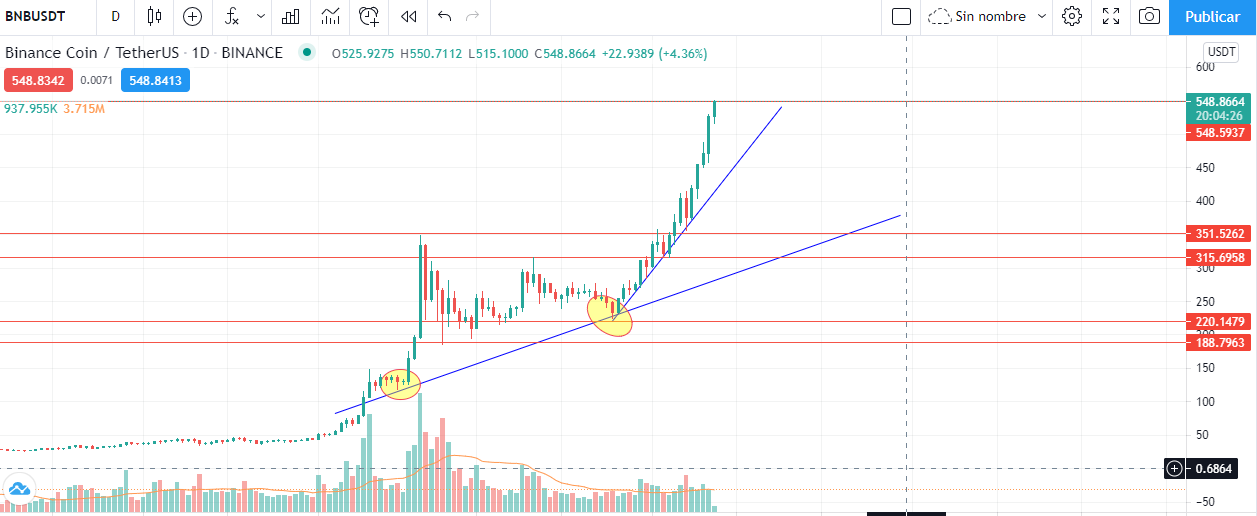 To begin with I have plotted my most relevant supports and resistances according to what the price has done in the past, which leaves me as the "most important supports" the area between $315.69 and $351.52, then if this area fails which, in my opinion, most likely will not happen, is the area between $188.79 and $220.14. At this moment the price is above my trend line, tracing the 2 lowest points of the price which are highlighted with two orange circles and then we can see an acceleration in the trend, which leads me to draw a new trend line joining these points and confirming the strength that have at this time the buyers over sellers.
4-Hour Chart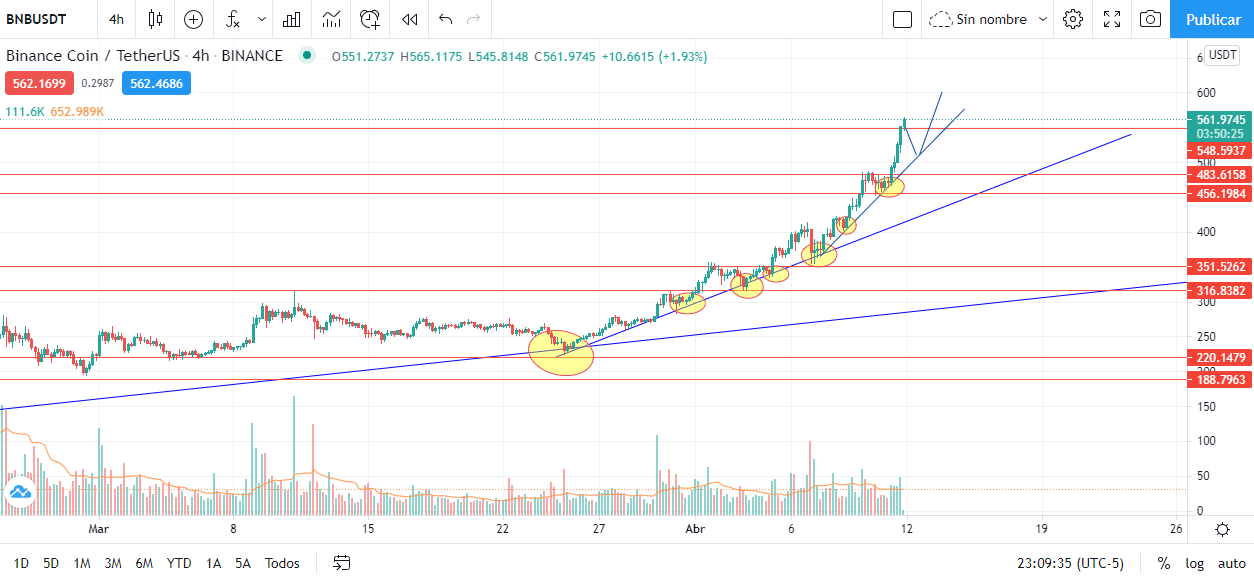 In 4 Hours the situation changes a little, however, it is still the same context, but in this temporality, I can highlight a new acceleration that has the price, which led me to draw another new trend line, which again confirms me the great strength of buyers, on the other hand, in this temporality we can see how the price leaves us more detailed information of the waves that the price is leaving and how these are respecting very well both trend lines. You can see this detail in the orange circles that I placed in each rejection in these lines. Finally, to finish my analysis, the price has great strength, but if it makes a pullback, it could do it in the last acceleration line to continue its course towards the $600 and the MOON.

Conclusions
Binance has one of the most solid projects in the market, it is connecting as many people as it can with the Blockchain and cryptocurrencies world, this is not just me saying it, there is evidence of it and this makes me think that this is just the beginning, cryptocurrencies continue to grow, many more people, companies, big magnates are interested in them, it is natural to think that this is just beginning and what leads me to keep my investment in BNB for a longer time.
Until next time and happy investing.

Join the official community here Discord
---

Join the official Spanish community here Discord
Posted Using LeoFinance Beta
---
---