My 1 BNB investment in CubFinance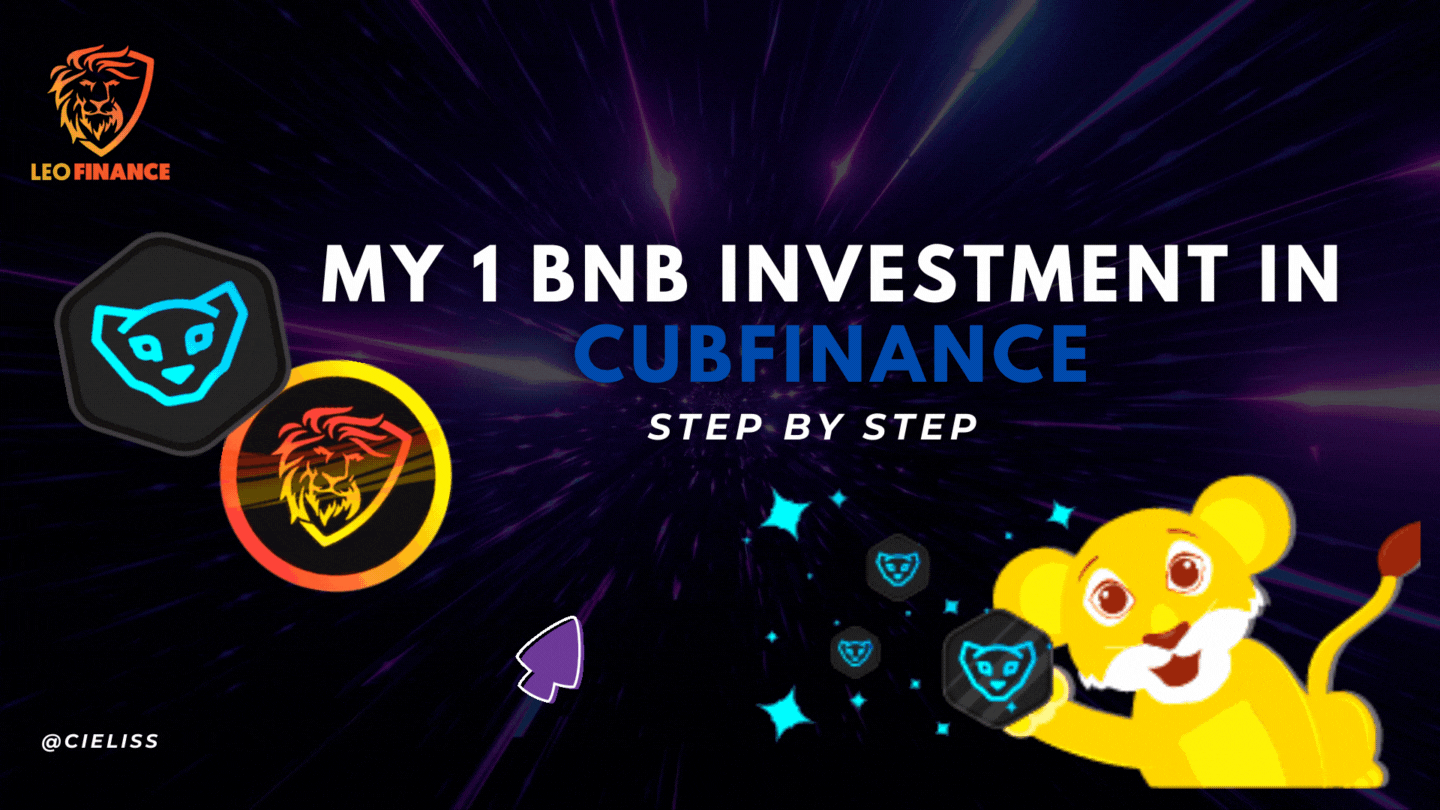 I have seen several publications of how people place in Stake some hundreds of dollars in CUB, with the sole purpose of obtaining daily rewards and monetize their investment, on the other hand, there are many who know the DeFi ecosystem and have added liquidity in the platform with the same objective commented above, however, for the novice investor even with very basic knowledge of cryptocurrencies, it is a bit complicated to learn many concepts at least immediately and much less put into practice things that of course are not very clear to them.
With this premise and based on the little knowledge of some in the community, I have decided to make this publication taking advantage of this situation, all in order to help these people to follow a step by step so that they can enter CubFinance and diversify their investment. In this sense, you will see how I have placed on the platform my 1st BNB, coming from some savings and investments that I have collected. I hope this post will be helpful, as I will try as much as possible to be very clear in explaining and showing a step by step process.

Step 1: MetaMask configuration to add the Binance Smart Chain? network.
The first thing we must do is to configure our MetaMask account to be able to add the Binance Smart Chain network, I will not give details on how to create a MetaMask account as it is very simple and you can create it by obtaining information from other sources on the web, but once you have it created, the next thing we will do is this: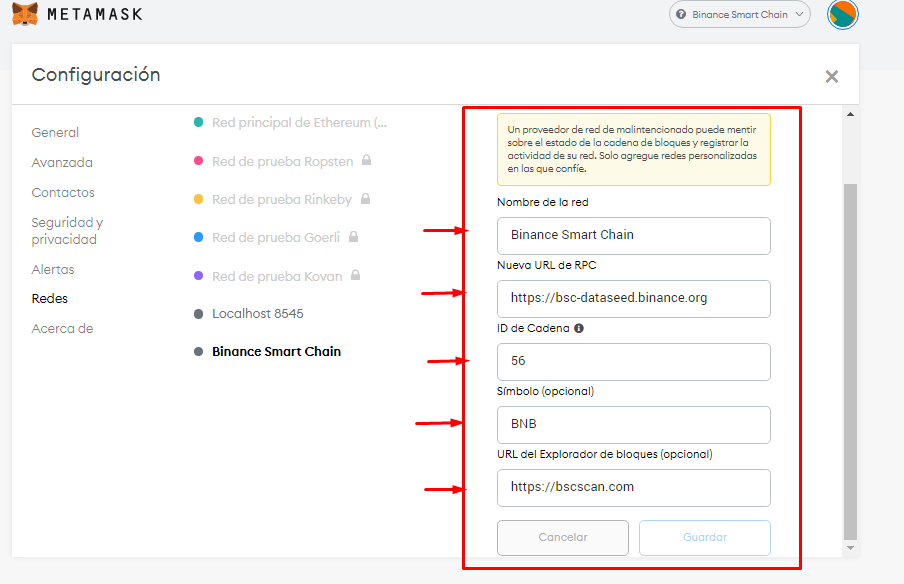 As you can see in the image, there are all the details of how we must place in each of the options so that Metamask can connect to the BSC network. To get to this option and be able to add the network, we only have to go to the "Configuration" option, once there, select the "Networks" option that is on the left side of the screen and it will show us the following options that we have to fill in with this data:
Finally, click on save and you are ready to interact with the BSC network.

Step 2: Transfer the money I will invest from Binance to Metamask under the BSC network.
Once we have our Metamask set up on the Binance Smart Chain network, the next step is to go to our Binance account. Again, I won't give details on how to create a Binance account, as you can find out how to do it on the web. Now, following the corresponding steps, we go to our "Spot" Wallet, where I will use my BNB balance to invest in CubFinance. To make this transaction correctly we must do the following, pay attention to the following image: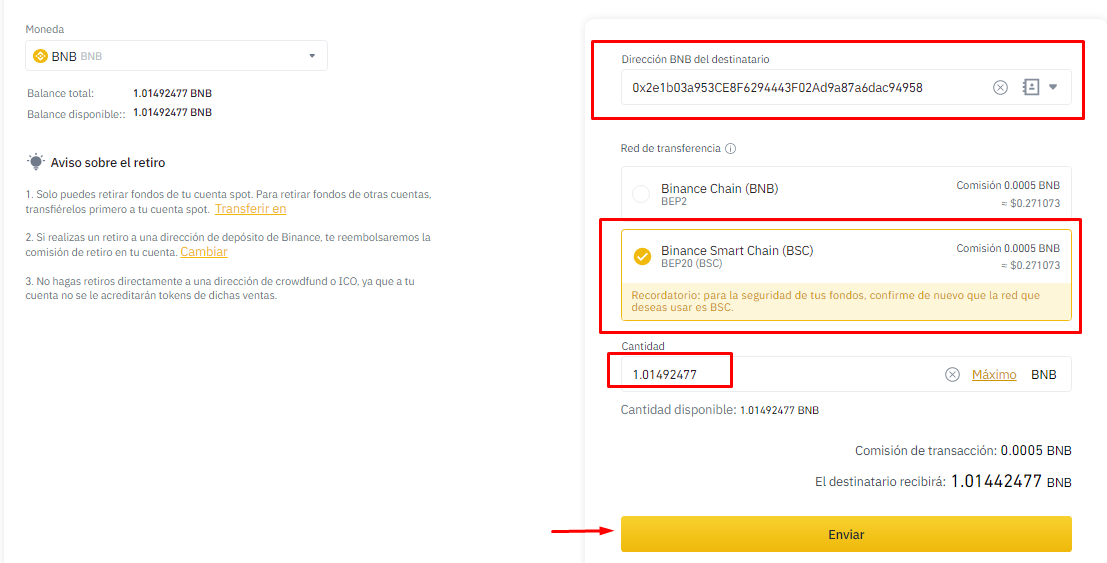 What we will do to transfer the funds is very simple, we take our Metamask address that the platform gives us by default and we will place it where it says "Recipient's BNB address", then we must choose the transfer network, which is none other than "Binance Smart Chain (BSC)". Finally, we add the amount we are going to transfer to Metamask, taking into account that the minimum withdrawal amount is "0.1 BNB" and that it carries a transaction fee of "0.0005 BNB". Then we verify that everything we have placed is correct and click on "Submit".
We do all the security steps required to be able to withdraw the money and once we have fulfilled all these requirements, we will get a screen like this, confirming that the transaction has been successfully executed.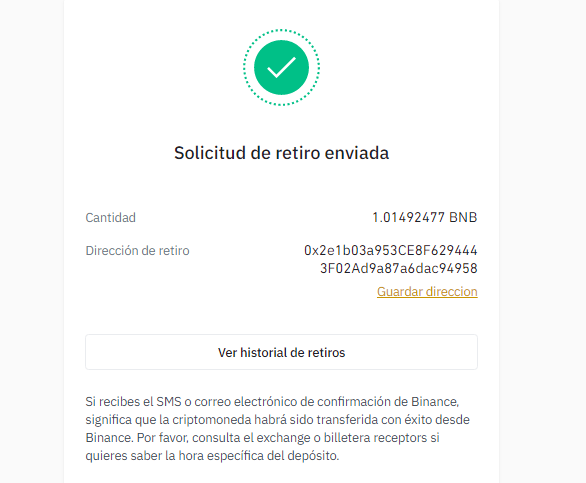 Step 3: Go to cubdefi.com to exchange BNB for CUB and BUSD.
Once the transaction is done and we have verified it in Metamask, we must log in to CUBFINANCE. To connect our MetaMask account to "cubdefi.com" is very simple, we just have to go to the top right of the screen and click on "Connect", once there we select the Metamask option which is the first of all and the one we will use for this tutorial, once the option is selected, Metamask will ask us to sign this login transaction and this way we will be inside. You can see these details in the following image: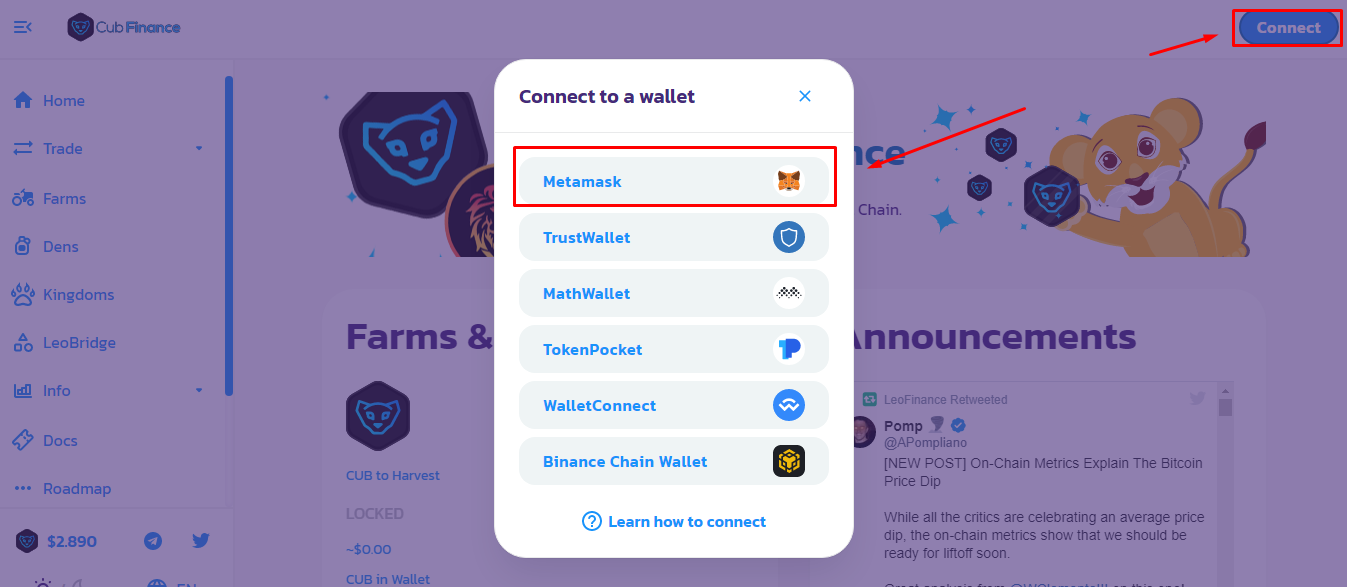 Once logged in, we go to the menu on the left side of the screen, and in the options we will select the one called "Trade", then immediately followed by "Exchange", it is here where we will make all our exchanges, in order to obtain the corresponding pair of currencies we need to add liquidity in the platform. In this sense, I will start by exchanging half of my BNB for CUB which is the first token I need and then for BUSD which is the second one in order to add liquidity.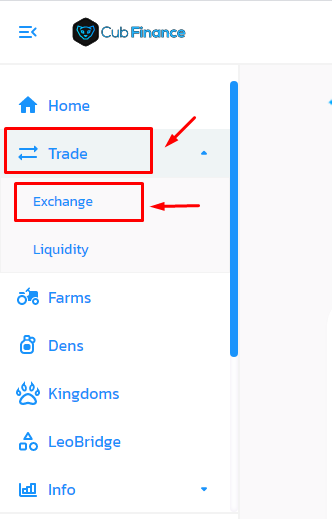 Note: If you are wondering why I only need to exchange half, this is because as we will become market makers, in short, those who provide liquidity for other users and investors to make their exchanges, we need to place money on both sides, I mean, if we add liquidity in the CUB/BUSD pair, we must have 50% in CUB and the other 50% in BUSD. To provide a balance to it.
In the following image I show how I get my first CUB, where we can place the amount of BNB that I will exchange for CUB which is 0.5 BNB, which results in 82.6399 CUB thanks to my 0.5 BNB.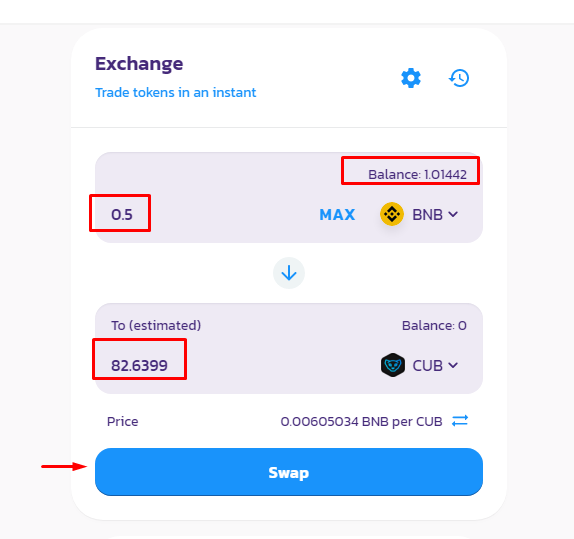 Now that I already have my CUB, I need to obtain BUSD which is the second currency I need, for this I will follow the same procedure as before. As you will notice in the image below, you will see that in my balance I have 0.51 BNB left, from them I will take again 0.50 BNB to obtain this time BUSD and in this way complete the pair of currencies I need to add liquidity.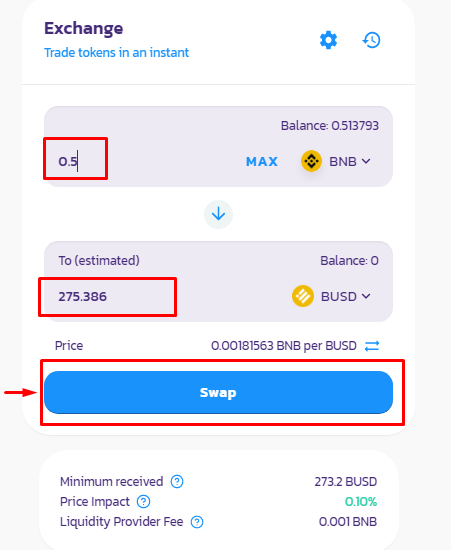 Note: You may wonder why I did not take all the 0.51 BNB to buy BUSD and it is for a simple reason. Every transaction that we make within CubFinance or any Dapp that is connected to Metamask will have a cost, a commission that is intrinsic in the network and that will be charged for each action that we perform within these applications, so I had to leave the remaining approximately 0.01 BNB to pay for all these actions within the platform, something you should keep in mind when you want to invest money in these platforms. Remember to always put a little more money to be able to do everything correctly.

Step 4: Add liquidity in the CUB/BUSD pair
Now the next step is to finally add the corresponding liquidity we need to become market makers and be able to generate rewards in CUB, to do this we must stay in the option called "Trade", however, within this there is a second option called "Liquidity", it is in this where we click and once there, we just have to find the pair of tokens in which we want to add the liquidity.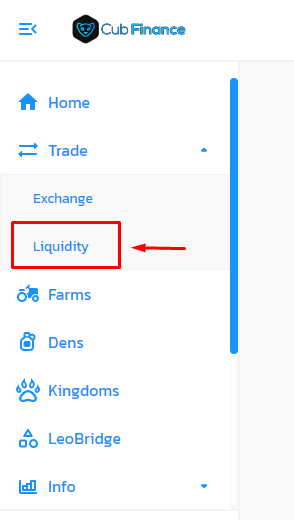 In my case the pair of currencies in which I decided to do it is "CUB/BUSD", in this way we only have to look for them in the same order, above we will look for CUB and below we will look for BUSD. Observe the following image.
As you can see in the image, I first select the "Liquidity" option, then I look for the pair I need to do it which is CUB/BUSD. Now I put the total amount of CUBS that I have and automatically the system calculates the same amount of money in BUSD that I need to be a 50/50 in the Liquidity Pool. Once this is done, we have to approve the contracts corresponding to each currency, which are the 2 blue boxes that we can see at the bottom of the previous image.
I must emphasize and remember that each transaction and approval of these contracts comes with a commission charged by the network, which is between 0.13$ and 0.18$ approximately, something very affordable compared to the Ethereum network and that you can see in the following images.
Once the contracts have been approved, we only have to click on "Supply", after which we will get a second confirmation window, which will give us more details about the amount of Pool Tokens we will receive, the amount of CUB and BUSD we will place in the Pool, the price of how much 1 CUB costs with BUSD and vice versa and the percentage we are sharing in the Pool. This can be seen in the following images:

Step 5: CUB Farms through the Stake of the Pool Tokens obtained.
We have already added liquidity in the CUB/BUSD pair and obtained some Pool tokens for this action.
But now what can we do with these tokens to generate rewards?
This is what we will see in this step n°5. Again we go to the left side of the screen and look for the option called "Farms". Once there, we will see many pairs of currencies and a series of contracts to approve, however, I am only interested in looking for one pair and that is the CUB/BUSD, this is the contract that I will proceed to confirm to be able to place my Pools Tokens in Stake and in this way start generating rewards.
Pay attention to the following images:
Once we have approved the contract of our corresponding pair, we can place in Stake our Pool Tokens and in this way we will immediately unlock the option of "Stake" in that pair, we click there and we will open a pop-up window to confirm the deposit of these Pool Tokens in the CUB/BUSD pair, then we press the "MAX" button, in order to select all the tokens we have and confirm the transaction. Again remembering that each confirmation and/or transaction on the platform is accompanied by a commission charged by the network for these actions.

Conclusion
We have reached the end of this step by step tutorial on how I invested 1 BNB in CubFinance, I know I extended a little, but I wanted to be sure to detail everything step by step so that the newer ones who want to invest have the least possible doubts on how to add liquidity to the platform. I hope it will be very helpful. Finally, I leave you this image that just a few seconds after adding liquidity and placing my tokens in Stake is what the platform was already generating me.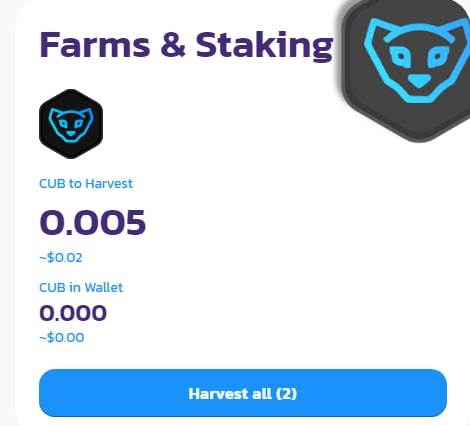 Until next time and happy investing.

Join the official community here Discord
---

Join the official Spanish community here Discord
Posted Using LeoFinance Beta
---
---