Battle Challenge: Harklaw vs Living Lava [ENG/ESP]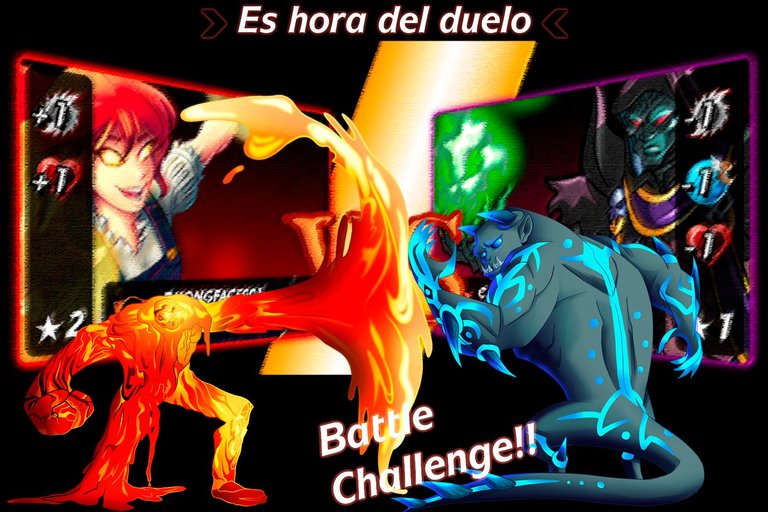 One of the things I like most about playing Splinterlands, is that strategy is above all, if you have a good strategy you can break the balance in the battles, nullify the power of the opponent, and even beat those who are in a higher league. Such is the case of my battle this week, thanks to the strategy applied I was able to beat an opponent who had his team at level 2, when mine was still in its initial level. Next I will show you how the battle unfolded, so let's continue.
Una de las cosas que mas me gusta de jugar Splinterlands, es que la estrategia esta por encima de todo, si tienes una buena estrategia podras romper el equilibrio en las batallas, anular el poder del rival, e inclusive vencer a los que se encuentran en una liga superior. Tal es el caso de mi batalla esta semana, gracias a la estrategia aplicada pude vencer a un rival que tenia su equipo en el nivel 2, cuando el mio todavía estaba en su nivel inicial. A continuación te mostrare como se desarrollo el combate, asi que sigamos.
---
RULESET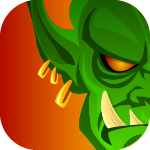 The first rule "up-close-personal", a very exclusive battle condition, because only monsters with physical attack can participate. This frees us from magic and ranged attack, only the power of the fist will prevail, in that sense, choosing well is extremely important, so we can take advantage of this ruleset.
La primera regla "up-close-personal", una condición de batalla muy exclusiva, pues solo los monstruos con ataque físico pueden participar. Eso nos libra del ataque mágico y a distancia, ¡solo el poder del puño prevalecerá!, en ese sentido, elegir bien es sumamente importante, para asi poder aprovechar esta ruleset.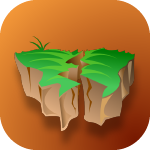 The second battle rule was "earthquake", which does +2 physical damage to all monsters every turn except flying monsters, if you played pokemon before you know what I'm talking about, but if not, don't worry, you only need to play in Silver for this condition to become more frequent.
La segunda regla de batalla fue "earthquake", la cual hace +2 de daño físico a todos los monstruos en cada turno excepto a los voladores, si jugaste pokemon anteriormente sabes de lo que hablo, pero si no, no te preocupes, solo basta jugar en Plata para que esta condición se haga mas frecuente.
---

Taking into account both conditions that are very lethal combined, and also that my enemy was playing a lot with fire, I decided to use Crypt Mancer as a summoner, a card a little underrated in the first leagues but quite interesting, in fact, I must confess that it is the first time I rent it, I had never done it because it didn't call my attention. But I was really wasting his power, because this summoner is a beast, it reduces in -1 the life, speed, and of course the physical attack of the opponents. As a tank Harklaw was my best option, having 3 points of armor and the ability to shield, he would suffer little damage from the opponents and the earthquake in each turn. The rest of my team had Uraeus to attack the second enemy row, Silent Sha-Vi that would do the same as the previous one, Cursed Windeku to counteract any physical blow with its spines and Disintegrator at the end of the line, to lower the attack of my opponents by -1 again. I assume I made a mistake, Windeku should have been at the end and Disintegrator in the penultimate position to be protected.
Teniendo en cuenta ambas condiciones que son muy letales combinadas, y tambien que mi enemigo estaba jugando bastante con fuego, decidi usar a Crypt Mancer como invocador, una carta un poco infravalorada en las primeras ligas pero bastante interesante, de hecho, debo confresar que es la primera vez que la alquilo, jamas lo había hecho porque no me llamaba mucho la atención. Pero de verdad que estaba desaprovechando su poder, pues este invocador es unas bestia, reduce en -1 la vida, la velocidad, y por supuesto el ataque físico de los rivales. Como tanque Harklaw fue mi mejor opción, teniendo 3 puntos de armadura y la habilidad de shield, sufriría poco daño de los rivales y del terremoto en cada turno. Seguido mi carta del triunfo, la legendaria Corrupted Pegasus, que puede gracias a sus habilidades atacar desde la segunda posición y evadir el terremoto, pues tambien es volador –me enamore de esta carta-, el resto de mi equipo tenia a Uraeus para atacar la segunda fila enemiga, Silent Sha-Vi que haría lo mismo que la anterior, Cursed Windeku para contrarrestar cualquier golpe físico con sus espinas y Disintegrator al final de la línea, para bajar en -1 nuevamente el ataque de mis rivales. Asumo que cometi un error, Windeku debio estar al final y Disintegrator en la antepenúltima posición para ser protegido.
---
---

The fight would not be easy, playing against Tarsa is never easy, but thanks to Crypt Mancer I could balance the power a little, even so my opponent had good cards, some of them in level 2 and others in level 3, but I think his lineup was quite poor, some of his monsters could not attack from the second row, while of mine only one could not do it, the rest could all attack directly and Windeku in counterattack.
El combate no seria nada sencillo, jugar contra Tarsa jamas lo es, pero gracias a Crypt Mancer pude equilibrar un poco el poder, aun asi mi rival tenia buenas cartas, algunas de ellas en nivel 2 y otras en nivel 3, pero creo que su alineación fue bastante pobre, algunos de sus monstruos no podían atacar desde la segunda fila, mientras que de los mios solo uno no lo podía hacer, del resto todos podían atacar de forma directa y Windeku en contraataque.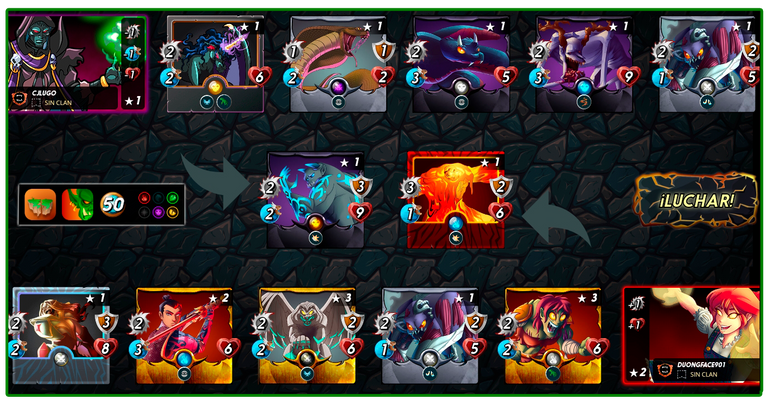 The development of the combat was as expected, two tanks very difficult to defeat for each side, but little by little my cards and the earthquake were making the difference. In a battle of this type there is not much to say, the fight was very even, my opponent had also decreased my physical attack by -1, so it was a little longer, although if my Windeku had placed it in the last position I would have defeated my opponent in a faster and easier way. The balance was broken when my Disintegrator died, then his team recovered some strength, but in the last turns his Disintegrator also died and the balance of power leaned to my side in a definitive way. At the end of the match we were 1vs1, both flyers, but fortunately thanks to the advantage I got from the Crypt Mancer summoner in speed I could get the victory.
El desarrollo del combate fue el esperado, dos tanques muy difíciles de derrotar por cada bando, pero poco a poco mis cartas y el terremoto fueron haciendo la diferencia. En una batalla de este tipo no hay mucho que decir, el combate estaba muy parejo, mi rival tambien había disminuido mi ataque físico en -1, por lo que se hizo un poco mas largo, aunque si mi Windeku lo hubiese colocado en la ultima posición habría derrotado a mi rival de una forma mas rápida y sencilla. La balanza se rompió cuando mi Disintegrator murió, alli recupero algo de fuerza su equipo, pero en los últimos turnos el suyo tambien murió y el balance de poder se inclino hacia mi lado de una forma definitiva. Al final del encuentro quedaríamos 1vs1, ambos voladores, pero afortunadamente gracias a la ventaja que obtuve por el invocador Crypt Mancer en la velocidad pude obtener la victoria.
---
---
Well my dear readers, that's all for today, I hope you liked the battle, and you can give more priority to strategy than to power, that will take you further in this exciting game.
Bueno mis estimados lectores, eso ha sido todo por el dia de hoy, espero te haya gustado la batalla, y puedas darle mayor prioridad a la estrategia que al poder, eso te llevara mas lejos en este emocionante juego.
---
Thanks for reading
---
---
All images and separators have been edited by me in Adobe Photoshop, using original images from the game.
---
---
---