[ENG] How much I love Grum // Cuanto amo yo a Grum [ESP]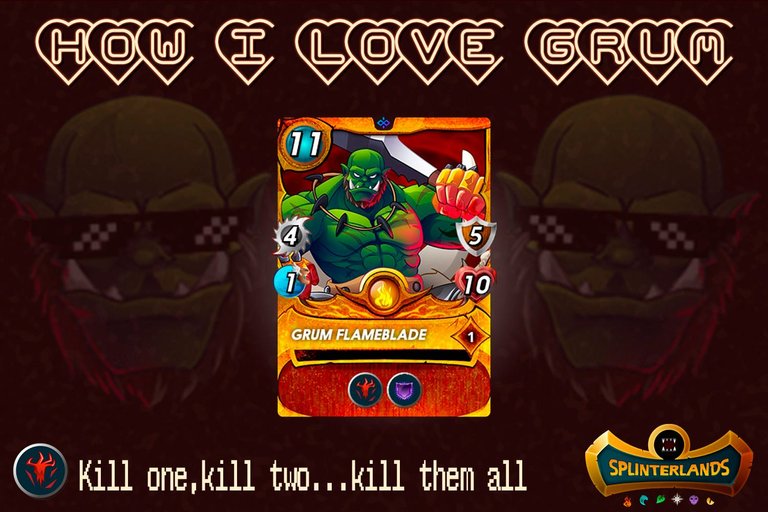 Since Grum entered the meta he has been the best card my deck has ever had, and the only one I have obtained via airdrop. There are many battles we have faced together, and there are also many victories, I confess that when I won it I got too excited and did not stop playing it, but as I had never played Brawls I did not understand its ability at all, there were several defeats, but after I understood its use I have realized that it is a real beast, and with the current battle conditions its field of use has expanded, so I continue to enjoy it to the fullest, and I just have it at level 1, I'm thinking of raising it to level 2 to make life a little more difficult for the magic teams. The battle that I will present next was against the Splinter of life, and beforehand I tell you that if it wasn't for Grum I would have succumbed to the power of my rival.
Desde que Grum entro en el meta ha sido la mejor carta que mi mazo ha podido tener, y la única que he obtenido vía airdrop. Son muchas las batallas que hemos enfrentado juntos, y también son muchas las victorias, confieso que cuando la gane me emocione demasiado y no dejaba de jugarla, pero como jamás había jugado Brawls no entendía para nada su habilidad, fueron varias derrotas, pero después que comprendí su uso me he dado cuenta que es una verdadera bestia, y con las condiciones de batallas actuales su campo de uso se ha ampliado, por lo que sigo disfrutándola a mas no poder, y apenas la tengo en nivel 1, estoy pensando en subirla al nivel 2 para hacerle la vida un poco más difícil a los equipos mágicos. La batalla que presentare a continuación fue contra el Splinter de vida, y de antemano te digo que si no fuera por Grum habría sucumbido ante el poder de mi rival.
---
Ruleset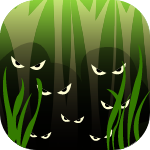 Super Snake, this was the condition for the battle, a well known ruleset, as it allows all monsters with physical attack to attack the last monster in the opponent's row, there are many ways to take advantage of this condition, you can place a card with the ability of thorns in that last square and you will do a lot of counter damage, you can also lower the opponent's attack and place a card with shield, it will be more difficult to defeat. I always say that you have to make the most of the conditions, not go against them as some do.
Súper Snake, esta fue la condición para la batalla, una ruleset bastante conocida, ya que le permite a todos los monstruos con ataque físico atacar al último monstruo de la fila rival, hay muchas formas de aprovechar esta condición, puedes colocar una carta con la habilidad de espinas en esa última casilla y harás mucho daño de contra, también puedes bajar el ataque rival y colocar una carta con escudo, será más difícil de derrotar. Siempre digo que hay que aprovechar al máximo las condiciones, no ir en contra de ellas como hacen algunos.
---

Taking into account the amount of mana allowed, which was 42 points, I decided to use the fire Splinter, one of the ones I have better boosted, as a summoner I did not raise the attack but the speed, so Pyre was my choice, in the first position I used Magnor, although I was tempted to place him in the last position, but I think it would have been a mistake because I would not take advantage of his "taunt" ability to the maximum due to the condition. The rest of my team was composed by Kobold miner, Serpentine Spy, Forgotten One, Ant Miners and my master card Grum Flameblade. The idea was to protect Grum with Ant Miners and attack as much as possible with the rest of my cards.
Teniendo en cuenta la cantidad permitida de mana que eran de 42 puntos, decidí usar el Splinter de fuego, uno de los que tengo mejor potenciados, como invocador no subí el ataque sino la velocidad, asi que Pyre fue mi elegido, en la primera posición use a Magnor, aunque me vi tentado de colocarlo en la última, pero pienso que habría sido un error porque no aprovecharía su habilidad de "taunt" al máximo debido a la condición. El resto de mi equipo fue compuesto por Kobold miner, Serpentine Spy, Forgotten One, Ant Miners y mi carta maestra Grum Flameblade. La idea era proteger a Grum con Ant Miners y atacar lo más posible con el resto de mis cartas.
---

---
---
Surprisingly my enemy also used "Taunt", that messed up my strategy a bit, also I lowered my speed by a card thus canceling my summoner, and to complete my attack by -1. That put me down quickly, I wouldn't attack his monster in last position, I wouldn't attack first and I wouldn't hit as hard as I had estimated. Apart from that he raised by +1 all his ranged attack and also his stats thanks to other of his cards. A not very encouraging outlook for my team right from the start.
Sorpresivamente mi enemigo uso "Taunt" también, eso me descuadro un poco mi estrategia, además bajo mi velocidad por medio de una carta anulando asi mi invocador, y para completar bajo mi ataque en -1. Eso me puso por debajo rápidamente, no atacaría a su monstruo en última posición, no atacaría de primero y tampoco pegaría tan fuerte como había estimado. Aparte de eso el subió en +1 todo su ataque a distancia y también sus estadísticas gracias a otras de sus cartas. Un panorama poco alentador para mi equipo nada más empezar.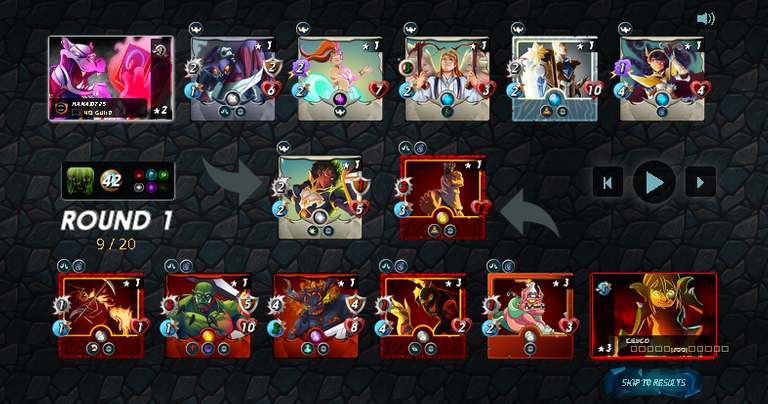 The first and second round was a massacre literally, four of my cards were brutally eliminated, Magnor did not last absolutely nothing, and then followed the others, everything changed when Forgotten One came to the first position, he is a strong tank, and has armor, he could resist a little more. Fortunately for me, Grum finished with his tank at the end of the second round, a light in the darkness for my team, but the beginning of the end for my rival, maybe he didn't see it coming.
El primero y segundo round fue una masacre literalmente, cuatro de mis cartas fueron brutalmente eliminadas, Magnor no duro absolutamente nada, y después siguieron los demás, todo cambio cuando Forgotten One llego a la primera posición, es un tanque fuerte, y tiene armadura, podía resistir un poco más. Afortunadamente para mí, Grum acabo con su tanque finalizando el segundo round, una luz en medio de la oscuridad para mi equipo, pero el principio del fin para mi rival, quizás no lo vio venir.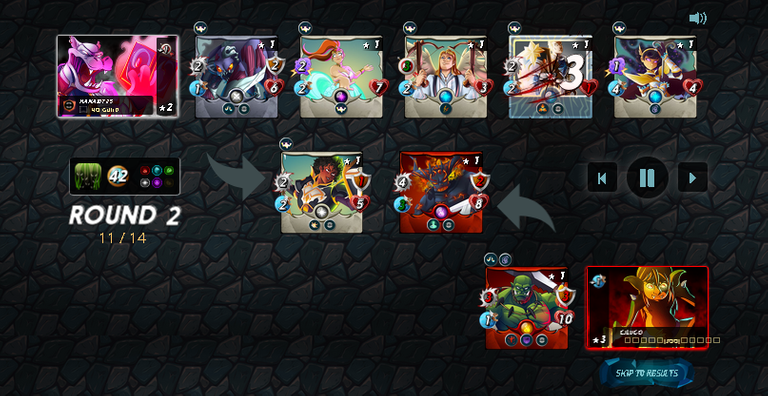 From the third round on, the terror took over his team, Grum finished with his mage, in the next round he sent to sleep his Pelacor Arbalest that I hate so much, and the rest is history, all his cards succumbed one by one while my Grum became more and more powerful. How sad it must be to have victory in your hand and see it go without being able to do anything, something like that happens when you face the master of Bloodlust, Grum Flameblade.
A partir del tercer round el terror se apodero de su equipo, Grum acabo con su mago, en el round siguiente mando a dormir a su Pelacor Arbalest que tanto aborrezco, y lo demás es historia, todas sus cartas fueron sucumbiendo uno a uno mientras mi Grum se hacía cada vez más poderoso. Que triste debe ser tener la victoria en tu mano y verla irse sin poder hacer nada, algo asi sucede cuando te enfrentas al maestro del Bloodlust, Grum Flameblade.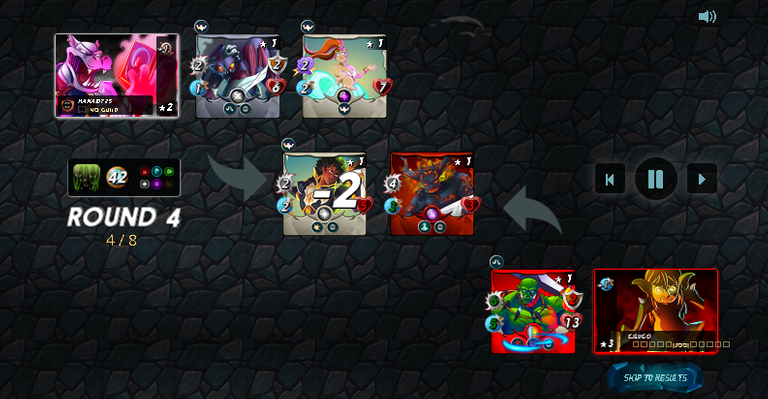 ---
As a conclusion I can say that it was a pretty funny battle, I saw it lost, but when Grum's power was activated the combat took a 180 degree turn, first I finished with one enemy, then with two, and then I finished with all of them without mercy or compassion, as it should be in the battlefield, he is a monster of war, I can't imagine what he can do with Jacek the new summoner, but that's material for another story. Thanks for reading
Como conclusión puedo decir que fue una batalla bastante divertida, la veía perdida, pero cuando se activó el poder de Grum el combate dio un giro de 180 grados, primero acabo con un enemigo, luego con dos, y después acabo con todos sin compasión ni misericordia, como debe ser en el campo de batalla, es monstruo de la guerra, no me puedo imaginar lo que podrá hacer con Jacek el nuevo invocador, pero eso es material para otra historia. Gracias por leer
---
Splinterlands is the best #play2earn game out there. This story is an original writing of my authorship, I hope you liked it.
The images have been edited in Adobe Photoshop using elements from the game.
If you want to start playing, you can do it from here:
---
---