Pleb problems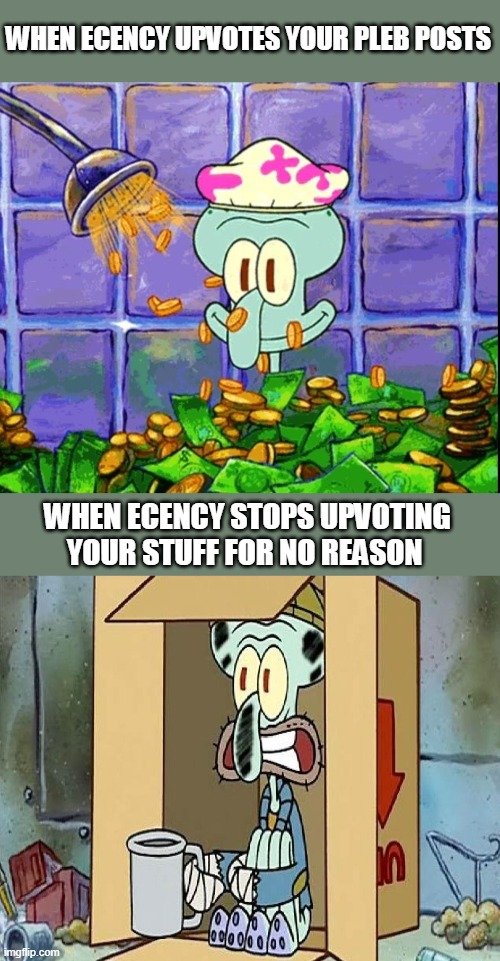 For those that don't know, using ecency as a front end gives you points for doing stuff like upvoting, commenting, posting etc; and plebs like myself find that super handy because we can use those points to request a decent upvote from the ecency account. I've been using this feature for a long time now and it helps quite a bit if your struggling with your Hive and HBD earning grind.
The major caveat is that the request for upvoting a post can be denied and the points refunded for various reasons, which are most of the time not obvious and they are not stated when you get the points back. Some don't understand or gloss over this fact and feel a bit butthurt when they don't get their much awaited upvote. I've grown accustomed to the fact some of my shitposts won't get upvoted so I don't mind this unpredictability too much, after all: free stuff is free stuff.
The real bummer is when there are long periods when you don't get an upvote from ecency no matter what you, I guess calling the devs at 3 a.m. is not the best idea when you're trying to convince someone to make something happen ( joking of course - I prefer stalking people and then scaring them with my crazy clown outfit - much more effective ). For more than a week I've been feeling the consequences of ecency closing the upvote tap and as far as I know I'm not the only one facing this problem. Of course there is no explanation on the official account so the plebs are left in the dark wondering what they did wrong in order to be punished so "harshly".
If I were the ecency PR guy I would have wrote something like : " We won't be giving any upvotes to some/ all plebs depending on if we wake up on the wrong side of the bed or not. How long will this last? as long as we feel like it. So quit complaining or else will be dishing up downvotes instead" . I'm sure a statement like that would have cleared the air a lot and put many at ease.
In the meantime I'm left wondering if I'll ever see a notification that I received an ecency upvote, I'll miss that feeling of support. As a pleb you must enjoy every whale upvote because one day it can stop without warning. If I weren't a cynical clown I would go on about optimism and stuff but that kind of attitude is for pansies, real plebs bitch and moan until somethings changes :P ... or they get muted.
---
---