July's Hive Power Up day | Garlic's birthday countdown.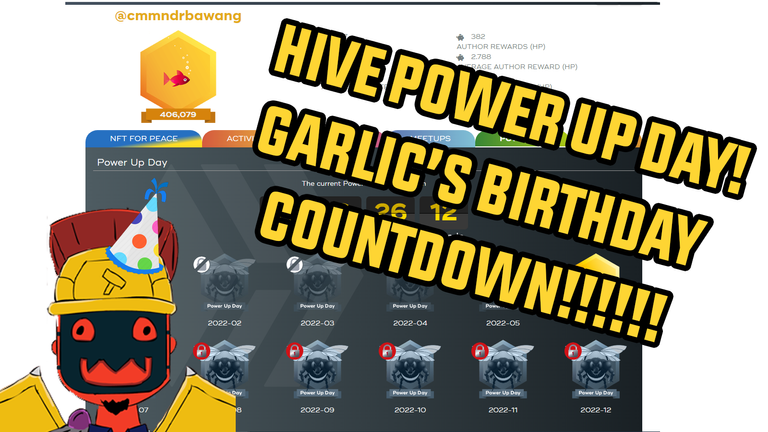 Time flies really fast! It's the start of another month and it's another HIVE POWER UP DAY!! July has been the most challenging month for me this past few years. It has never been the best month in my life but I feel like this year will be different. I will celebrate this month #aliveandthriving, I want to be #alive, and I want to be happy.
---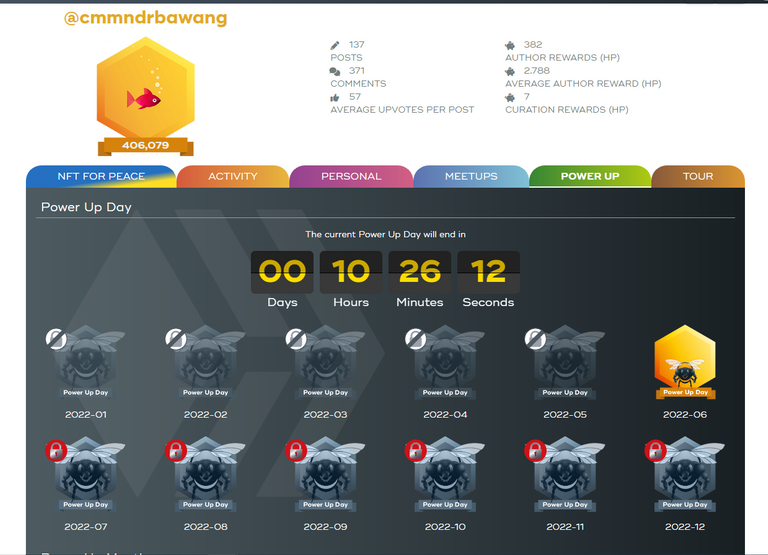 July's Hive Power Up day | Garlic's birthday countdown.
Introduction
Hey, HIVErs! Welcome to July's HIVE Power Up Day. This is the month when we celebrate my birthday and I'm so excited about it! We will have a great time together and make it special for me.
Today's Hive Power Up Day is the day to show your excitement and support for the blockchain by powering up your HIVE.
TODAY is POWER UP DAY!
Participating in Hive Power Up Day is going to be my monthly commitment to growing my account in HIVE. It's time for us to show your excitement and support for the blockchain by powering up. If you have any questions about Hive Power Up Day or how to get started with your own hive account, please refer to this article.
This month features a great reason to power up as well.
This month, we are counting down to July 9. This is the day that Garlic was born! So why not get in on some celebrations? I am turning 28. I'm not sure what to expect, but I'm excited about the celebration! I want this birthday to be special and I will do my best to celebrate this month full of love and peace (JAHBLESS!)
A bit of pizza and some lovely conversations.
If you're looking for a great way to spend time with friends, celebrate my birthday and be part of the pizza mayhem! I want to buy a couple of pizzas and eat them live on stream lol. If you want to contribute to the party you can send me a DM on Twitter or discord.
To celebrate Garlic's birthday, I thought we could do something special. I'm still thinking of ideas for how to count down to my special day, but here are some things you can do to show your excitement:
Pray for my health
Suggest a community drive that I can single-handedly do in a day.
Suggest an act of charity that you want me to do on my special day.
Donate funds for me to execute all our plans
I also would love to spread the Pizza love to our less fortunate brothers and sisters here in my city. I am thinking of celebrating my birthday on the streets and inviting them to eat pizza with me. This will be my first but I am wishing to make this an annual event.
I will start with a fundraiser for a pizza party but my next event will be more meaningful and will aim to help contribute to a greater purpose. Probably like sponsoring out-of-school youth some learning materials or giving out instruments to street children.
Let's talk about everything on my twitch live stream: twitch.tv/cmmndrgarlic
We'll do the countdown right before midnight of July 9 GMT+8 (Philippines).
The countdown will be at midnight on July 9 on my time, which will start at 11 pm on July 8 in GMT+8. This means that if you live in the US, it will be 11 am on July 8 (EST) there and my friends in UK will be having an afternoon party at 4 pm on July 8 (BST).
It will be huge if you let me know if you can join me on my countdown. If you decide to join in, please let us know by leaving a comment below or tweeting at us with #garlicbirthdaycountdown. We want to know how many of you want to see garlic get wrinkles!
Conclusion
there you have it, July's Hive Power Up Day! I hope that you've found this article informative and exciting. We're all looking forward to celebrating my birthday with you, so don't hesitate to join us on my twitch live stream for a great time!
---
---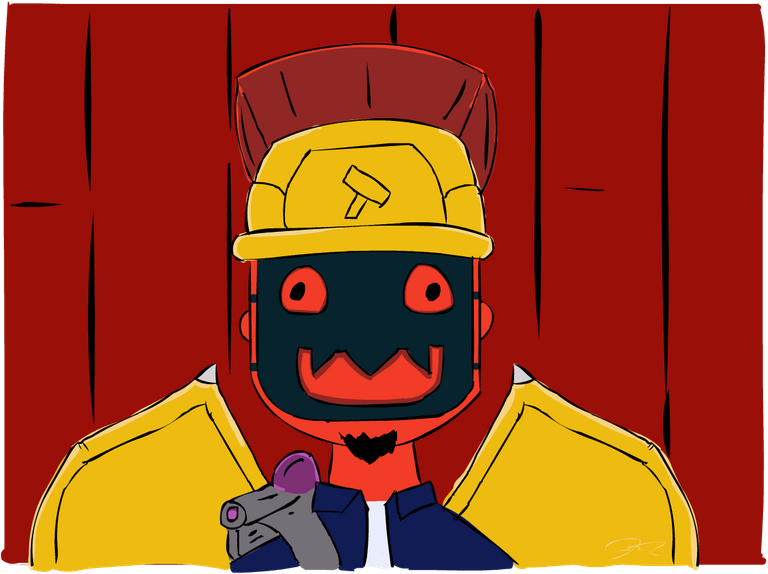 Hey! Roi here, your favorite garlic! I am a small Filipino streamer on twitch.
Recently I find myself enjoying blogging and curation. I hope you enjoy your read today. Your upvote is greatly appreciated.
Before you go I want to remind you that you are awesome! If you ever feel alone and you got no one to talk to message me in discord CmmndrBawang#5457.
---
SHOUTOUT
Huge thanks and much love to the people who sponsor my stream and my peakd posts:
SplinterlandsHQ (@gank and @walkingkeys) Youtube Channel:
https://www.youtube.com/channel/UCEG5107_73wZKKPQQeNooJA
SplinterlandsClove71 Youtube Channel:
https://www.youtube.com/c/clove71
---


Twitch: https://www.twitch.tv/cmmndrgarlic
Facebook: https://www.facebook.com/CmmndrGarlic
Youtube: https://www.youtube.com/channel/UCqFOcAe9C3DsMsUGODShV7w
Splinterlands: https://splinterlands.com?ref=cmmndrbawang
Rising Star: https://www.risingstargame.com?referrer=cmmndrbawang

HOW TO SUPPORT CmmndrGarlic:
Donate Splinterlands Assets to: @cmmndrbawang
Donate WAX NFTs to: 3r2xc.wam
Donate goodies here: Tip Page
---
FOLLOW ALL THE NO SLEEP GANG STREAMERS HERE


---
---