Started SIP in Bitcoin
I am a big advocate of SIP or Systematic Investment Plan which allows me to make regular and equal payments to the equity market and I have been using it for the last 7-8 years. Through the SIP route it allows me to save regularly even if it is a small amount but the advantage of it is that if that small amount is invested for the long term, it helps in dollar-cost averaging. In this bear market, we do know when is the bottom so it's always better to do dollar cost averaging so that the portfolio is built over the long term.
Till now I have never done a SIP in Bitcoin, and since we are in a bear market and I do not have cash in hand, I thought of starting the SIP in Bitcoin to create wealth in the future. My main goal is to own at least 1 BTC, so for that, I have started a SIP of around $1.2 per day or Rs 100 per day. Its been two days I have been running the SIP and invested Rs 200 and will continue to buy bitcoin every day of the month for a true Dollar Cost Averaging.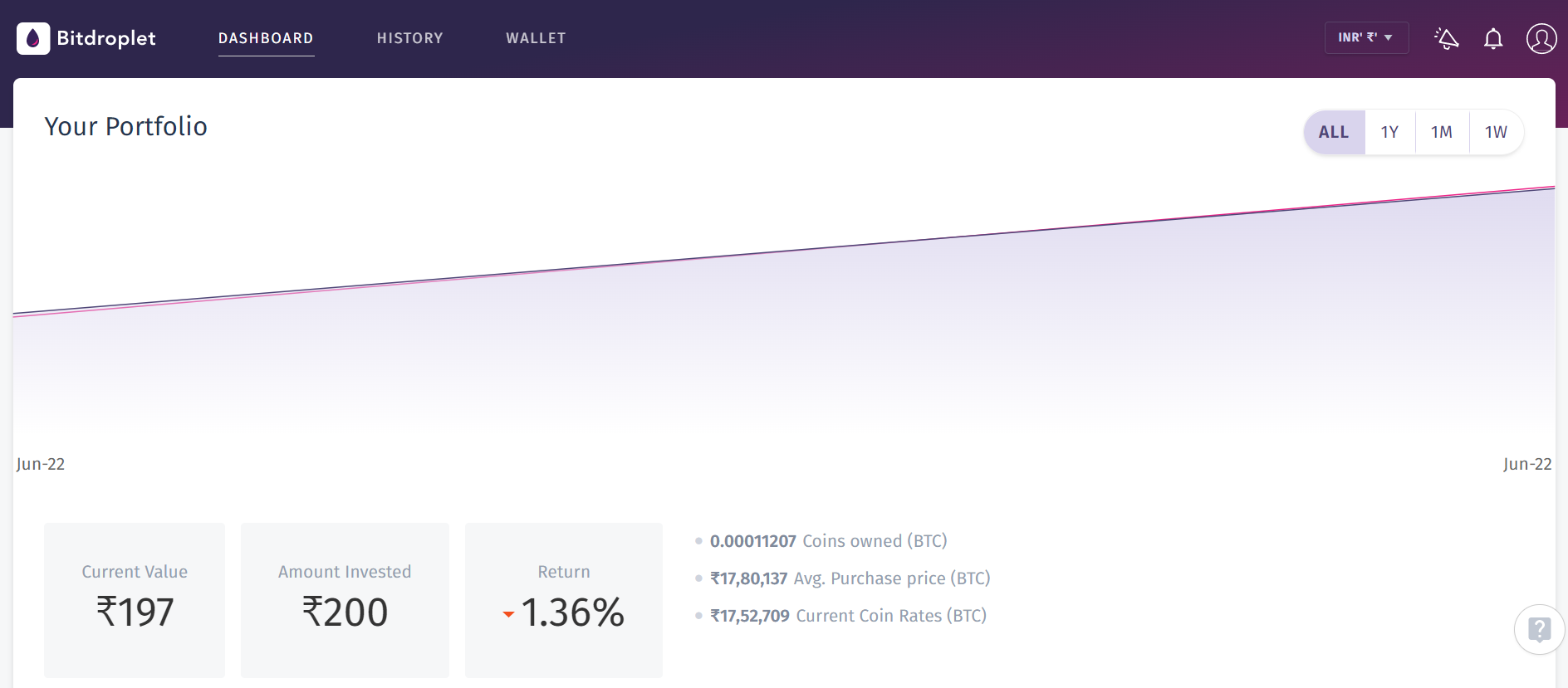 PC; Bitdroplet.com
If we go by the past returns, in the last 5 years Bitcoin has given over 150% returns and no one is close to that if I had invested Rs 100 per day for the last 5 years. I know I have missed investing for the last 5 years but the next best time is today to start. As there is a bear market you get more Bitcoin for your value and in the long term, you will surely get benefit from it.

PC; Bitdroplet.com
It is not that I do not have any BTC in my portfolio, but I never started the SIP in bitcoin, so with this, I have started using the Bitdroplet to invest a small amount of my FIAT money in the Bitcoin and see my overall portfolio gain when the Bull returns.
---
If you want to Start the SIP in Bitcoin then you can use my Referral of BitDroplet.
Posted Using LeoFinance Beta
---
---