Surprise challenge | Earn extra points for Coyote League! - 02/19/2021
This post can also be read in Portuguese


Hello Lions!
As promised, every week on a random day we will have a surprise edition to heat up the Coyote League dispute. If you have missed the opportunity to enter the competition, don't worry as this is the right place to recover.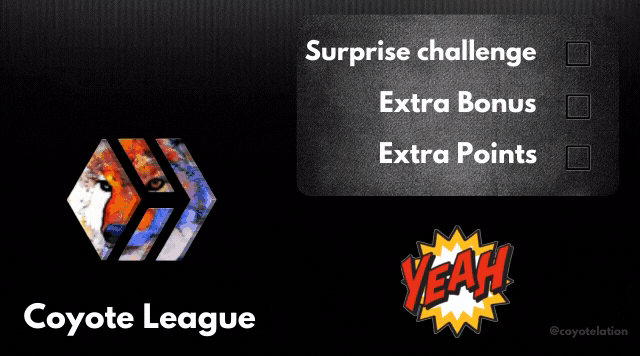 In the second week of the contest created by @coyotelation, it has been a success of interaction and participation, because the community is enjoying it and it is always important to have several campaigns to spread and spread the word of LEO, HIVE and other tokens of the Hive ecosystem.
Therefore, for the better satisfaction of the participants, we had some small changes in rules, such as the time for the challenge to be open and went from 36 hours to 48 hours. Now I hope that more hivers can participate, because as already mentioned, the Coyote League is for everyone.
Surprise challenge
Well, let's get to it, shall we?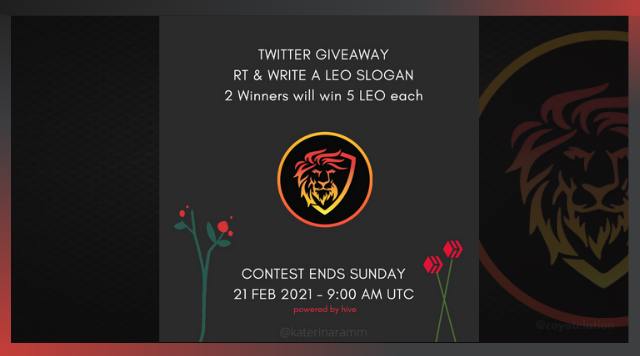 Original image
The challenge is very simple and what you should do is just enter the Twitter link, follow the rules of the giveaway created by @katerinaramm that is launching at this moment (in fact, it's been over a day).
Then...
RT + Put here your "Twitter username", in this post so that I can verify and validate your participation.
Example:


Done, @twitterusername.
Only that? Yes, just that.
Remember that the giveaway closes on February 21st at 9:00 am UTC. You still have about two days (depending on where you are from) to participate and validate your entry here in this post.
Scoring and awards
As already mentioned, this surprise challenge helps you get more points so stay tuned for what you will gain by participating:
+2 points for the Coyote League dispute;
+5 points if you are one of the winners of the @katerinaramm giveaway
Awards
The first 3 who participate and leave their entry here will receive votes from @coyotelation and the distribution will look like this:
1st place: 100% vote
2nd place: 50% vote
3rd place: 25% vote
In case you don't know what Coyote League is, it is a weekly contest in dispute for points in the form of a league and the final prize for this month will be on March 1st. The top 3 scorers will win: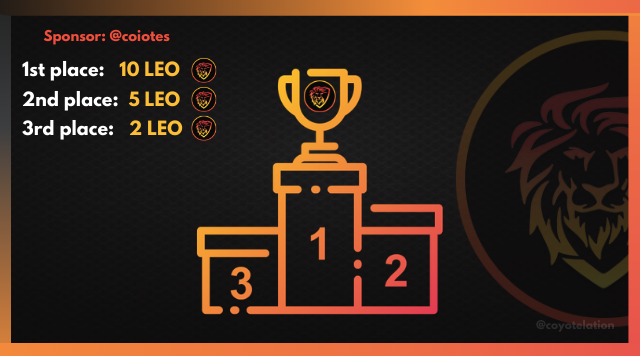 Be part of it and we will bring more interaction to the LeoFinance community, I am waiting for your input and follow me @coiotes to not miss any surprise challenges ahead. Until next time and good luck to all!



Versão em português
Olá Leões!
Assim como prometido, toda semana em um dia aleatório teremos uma edição surpresa para esquentar a disputa da Coyote League. Caso você tenha perdido a oportunidade de entrar na competição, não se preocupe pois aqui é o lugar certo para se recuperar.
Na segunda semana do contest criado por @coyotelation está sendo um sucesso de interação e participação, pois a comunidade está gostando e é sempre importante ter diversas campanhas para divulgar e espalhar a palavra do LEO, HIVE e entre outros tokens do ecossistema Hive.
Sendo assim, para uma melhor satisfação para os participantes tivemos algumas pequenas mudanças de regras como o tempo para que o desafio estivesse aberto e passou das 36 horas para 48 horas. Agora espero que mais hivers possam participar, pois como já foi mencionado o Coyote League é para todos.
Desafio surpresa
Bem, vamos ao que interessa não é mesmo?
O desafio é bem simples e o que você deve fazer é apenas entrar no link do Twitter, seguir as regras do giveaway criado por @katerinaramm que está lançando neste momento (na verade já tem mais de um dia).
Então...
RT + Coloque aqui neste post o seu "username do Twitter" para que eu possa verificar e validar sua participação.
Exemplo:
Done, @yourusername.
Só isso? Sim, apenas isso.
Lembre que o giveaway encerra no dia 21 de fevereiro, às 9:00 am UTC. Você ainda tem mais ou menos dois dias (dependendo de onde você é) para participar e validar sua entrada aqui neste post.
Pontuação e premiação


Como já foi dito, este desafio surpresa ajuda a você obter mais pontos então fique atento no que irá ganhar ao participar:
+2 pontos para disputa da Coyote League;
+5 pontos caso você seja um dos vencedores do giveaway de @katerinaramm
Premiação
Os 3 primeiros que participarem e deixarem sua entrada aqui irão receber votos do @coyotelation e a distribuição ficará assim:
1º lugar: voto 100%
2º lugar: voto 50%
3º lugar: voto 25%
Caso você não saiba o que é Coyote League, é um concurso semanal em disputa por pontos em forma de league e a premiação final para este mês será no dia 1º de março. Os 3 maiores pontuadores ganharão:
Faça parte e vamos trazer mais interação para a comunidade LeoFinance, estou esperando a sua entrada e me siga @coiotes para não perder nenhum desafio surpresa daqui pela frente. Até a próxima e boa sorte a todos!

Thanks for reading so far. If you liked it, give that strength with your upvote and rate me. Feel free to leave a comment .Thanks guys!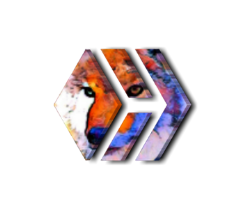 Posted Using LeoFinance Beta
---
---