My favourite neighbour is a cat

Brad and I regularly do an afternoon walk from our home 🏠
Sometimes we walk up the hill and sometimes down. Sometimes we walk around the block and other times into the bush. It depends on how far we want to walk that day 🚶‍♀️🚶
At present, about half the time we walk up the hill and into the bush. That has us walk right past a place that seems to house several humans and several animals. My favourite of those is this cat 🐆
I don't know its name, nor its sex. But what I do know is that at least 50% of the time when Brad and I walk past it's out the front and comes directly to me for a pat.
At first I was hesitant. I allowed time for us to get to know each other. I was remembering a house sitting experience where the cat had a tendency to bite and scratch everyone, including its human parent. And, me, his willing carer 🥺
Thankfully this cat did none of that and over time we've become more and more enamoured with one another. It comes running most* of the time when it sees or hears (or smells?) me coming.
(I say "most" of the time because it is, after all, a cat. And cat will do whatever cats want to do, right? 😅)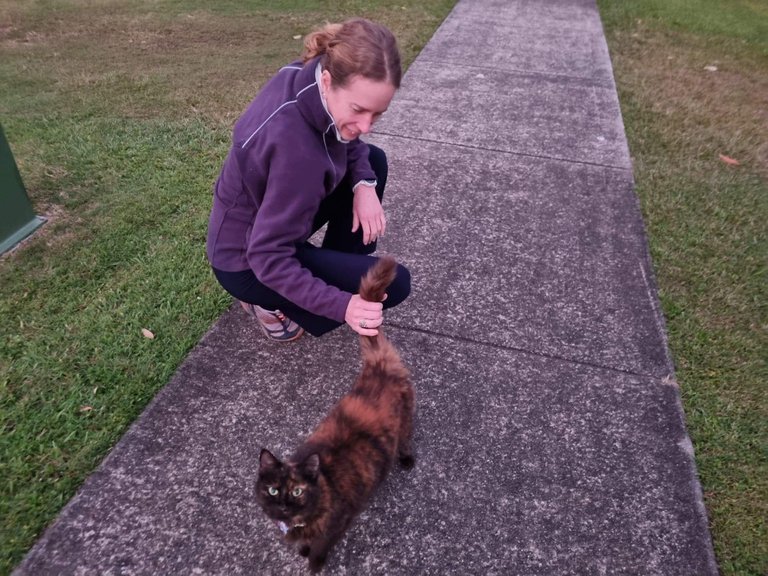 Anyway, I'm not sure if Brad gets jealous or simply impatient with the loving attention I give this cat. He seems to pause and sigh, restlessly waiting for me each time I pat this adoring kitty cat.
But he mustn't mind too much, after all, he took all these photos 😉
---
---