My Daughter's Art Work/Kızımın Sanat Eseri

My Daughter's Art Work
My children are like gold to me and like angels. I do not joke with them, and I must not see them suffering. The only person to suffer must be me, going around searching for daily bread. They must enjoy me, and in the end, they will be the ones taking care of me. Do you know that your child is your future? Yes, he or she is your world. The only reason you are struggling and running from pillar to post is just for them and to make their future bright.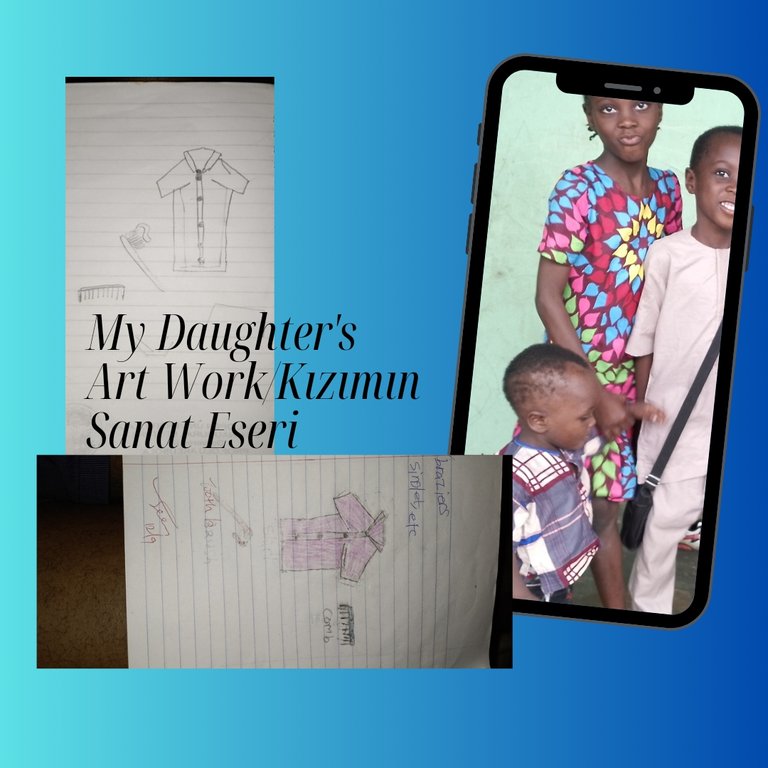 Created with Canva.com
As a parent, plan well for your child and do your best to bring the best out of them.
I always check up on my kids just to make sure they have a good educational background. Anytime they are back from school, I ask them what they have done or what they were taught. This must be part of us, parents. Do your best as a parent and leave the rest, but be sure to do your very best in both in-home training and the outside world.
It's amazing to see my child making some fantastic drawings. Occasionally, we need to encourage our children to make education a special part of their lives.
Taking education so seriously is one thing I encourage in my children. I always wanted them to be smart and well-educated, even though money was one thing that would keep dragging us as parents back.
My child always makes some funny drawings, and I encourage her. The best is to encourage your child to mingle with the outside world instead of rejecting whatever they are putting down as drawings.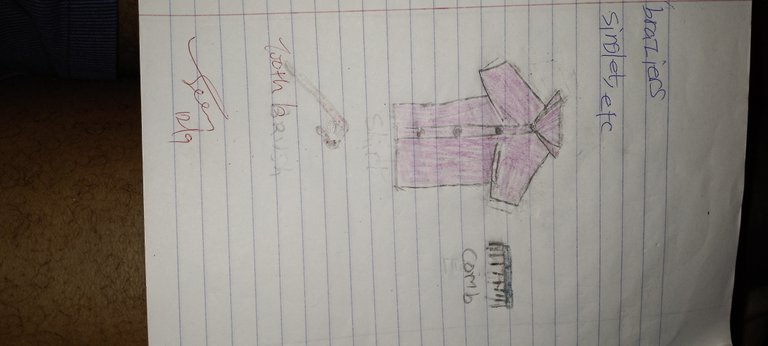 She drew the above t-shirt. It was a perfect drawing, and after observing it in his notebook, I asked her to redraw the diagram again, and what she drew was quite similar and even better than the normal.
She also drew the image of a toothbrush and a comb. The drawings were so perfect. I praised her for her handiwork and told her to keep it up. We have some parents who do not bother about what their kids do in school and are not even ready to ask how far they have gone in school.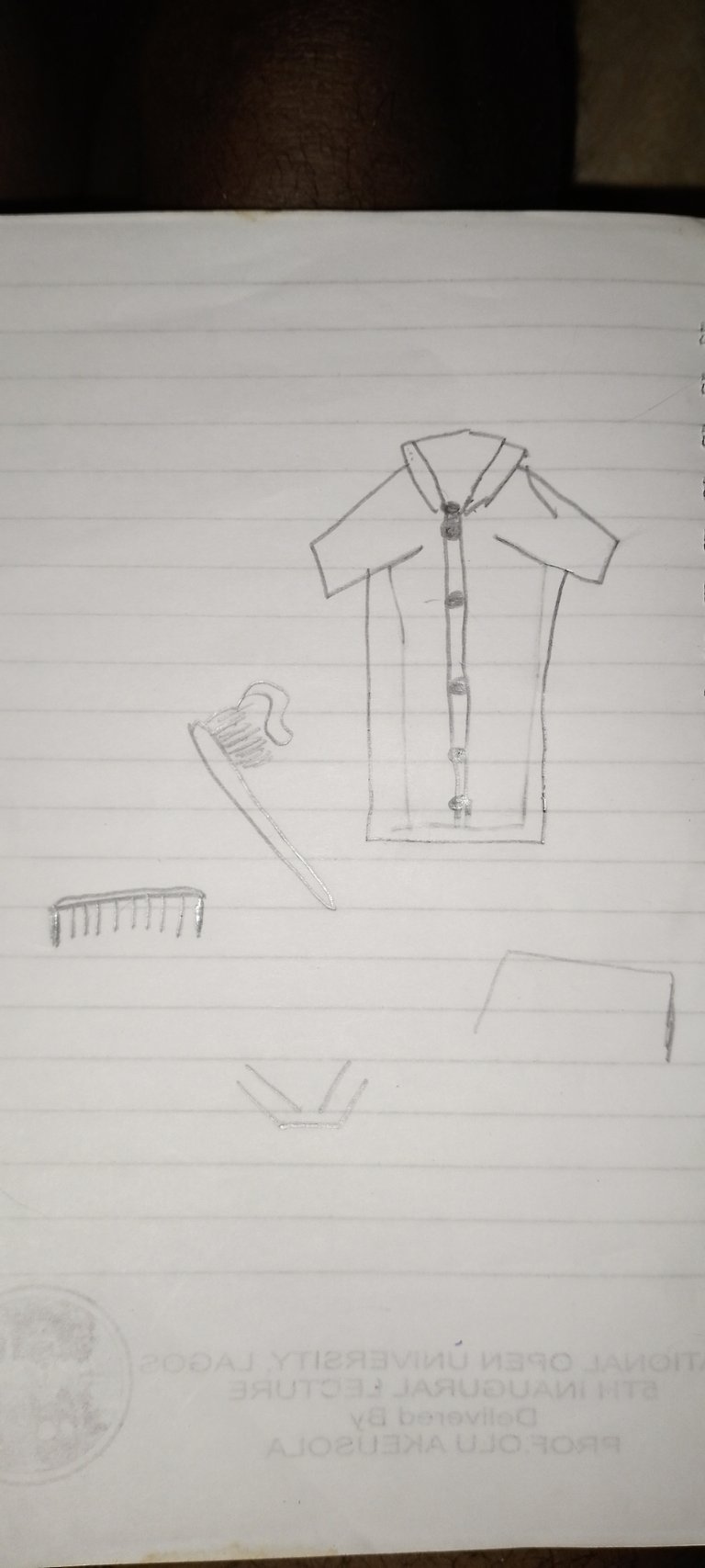 My child drew this, and I gave her kudos and credited her for her nice work. Growing up as a child, I also had this kind of talent, and my parents tried to raise me the right way but were unable to praise me or put effort into my impressive drawing. This is why I want to use this opportunity to inform all parents reading this to make their children happy anytime they make an impact in their world of creativity.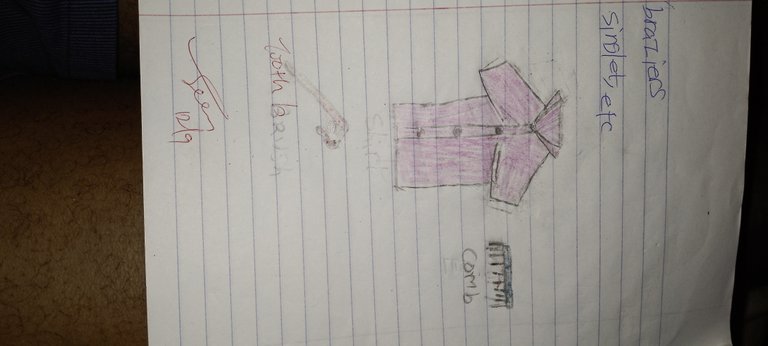 Being creative is so good when it comes to our children, and monitoring them should be our best priority.
My son also learned some handwork, but I was unable to take a picture of it. Although I tried to search, I could no longer see the book. I have been monitoring all my kids and know their respective strengths and abilities.
All images are mine
TR
Kızımın Sanat Eseri
Çocuklarım benim için altın ve melekler gibi. Onlarla şaka yapmıyorum ve acı çektiklerini görmemeliyim. Acı çekecek tek kişi ben olmalıyım, günlük ekmek aramak için etrafta dolaşıyorum. Benden zevk almalılar ve sonunda benimle ilgilenenler onlar olacak. Çocuğunuzun geleceğiniz olduğunu biliyor musunuz? Evet, o sizin dünyanızdır. Mücadele etmenizin ve sütundan direğe koşmanızın tek nedeni sadece onlar için ve geleceklerini parlak hale getirmektir.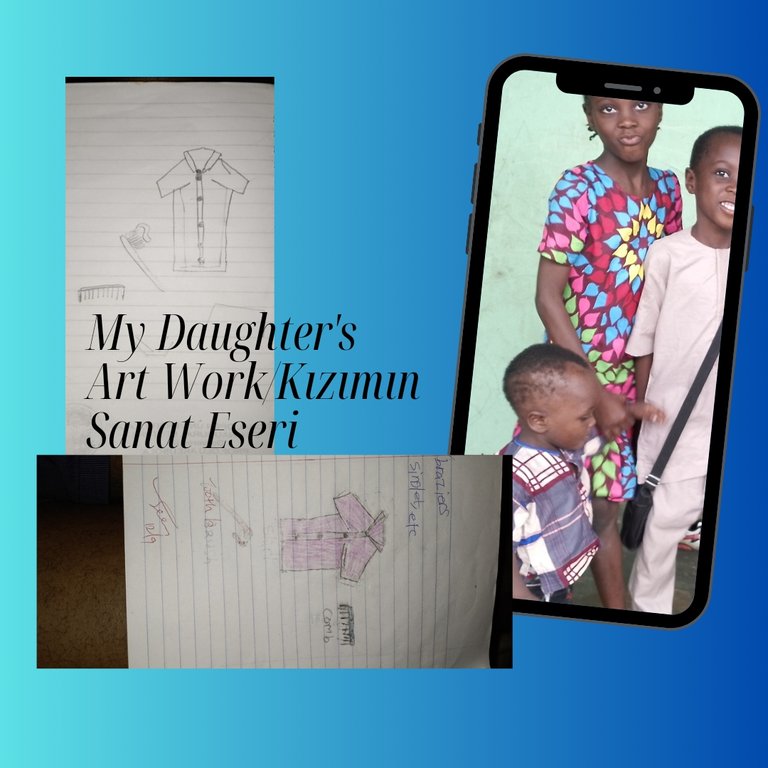 Created with Canva.com
Bir ebeveyn olarak, çocuğunuz için iyi plan yapın ve onlardan en iyisini çıkarmak için elinizden gelenin en iyisini yapın.
Çocuklarımı her zaman iyi bir eğitim geçmişine sahip olduklarından emin olmak için kontrol ederim. Ne zaman okuldan dönseler, onlara ne yaptıklarını veya ne öğretildiğini soruyorum. Bu bizim bir parçamız olmalı, ebeveynler. Bir ebeveyn olarak elinizden gelenin en iyisini yapın ve gerisini bırakın, ancak hem ev içi eğitimde hem de dış dünyada elinizden gelenin en iyisini yaptığınızdan emin olun.
Çocuğumun harika çizimler yaptığını görmek inanılmaz. Bazen, çocuklarımızı eğitimi hayatlarının özel bir parçası haline getirmeye teşvik etmemiz gerekir.
Eğitimi bu kadar ciddiye almak, çocuklarımda teşvik ettiğim bir şey. Her zaman akıllı ve iyi eğitimli olmalarını istedim, para bizi ebeveynler olarak geri çekmeye devam edecek bir şey olsa da.
Çocuğum her zaman komik çizimler yapar ve onu teşvik ederim. En iyisi, çocuğunuzu çizim olarak koydukları her şeyi reddetmek yerine dış dünyayla karışmaya teşvik etmektir.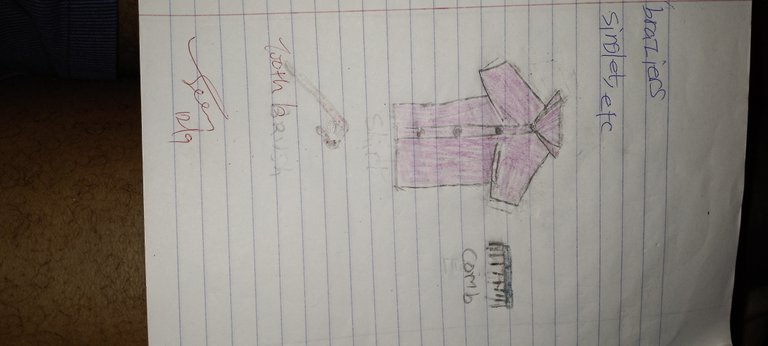 Yukarıdaki tişörtü çizdi. Mükemmel bir çizimdi ve defterinde gözlemledikten sonra, diyagramı tekrar çizmesini istedim ve çizdiği şey normalden oldukça benzer ve hatta daha iyiydi.
Ayrıca bir diş fırçası ve tarak resmi çizdi. Çizimler çok mükemmeldi. El işi için onu övdüm ve devam etmesini söyledim. Çocuklarının okulda ne yaptığını umursamayan ve okulda ne kadar ileri gittiklerini sormaya bile hazır olmayan bazı ebeveynlerimiz var.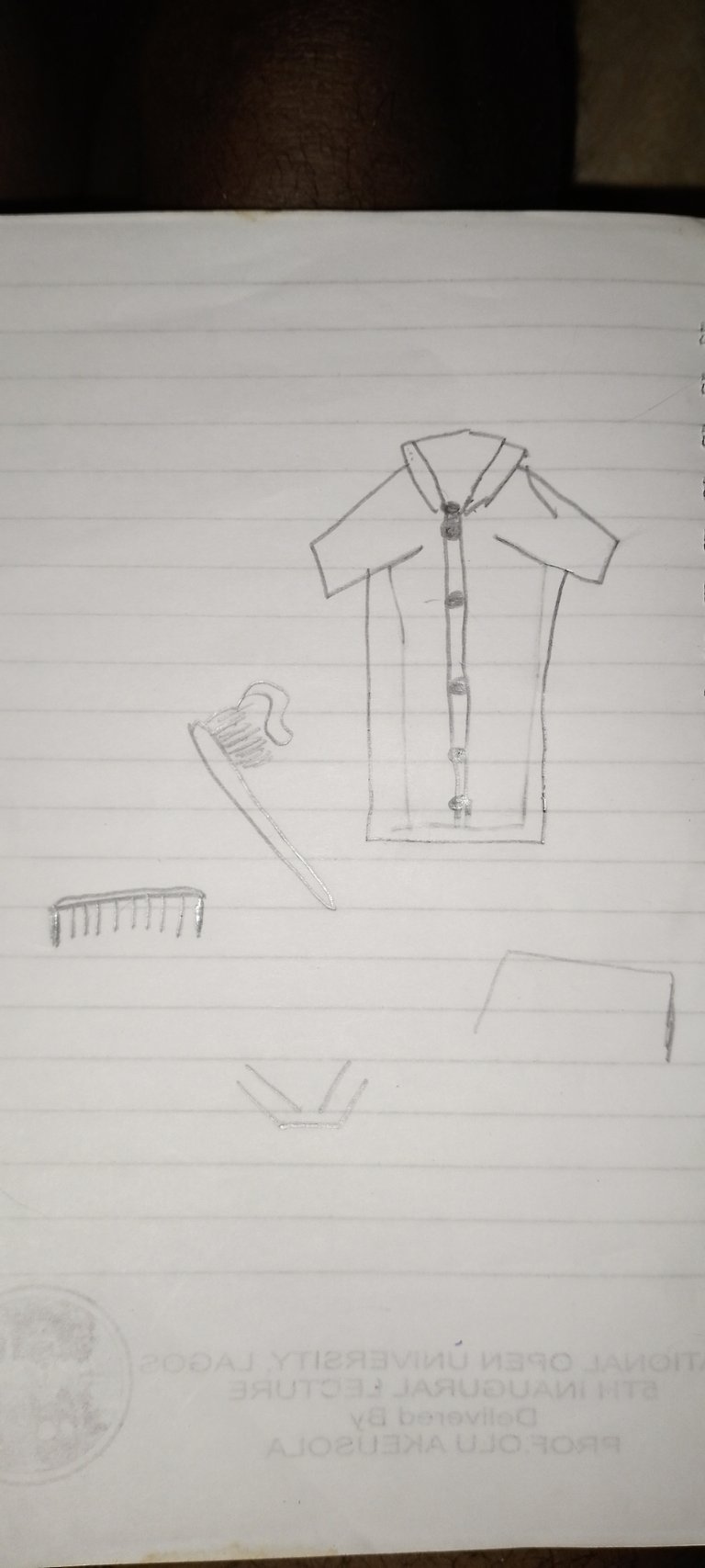 Çocuğum bunu çizdi ve ona kudos verdim ve güzel çalışmaları için ona kredi verdim. Çocukken büyürken, benim de bu tür bir yeteneğim vardı ve ailem beni doğru şekilde yetiştirmeye çalıştı ama beni övemedi ya da etkileyici çizimime çaba gösteremedi. Bu nedenle, bu fırsatı, yaratıcılık dünyalarında bir etki yarattıkları her zaman çocuklarını mutlu etmek için bunu okuyan tüm ebeveynleri bilgilendirmek için kullanmak istiyorum.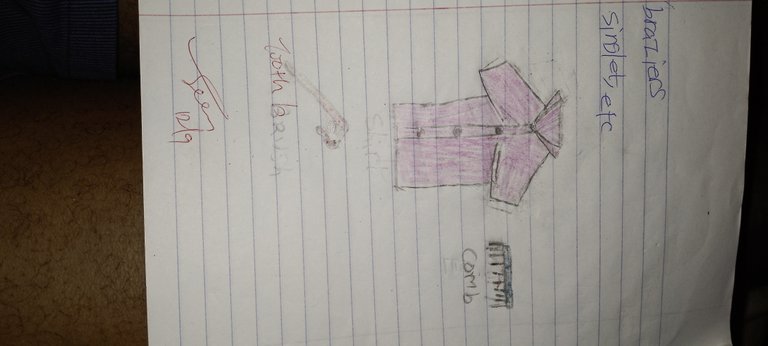 Çocuklarımız söz konusu olduğunda yaratıcı olmak çok iyidir ve onları izlemek en iyi önceliğimiz olmalıdır.
Oğlum da bazı el işleri öğrendi, ama fotoğrafını çekemedim. Aramaya çalışmama rağmen, kitabı artık göremiyordum. Tüm çocuklarımı izliyorum ve onların güçlü yönlerini ve yeteneklerini biliyorum.
Tüm görüntüler bana ait
---
---