My Smartness Has Been Relegated
I'm someone who always proves so smart anywhere, anytime. Everyone knew me with this behavior of being so smart at whatever I was doing. My classmates also cannot overthrow me when it comes to the aspect of smartness. This is why they called me " chief"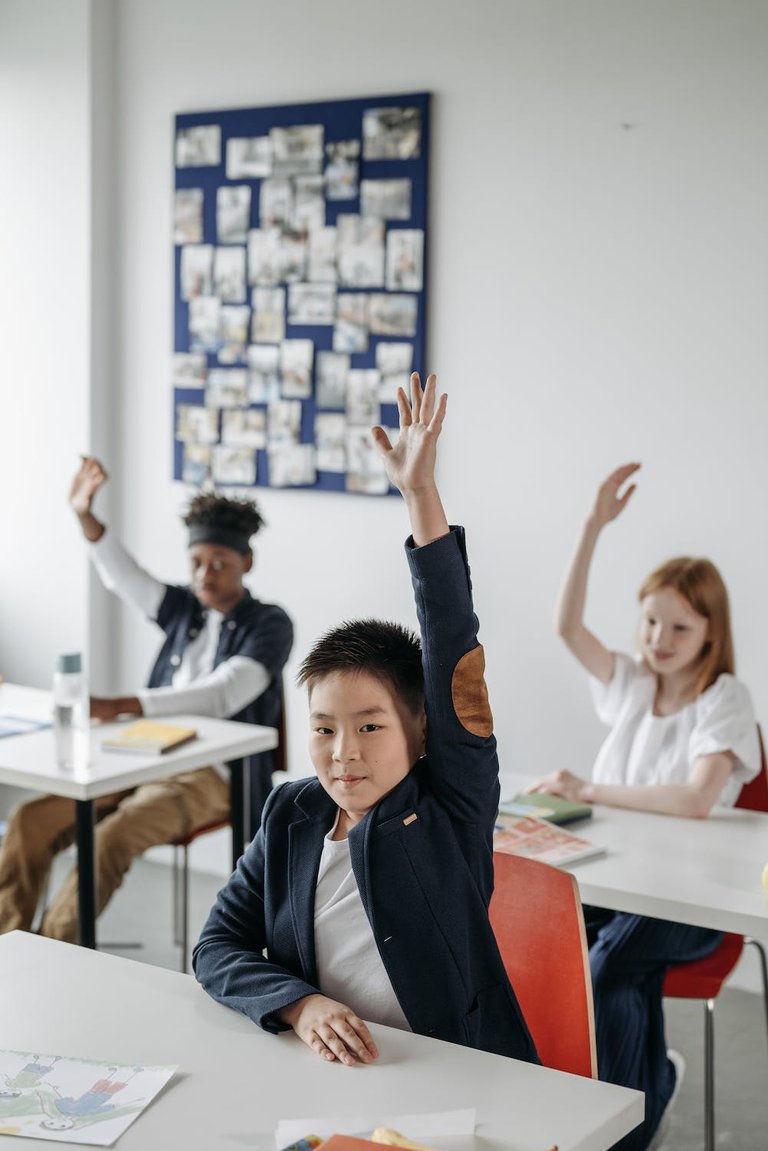 Pavel Danilyuk
When it comes to the aspect of answering questions in the class, I'm always the number one and if I do not know the answer, I still pretend to raise my hands stylishly.
Sporadically, we have to behave normally instead of pretending. One day, as my teacher was teaching in the class. The topic was simple, and I read ahead of the class. I even thought I could outsmart the teacher with my tactics, but the reverse was the case. I was also bold enough to answer any form of questions my teacher might ask or throw out.
As he was teaching, he asked the full class to define density. Being the smartest student, I could not waste any time before raising my hands. He did not bother calling me, instead called someone else. I was angry and wanted to maintain my smartness. We had another class and he asked another question. This time I raised my hands and even to his face, yet he refused to call me. This made me mad once again, and I decided not to raise my hands in his class again.
One fateful meaning, we were supposed to have another subject, but he just decided to dash in as the teacher who was supposed to teach us had traveled. He came when we were less expecting him. Anyway, I still have the same feelings of hatred for him as he failed to call me, I'm in his previous class. He introduced a new topic which I had also studied. I was not ready to drop my Smartness for any reason.
He again asked us a simple question when I saw my mates raising their hands, but my hands remained glued to my body. Without wasting time, he called me to answer the question, which I did. The whole class clapped for me. My happiness revived, and I was ready to answer any questions he asked. He asked again another question which got me confused. I did not know the answer to that question, but I was not ready to dull myself or drop my smartness. I have also got his scope of only calling those who did not raise their hands and so, I decided to raise my hands, pretending to know the answer perfectly.
Likewise, I knew he was not going to call me, and so the entire class was silent as they were all thinking of how to get the answer to the question. When he discovered that the only hand raised was mine, he had no option other than to call me. "Hey, boy! Tell the class the answer". I looked around to see if there was another student who also raised his or her hands, but saw just mine. I have not answered any questions wrongly before being the smartest in the class. As he called me, I stood up so boldly but was left eating my tongue just like someone who knew the answer but had forgotten. "Sir, I have forgotten the answer just because of my seat partner who tried to confuse me".
He called me out and began to talk to me just like a baby. "When you know you don't know the answer to a question, then why did you raise your hands?" He asked me, being so furious. I replied to him, "I thought you would not call the one who raises his or her hands up, as I had observed you critically before now". He laughed and laughed. My smartness was relegated.
---
My principal caught some students in an act, in which I knew I was not supposed to be left out. I'm always a culprit, but smarter than every other person. Bullying was what I was good at, but being so smart, I always hit before the arrival of any teacher or intruder. I was going home with my partners in crime when I sighted the newcomer at our back. I never told anyone and instead stepped on him so hard, that he fell on the floor. He shouted but then, I somehow apologized and left rushing.
My friends, on the other hand, were still with this boy bullying him. Students were coming behind, but then I was the cause of everything that happened. As they were hitting this boy, saying all sorts of rubbish and abusive words, our teacher sighted them from afar and asked them to stop. They stopped and were panicking. He recognized them all, but they could not wait for the teacher to draw closer. They took off.
When we were on the assembly ground, our teacher said, "I met some boys bullying Samson yesterday. They are going to receive twelve strokes of the cane". Immediately I heard twelve strokes, I was already sweating profusely.
He continued, "Without wasting time, you should all come out at once".
Foolishly, I followed suit and was coming out just like a zombie, or should I say follow. Whereas, I was not part of them but was the originator. As the teacher saw me coming, he said, "Are you part of them?"
I didn't know what to answer. Whether to say yes or to say no. This was where I was supposed to use my smartness, but I failed. My smartness turned to foolishness. I told the teacher *Yes, I'm part of them". He wanted to be sure and asked me once again, "Are you certain? Because I did not see you in the scene.
At this point, I was lost in thought. I immediately implicated myself by answering again "Yes Sir".
I was so sorry for myself because of the way our teacher walloped me and others. Not only that, but I hate taking a cane, but I had no choice but to relegate my smartness once again. The whole school was mocking me to the extent of trying to cover my face. I am still feeling the pain right now. My buttocks are peeled off, and it is hard for me to sit on a chair.
---
---