The Countdown to First Anniversary of Hive - The Community Driven Freedom
Hello Friends,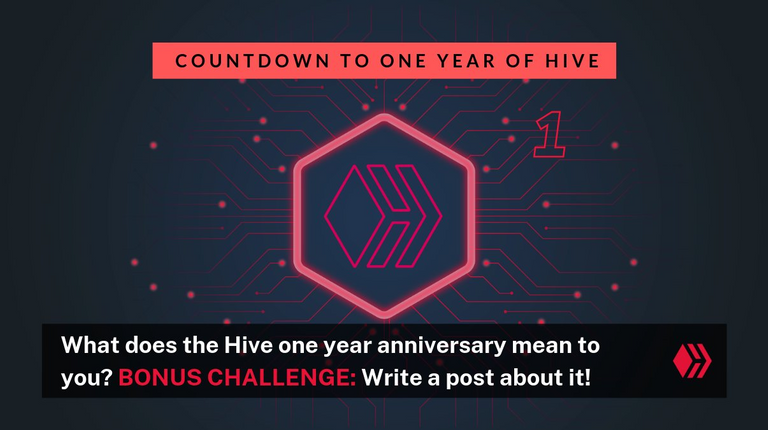 Image owner Hive community.
Well well, it's already an year since we first saw those emails from some of the bigger names from that earlier blockchain and created this beautiful community called Hive!!!!!
As we gear up to celebrate the First anniversary of Hive, here I am trying to re-collect the journey in this one year.
This One year also marks an year filled with sadness all around the World due to pandemic Corona CoVid 19, but that sadness was overtaken with joy of communicating with many thru Hive where there is no censoring, instead, we have the people who are ready to Welcome and guide the new people who embark on Hive.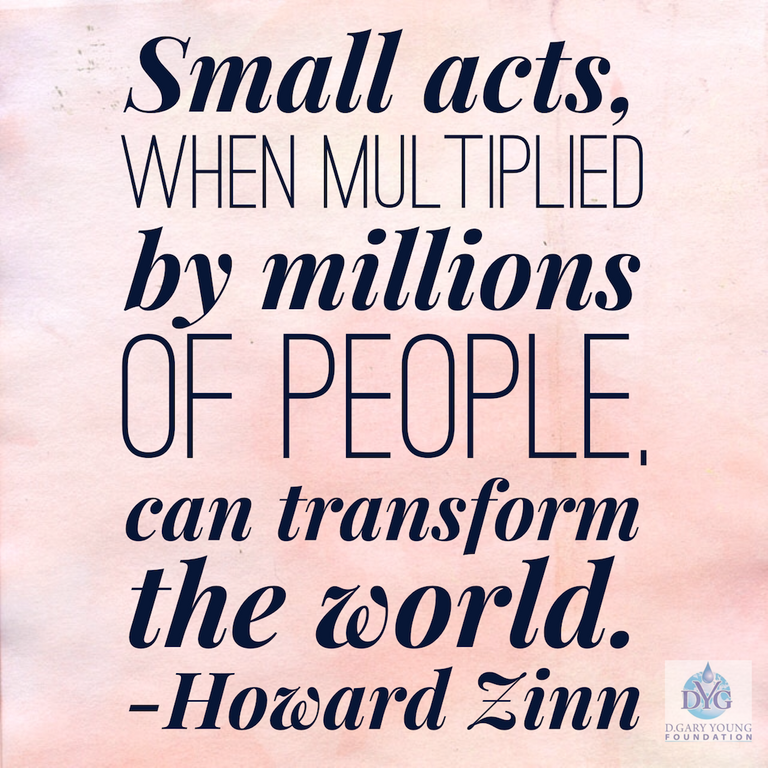 Image Courtesy
As that above screenshot says, when we work together, we can achieve what we can't as an individual and Hive in this one year period has shown what a strong community can do and people have already taking notice of it and seems the days of getting a BIG investor into Hive are not that far.
The People...
The journey for me in this one year since #hive's inception has been something I will cherish not just in financial terms, but also in exploring and getting new friends for this awesome community.
When I was with the previous blockchain, I didn't get a chance to know about @theycallmedan, but the moment the discussions of forming this new blockchain, we all starting to hear about him and thus, he is the most admired person for me as my journey started on Hive.
I wasn't big fan of Twitter and tweeting until I started using it for sharing the blogs as part of the Splinterlands community initiatives such as contests and that led me to know about @nathanmars, the biggest influencer and never tiring Hive ambassador and that certainly changed the way I was on Hive before as his inspiration means a lot to me and other fellow Hive owners.
Hive also gave me an opportunity to explore more about fellow Hive owners from my own country, India with people such as @alokkumar121, @certain, @bhattg, @face2face, @reeta0119 and others who are all awesome in sharing their knowledge and helping others and that wouldn't have been possible without this awesome community.
That's about few of the people who inspired me although Hive is like Ocean and there are so many with whom we interact day by day and they are all like gems.

Hive communities are it's main core and communities like Splinterlands, GEMS, OCD, Hive Gaming, Leo Finance, CTP, actifit are some of those which keeps me busy and it's always a nice feeling to interact and support each other with members of these communities.
Hive Anniversary and it's impact to me:
When I started my Crypto journey with the other blockchain, it was just blogging and some interactions, but the moment, this new Blockchain was created, it was like adrenaline pumped and that induced a sense of community building, a sense of earning more with supporting others, a sense of earning passive income and have some financial freedom as I look at Hive blogging, Splinterlands gaming and delegating to @leofinance as some of the main activities for me as a mode of income and that means a lot besides being a member of one of the nicest Blockchain where everyone is boss.
So, this one year has taught me a lot as part of my journey on Hive and the future will be definitely brighter as we keep discussing thru HIVETwitter initiatives and one such recent discussion from @nathanmars being purchasing atleast 5 Hive and powering it up as we have Hive Anniversary tomorrow i.e. 20th March, which is the First Anniversary for Hive!!!
As part of that initiative, I just purchased 90 Hive from Bittrex as shown below and I already have some Hive which I am gonna power up right now and do my bit in that effort to bring the Hive value to $1.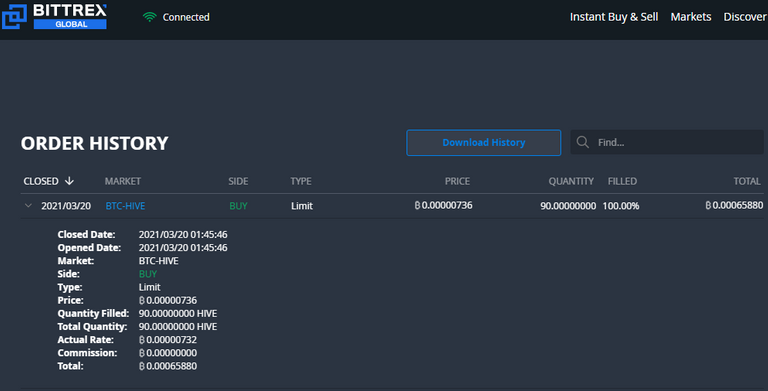 Withdrawal of Hive to hive blockchain..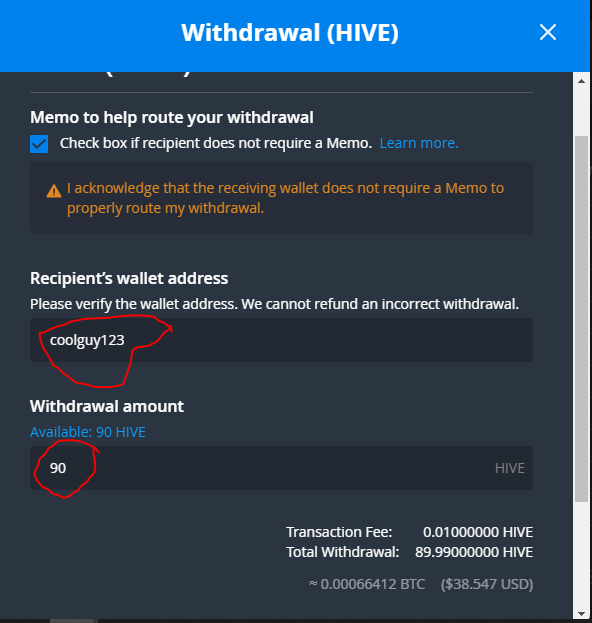 And.. here is a total of 100 Hive ready for the powerup..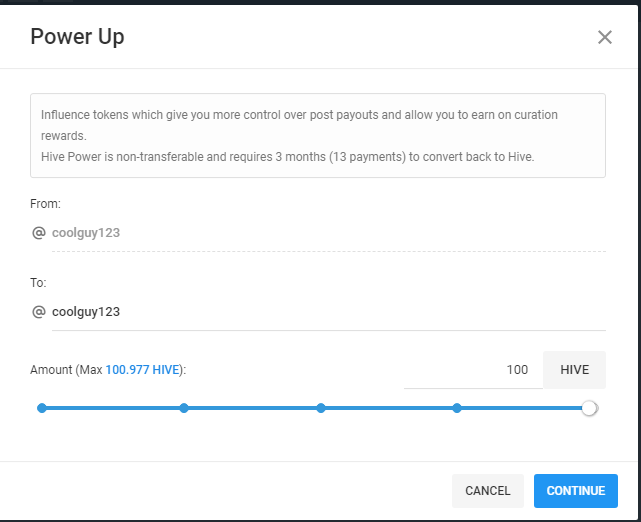 It's been successful as we can see in below screenshot conformation.


Hive is not just a blogging site anymore for me, it has the dapps like Splinterlands to keep myself refreshed with those battles, it has communities like Leofinance and CTP to track and earn passive income by blogging, delegating and so on and there are many such dapps/communities which gives makes Hive more than just a blogging blockchain.
Wishing all Happy Hive Anniversary as we are just few hours away from the First Anniversary of Hive and wishing the best as we move on.
Have a Wonderful Saturday :)

Join the new Official Telegram for Splinterlands via link given below to participate in contests and have fun.
---
Not yet signed up for Splinterlands?
You can join using my referral link: splinterlands.io and get some monsters from me :)
Posted Using LeoFinance Beta
---
---